The two-year, comprehensive Bookbinding program teaches students how to make, restore, and preserve books and other printed treasures.
During the first year, you'll learn the history and development of this traditional craft, as well as develop a host of necessary skills. You'll make a variety of historical and modern binding structures, boxes, and other protective enclosures. The repair of cloth and paper bindings will supplement your understanding of the way books function and break down.
Toward the end of the first year and throughout the second year you will create and repair leather bindings. During your second year, you'll have the opportunity to choose additional projects that reflect your personal career goals in conservation, fine binding, or other areas of the field. Additional learning takes place outside of the classroom—through exhibits, conferences, and field trips to binderies, historic collections, private studios, and conservation labs.
Schedule & Curriculum
We accept qualified applicants throughout the year. The program is extremely competitive and fills quickly, so you should apply as early as possible.
Students are admitted in September.
The maximum enrollment is 16 students.
Class meets 8:00 am – 3:00 pm, Monday – Friday, September through May.
The program length is two, nine-month academic years (72 weeks or 2340 class hours*).
Students who complete the program receive a Diploma of Bookbinding.
* Class hours equals clock hours.
Open House: December 1 & 2
Our annual Open House offers the best opportunity to learn what we have to offer. Explore all nine career training programs, discover dozens of community classes, tour our expansive facility, connect with students and faculty, shop our artisan market, and more.
Careers
During your studies, you'll photograph your work and create a portfolio. Your portfolio, along with connections you'll make during field trips and through Student Services, will help you find employment opportunities once you've graduated. Our Bookbinding graduates work in a wide variety of careers in binderies and conservation labs.
Our graduates work in reputable institutions such as:
Universities such as Harvard, Columbia, Michigan State, Indiana University, Duke, Texas A&M, UCLA, and UC Berkeley
US National Archives and Records Administration
Federal Emergency Management Agency
Boston Athenaeum
National Park Service
Museum of Fine Arts, Boston
Boston Public Library
Huntington Library
Rare Book School
Winterthur / University of Delaware
Some roles in which are graduates work include:
Bindery owners
Book conservators
Bookbinders for private clients
Paper conservators
End processors
Conservation technicians
Project conservators
University faculty; Book Conservation
Below, you'll find general information on bookbinders and conservators. Please note that our job classifications are not an exact match to those defined by the U.S. Department of Labor (DOL). Therefore, job prospects, wages, and salaries may differ.
There are two DOL job classifications which describe the work that bookbinding graduates do: Bookbinders and Conservators. According to the DOL, Bookbinders use a wide range of skills, some of which are performed mechanically. Hand skills are recognized by the DOL as well:
"A small number of bookbinders work in hand binderies. These highly skilled workers design original or special bindings for limited editions, or restore and rebind rare books. Some binders repair books and provide other specialized binding services to libraries."
The DOL classifies Conservators this way:
"Conservators manage, care for, preserve, treat, and document works of art, artifacts, and specimens—work that may require substantial historical, scientific, and archaeological research. They use x rays, chemical testing, microscopes, special lights, and other laboratory equipment and techniques to examine objects and determine their condition and the appropriate method for preserving them. Conservators document their findings and treat items to minimize their deterioration or to restore them to their original state. Conservators usually specialize in a particular material or group of objects, such as documents and books, paintings, decorative arts, textiles, metals, or architectural material."
There are many factors that determine salary and wages, including:
Education
Training
Years and type of experience
Economic conditions
Location
Employee type
This information from the Department of Labor (DOL) shows the outlook for Bookbinders and Museum Technicians and Conservators as of May 2021:
Bookbinders: Annual salary average: $36,590 | Hourly wage average: $17.59
Museum Technicians and Conservators: Annual salary average: $47,630 | Hourly wage average: $22.90
Within that group of Museum Technicians and Conservators:

College or university workers: Annual salary average: $56,130 | Hourly wage average: $26.99
Museums, Historical Sites, and Similar Institutions: Annual salary average: $48,320 | Hourly wage average: $23.23
The following information is from the US Department of Labor, Occupational Employment and Wages, May 2021, Bookbinders and Museum Technicians and Conservators:
Bookbinders held about 40,810 jobs in 2021, Museum Technicians and Conservators held about 10,960.
The number of job openings for Bookbinders is expected to be 34,400 during the 2020-30 decade, and 16,300 for Museum Technicians and Conservators. Note these numbers do not include self-employed binders.
Gold leaves used by a 2nd-year Bookbinding student
Students who receive financial aid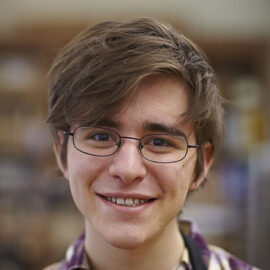 "As far as I know, the U.S. does not have any bookbinding programs like NBSS… a multiple-year program, bench-oriented, and focused on craft."
Samuel Feinstein BB '12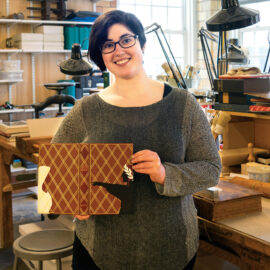 "So much time at the bench allowed me to really work through what we learned from our instructor and the conventions of my craft, make the mistakes I needed to make and learn from, and experiment."
Natalie Naor BB '17
Explore the Facilities
Students get dedicated bench space during the two-year program. You'll be responsible for getting hand tools and a few basic textbooks, but our Bookbinding facilities have all the equipment you need for your studies.
Our Bookbinding facilities include two board shears, two combination presses, a job backer, a Kwikprint stamping machine with several type fonts, 10 presses, finishing tools, a photo copy stand, a guillotine, and an extensive library of bookbinding texts.
Additional Information
2021 Bookbinding Graduate & Employment Report
6 Bookbinding students started the program in September 2018 and had an intended graduation date of June 2020.
83% of this student cohort graduated in 2020.
60% of these graduates are employed in the field.
This data was officially reported to ACCSC in October 2021.
2022 Bookbinding Graduate & Employment Report
4 Bookbinding students started the program in September 2019 and had an intended graduation date of June 2021.
50% of this student cohort graduated in 2021.
100% of these graduates are employed in the field.
This data was officially reported to ACCSC in October 2022.
This disclosure is required by our accreditors, the Accrediting Commission of Career Schools & Colleges (ACCSC).
For each of our career training programs, we consult with a group of top professionals in the field to ensure our curriculum continues to meet industry needs and trends.

The Bookbinding Program Advisors are:
Mary Patrick Bogan
Rebecca (Bexx) Caswell
Samuel Ellenport
Babette Gehnrich
Paul Parisi
Graham Patten
Todd Pattison
James Reid-Cunningham BB '90
Deborah Wender
Questions?
Contact Rob O'Dwyer, Director of Admissions, at 617-227-0155 x111 or admissions@nbss.edu.