Violin Making & Repair Curriculum
Violin Making & Repair is learned through hands-on work. The program follows the highest standards of the craft and teaches repair, restoration, and set-up of stringed instruments.
Over the course of this three-year program, you'll build six violins and a viola. You keep and can sell all instruments you build. Students, alumni, and faculty regularly receive international recognition for the craftsmanship and tonality of their instruments.
Graduates are trained to work in an instrument shop and are prepared to repair and set-up stringed instruments and bows to meet the standards of the craft and the needs of a professional or student musician. After training in instrument making and repair, the graduates are prepared for employment in an established shop where they can develop expertise and gain experience in the more refined aspects of restoration and instrument making.
Using hand tools and power tools (where appropriate) students construct seven instruments in the violin family based on traditional patterns, including two graduation violins, one varnished and set up and one unvarnished to a standard of workmanship suitable for the serious student musician.
Basic woodworking skills

Major violin woods
Grain and growth characteristics
Making patterns
Making molds

Basic tool handling

Grinding and sharpening tools
Body position in tool usage

Tool making and maintenance

Knives and handles
Making clamps
Making jigs
Sharpening techniques

Machine room for rough work
Instrument construction

Mold and counterparts
Blocks
Ribs
Linings
Plates and joining
Purfling and inlay
Graduations
F-holes
Bass bar
Closing of box
Scroll
Neck and necksets

Graduation instruments – construct two violins without assistance. Each instrument to be completed in thirty class days: one varnished and set up; one unvarnished.
In the shop, students complete a series of common repairs to instruments of the violin family and demonstrate the theoretical knowledge of restoration work preparing them to enter a repair shop and work with a minimum of supervision.
General set up
Bridges
Fingerboards and nut
Saddle
Sound post and adjustment
Replacing pegs
Refitting old pegs
Peg hole bushing
Gluing and reinforcing cracks
Light touch up
Open bouts
End pins
Polishing
Students rehair bows and make simple bow repairs acceptable to the musician. The students demonstrate an understanding of more advanced repair techniques in examples available in the shop.
Rehairing bows

Wedges
Proper hair length
Spread wedge
Cleaning hair

Repairing bows

New tips
Straightening bows
Eyelets & screws
Grips
Polishing stick
Pins and slides
Cleaning stick
For the graduation instrument, students produce a full-scale mechanical drawing to accurately represent the school or style chosen for that instrument and based on measurements of traditional instruments.
Basic mechanical drawing

Use of drafting equipment
Line definition
Principles of proportion

Technical drawing of instrument parts

F-holes
Corners
Scrolls
Outlines

Full-size mechanical drawing

Drawing parts

Scroll and cross-section of the body

Drawing of the graduation violin
Completion of notebook
Using traditional raw materials, students make and apply varnish, polish and apply antiquing techniques to instruments made in class to a standard acceptable to the trade.
Varnishing

Making the varnish
Application
Rubbing out
Shading
Removal
Touch up

Polishing

Rubbing out
Flattening
Textures
High gloss polishing

Antiquing

Staining the wood
Acids
Baking
Scratches & nicks
Textures
Simulating wear
Simulating dirt
Polishing
Students set up and adjust new and repaired instruments to meet the needs of professional musicians.
Fittings

Installing and planing finger boards
Making nuts and nut adjustments
Making saddles
Fitting pegs
End pins
Making and fitting sound posts boards
Selecting and carving a new bridge
Tailpiece set up
Strings
Adjusting tone

Testing instruments

Selecting proper strings
Final adjustments
Judging tone
Judging playability
On practical and written tests, students demonstrate knowledge of the theoretical aspects of violin making and must pass with a grade of 70% or better.
Knowledge of woods

Matching woods for an instrument
Selecting types of wood and cutting techniques
Age
Treatment

Styles of violin family instruments, concentrating on classical and Italian
The requirements of the professional musician
Varnish making and its application

Recipes
Purpose of varnish and its effect on tone
Different types of varnish
Application
French polishing

Set up: the subjects listed under the Set Up section above are covered in class with all of the needed dimensions provided
Written thesis: on approved topic (10 pages)
On a written test, students demonstrate a knowledge of the history of violin making schools and styles and must pass with a grade of 70% or better.
Violin styles and the different schools
History of instruments and makers
Identification of instruments
Identification of bows
Upon graduation, students play their instrument with sufficient skill to demonstrate an understanding of a musician's playing requirement and meet standard of the trade.
The curriculum each year includes guest speakers who provide hands-on lectures and demonstrations, as well as occasional off site field trips. Past speakers and trips have included:
Student Work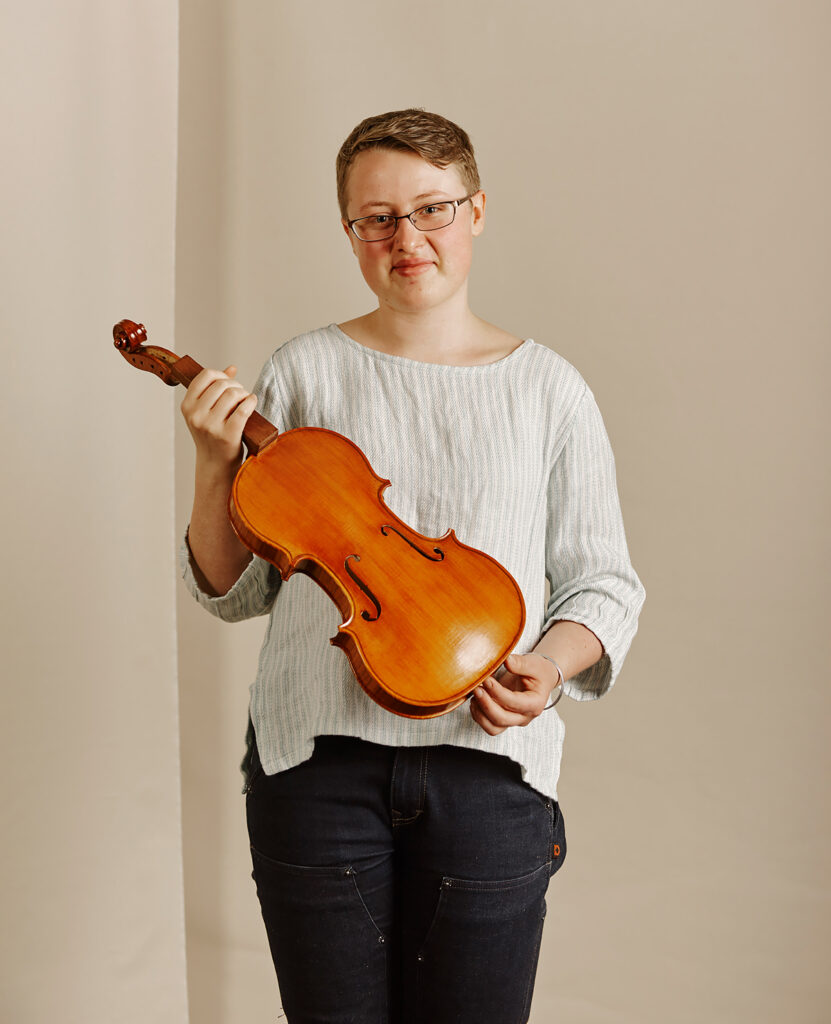 Questions?
Contact Rob O'Dwyer, Director of Admissions, at 617-227-0155 x111 or admissions@nbss.edu.