Message from the President
Continuity and Change
On February 8, our NBSS community will celebrate Founder's Day, an occasion to recognize the history and spirit of our School while honoring our founder (and her birthday!), Pauline Agassiz Shaw. 
As we celebrate our past, NBSS also works toward our future. It's a balancing act that the School has done well over its 140 years: staying true to our mission, while expanding our reach. So, I'm taking note of the ways that NBSS is balancing our change and growth with endurance and continuity. I'd love to hear your examples—whether that's from an NBSS perspective as an alum, faculty member, or volunteer, or from your work in other places. Change is always around us, and how we fold change into lasting efforts is dynamic and energizing work. 
There are echoes of our current efforts in our NBSS history. Some of the best examples come from our Career Training programs, as they adapt to student needs and new tools. For example, in the first years of the School's founding, Pauline experimented with 'pre-vocational training' for young students to help them prepare for the academic work of grammar school. Now, with the increase of online and digital content, our Carpentry program is able to offer students 'pre-program' work: preparatory online learning material that will help beginning carpenters. 
We also see this in our community-facing efforts, another enduring focus for our School. In its early days, North Bennet Street Industrial School (as it was known then), saw such a rise in popularity of recreational activities—from neighborhood holiday events to summer outings and field trips—that it required a dedicated team and expansion of the School. In that, I see the echoes of our recent Winter Market, our Community Education program, and our Cabinet & Furniture program's recent field trip to Autodesk. New links and connections, with today's community members and their needs in mind. 
NBSS has been such a dynamic place over many years and yet, it has also been unflagging in its commitment to giving people skills and opportunity. It is exciting to celebrate this strong foundation as we plan ways to reach more people, expand our offerings and engage new partners. 
I'd love to hear examples of the ways you're working now that are adaptations of what you learned or experienced at NBSS, or how your efforts are built on what came before. On Founder's Day, we celebrate our history with our newest community members—our students—and in that, we see both continuity and change all around us.
Sarah Turner, President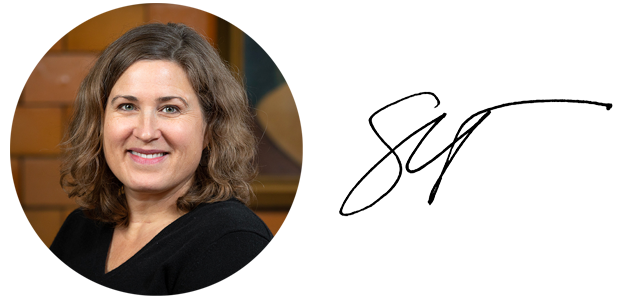 Previous Messages from the President
About Sarah
As an educator, leading from both the office and the studio, Sarah has worked at the Cranbrook Academy of Art, the Rhode Island School of Design, the State University of New York at New Paltz and the Oregon College of Art and Craft. As the Dean at Cranbrook, she directed the Academic Programs of the Academy, including a 'public-lecture-as-variety-show' series, and a Critical Studies + Humanities residential teaching fellowship, which she established in 2009. Sarah has also worked extensively in the areas of student success, from enrollment and admissions to developing opportunities for students and alumni. She has lectured widely, regularly serves as a guest critic to studio programs, and has organized exhibitions on contemporary craft and design in the US and abroad. In 2005, Sarah was awarded a Fulbright Fellowship to the Netherlands to research Dutch contemporary applied art.
In addition to her work in education, Sarah has maintained a studio practice rooted in craft. Trained initially in metalsmithing and jewelry, her work has ranged from woodworking to weaving to printmaking—always with a focus on the meanings inherent to objects and materials. Her artwork has been included in exhibitions nationally and internationally, including the Museum of Art and Design in New York, the National Ornamental Metal Museum in Memphis, Galerie Noel Guymarc'h in Montreal, and The Society of Arts and Crafts in Boston.
Sarah has been a volunteer and advisor for a variety of organizations, including the Southeast Michigan Fulbright Association, the Vermont YWCA, and the Society of North American Goldsmiths. She currently serves on the Boards of the Art Jewelry Forum and The Furniture Society.
Born and raised in Ohio, Sarah received a Bachelor's degree in Sociology from Smith College and a Certificate in Metalsmithing from the Oregon College of Art & Craft. She earned a Master of Fine Arts degree from Cranbrook Academy of Art.

New President Announcement
Media Fact Sheet


For interview requests, speaking engagements, or other inquiries, please contact Kevin Derrick at kderrick@nbss.edu or 617-227-0155 x180.

Miguel Gómez Ibáñez CF '99 retired as President in 2018, after 12 years of leadership. He leaves behind a tremendous record of physical and economic institutional growth for America's first trade school. Among other notable accomplishments, Miguel implemented two strategic plans, secured and led the renovation of the School's new 64,000 sf facility, established multiple strategic educational partnerships, and oversaw the School's major $20 million Lives & Livelihoods Campaign, which will help to fund $1 million in student scholarships annually.

Born in New England and raised in Europe by parents who worked in higher education, Miguel long aspired to make a living with his hands. After earning a BA from Wesleyan University and a Masters in Architecture from the University of Pennsylvania, Miguel worked for 26 years designing civic and educational projects.

Throughout his time at NBSS, Miguel has maintained a furniture making workshop, which provides him not only personal fulfillment, but also a unique perspective on education. His work has been featured in House & Garden, American Craft, and other magazines, galleries, and museums across the country.

Full Resume — Miguel Gómez-Ibáñez