Message from the President
Skills for a Better World
In June, we celebrated the accomplishments of our 2022 graduating class. It was a day of beaming students, happy families and friends, proud faculty and staff. At graduation, we heard our Distinguished Alumni Award recipient, Kurt Fieldhouse, talk about grit: the strength of character that helps us face obstacles with commitment and passion. Then, Boston Mayor Michelle Wu addressed the crowd, noting that NBSS is a place of intention and choice, a place that trains perseverance. 
Our graduates, ready with new skills and supportive networks, are already bringing their ambition and talent to neighborhoods and communities, expanding what's possible for themselves and for others. Our time calls for this. On that sunny day, full of high spirits and hope for the future, we momentarily set aside the struggles of our world and the deep sense of responsibility we feel. Bright moments like those can be fleeting, as we face the collective fatigue of the pandemic, the dizzying succession of violent and heart-breaking events here and abroad, and social divisions that challenge our values. Stepping out of our celebration, the world feels more fractured, more in need of our collective courage, perseverance, and grit. 
Just as we did two summers ago, we embrace our unique responsibility to address the struggles of our time. Like many others, we are working—to leverage our resources, expertise, and talents toward a more equitable, inclusive, and diverse School. We believe that one antidote to a fractured community is what can be made, built, or repaired by hand, at a human scale. And so, we continue to offer this agency to more people.  
At graduation, I took note of how our 2022 graduates, like our broader community, inspire us to lead with integrity and heart. This summer, I'll be in conversation with alumni and partners who are working for community strength, cohesion, and repair. Person-by-person, one step at a time. 
It takes all of us, working not with grand gestures, but with earnest, daily efforts to bring about change. As we make our way from summer to the fall, I'd love to hear your stories, big or small, of how your skilled work makes people's lives better. Please, be in touch.
Sarah Turner, President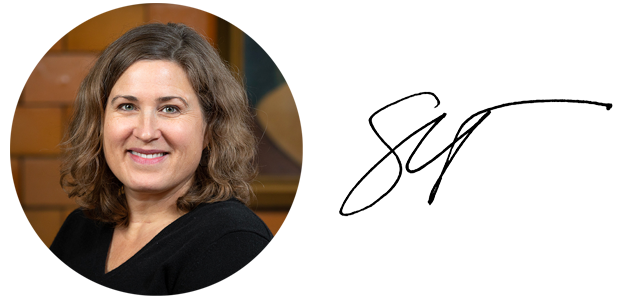 Previous Messages from the President
About Sarah
As an educator, leading from both the office and the studio, Sarah has worked at the Cranbrook Academy of Art, the Rhode Island School of Design, the State University of New York at New Paltz and the Oregon College of Art and Craft. As the Dean at Cranbrook, she directed the Academic Programs of the Academy, including a 'public-lecture-as-variety-show' series, and a Critical Studies + Humanities residential teaching fellowship, which she established in 2009. Sarah has also worked extensively in the areas of student success, from enrollment and admissions to developing opportunities for students and alumni. She has lectured widely, regularly serves as a guest critic to studio programs, and has organized exhibitions on contemporary craft and design in the US and abroad. In 2005, Sarah was awarded a Fulbright Fellowship to the Netherlands to research Dutch contemporary applied art.
In addition to her work in education, Sarah has maintained a studio practice rooted in craft. Trained initially in metalsmithing and jewelry, her work has ranged from woodworking to weaving to printmaking—always with a focus on the meanings inherent to objects and materials. Her artwork has been included in exhibitions nationally and internationally, including the Museum of Art and Design in New York, the National Ornamental Metal Museum in Memphis, Galerie Noel Guymarc'h in Montreal, and The Society of Arts and Crafts in Boston.
Sarah has been a volunteer and advisor for a variety of organizations, including the Southeast Michigan Fulbright Association, the Vermont YWCA, and the Society of North American Goldsmiths. She currently serves on the Boards of the Art Jewelry Forum and The Furniture Society.
Born and raised in Ohio, Sarah received a Bachelor's degree in Sociology from Smith College and a Certificate in Metalsmithing from the Oregon College of Art & Craft. She earned a Master of Fine Arts degree from Cranbrook Academy of Art.

New President Announcement
Media Fact Sheet


For interview requests, speaking engagements, or other inquiries, please contact Kevin Derrick at kderrick@nbss.edu or 617-227-0155 x180.

Miguel Gómez Ibáñez CF '99 retired as President in 2018, after 12 years of leadership. He leaves behind a tremendous record of physical and economic institutional growth for America's first trade school. Among other notable accomplishments, Miguel implemented two strategic plans, secured and led the renovation of the School's new 64,000 sf facility, established multiple strategic educational partnerships, and oversaw the School's major $20 million Lives & Livelihoods Campaign, which will help to fund $1 million in student scholarships annually.

Born in New England and raised in Europe by parents who worked in higher education, Miguel long aspired to make a living with his hands. After earning a BA from Wesleyan University and a Masters in Architecture from the University of Pennsylvania, Miguel worked for 26 years designing civic and educational projects.

Throughout his time at NBSS, Miguel has maintained a furniture making workshop, which provides him not only personal fulfillment, but also a unique perspective on education. His work has been featured in House & Garden, American Craft, and other magazines, galleries, and museums across the country.

Full Resume — Miguel Gómez-Ibáñez