Message from the President
A Renewing Cycle
Welcome back to the school year and the start of another fall season. In our first few days of training, we were able to capture the voices of our students in this short but compelling video… and to me, it says it all: commitment, optimism, community, and diligent work. Meeting our newest crafts- and tradespeople has been so energizing—each interaction helping to create and renew the story of our School.
Hearing from students and faculty about their daily lives informs larger conversations I have in regional and national efforts, with wide-ranging partners in craft and trade. Last month, the Center for Craft published the findings from its most recent think tank, Craft Can, a convening that brought our School's influence to scientists, designers, health advocates, and artists, as well as craft leaders. In discussing what agency craft has—what craft can 'do'—there is a rising interest in the role of trades, and I was proud to speak of the work, both practical and inspiring, of our students and graduates. The connections made at this session also brought new voices to our In the Making series, allowing participants to visit NBSS, albeit virtually. The Center's report will go further in spreading the word, as it's made available to the public, as a part of a commitment to public research.  
In another instance where our experience in the intersection of craft-trade was sought was the inaugural Maxwell/Hanrahan Foundation Awards in Craft. Modeled in part on their field biology awards and administered by United States Artists, this national award recognizes commitment to material mastery, living cultural traditions, the unique insight of materials, and the advancement of craft—all things true and dear to our School community. I was honored to be on the selection panel for the award, helping to review the applications and advance the conversation about the role of trades-based work. 
And finally, as summer closes and the days get busier, I'm turning again to an amazing video series that shows the natural and beautiful balances of craft, trade, and life. Taking place in Gusar, Azerbaijan, this straight-forward filming of family life was made by a son (Amiraslan Ramikhanov) as he returned home during the pandemic. It is an intimate and loving document of the daily life of creative, hard-working people with a care for their surroundings and home. Who doesn't want to be lulled and relaxed by watching homemade baklava made outside?  
As you go through this new season, I hope you'll stay tuned for the surprising and simple ways that good work and work-with-care shows up in daily life. Let us know: it's a renewing cycle and relies on all of us to keep it moving, each in our own way. 
Sarah Turner, President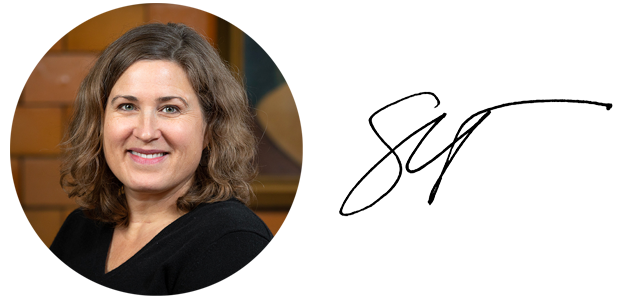 Previous Messages from the President
About Sarah
As an educator, leading from both the office and the studio, Sarah has worked at the Cranbrook Academy of Art, the Rhode Island School of Design, the State University of New York at New Paltz and the Oregon College of Art and Craft. As the Dean at Cranbrook, she directed the Academic Programs of the Academy, including a 'public-lecture-as-variety-show' series, and a Critical Studies + Humanities residential teaching fellowship, which she established in 2009. Sarah has also worked extensively in the areas of student success, from enrollment and admissions to developing opportunities for students and alumni. She has lectured widely, regularly serves as a guest critic to studio programs, and has organized exhibitions on contemporary craft and design in the US and abroad. In 2005, Sarah was awarded a Fulbright Fellowship to the Netherlands to research Dutch contemporary applied art.
In addition to her work in education, Sarah has maintained a studio practice rooted in craft. Trained initially in metalsmithing and jewelry, her work has ranged from woodworking to weaving to printmaking—always with a focus on the meanings inherent to objects and materials. Her artwork has been included in exhibitions nationally and internationally, including the Museum of Art and Design in New York, the National Ornamental Metal Museum in Memphis, Galerie Noel Guymarc'h in Montreal, and The Society of Arts and Crafts in Boston.
Sarah has been a volunteer and advisor for a variety of organizations, including the Southeast Michigan Fulbright Association, the Vermont YWCA, and the Society of North American Goldsmiths. She currently serves on the Boards of the Art Jewelry Forum and The Furniture Society.
Born and raised in Ohio, Sarah received a Bachelor's degree in Sociology from Smith College and a Certificate in Metalsmithing from the Oregon College of Art & Craft. She earned a Master of Fine Arts degree from Cranbrook Academy of Art.

New President Announcement
Media Fact Sheet


For interview requests, speaking engagements, or other inquiries, please contact Kevin Derrick at kderrick@nbss.edu or 617-227-0155 x180.

Miguel Gómez Ibáñez CF '99 retired as President in 2018, after 12 years of leadership. He leaves behind a tremendous record of physical and economic institutional growth for America's first trade school. Among other notable accomplishments, Miguel implemented two strategic plans, secured and led the renovation of the School's new 64,000 sf facility, established multiple strategic educational partnerships, and oversaw the School's major $20 million Lives & Livelihoods Campaign, which will help to fund $1 million in student scholarships annually.

Born in New England and raised in Europe by parents who worked in higher education, Miguel long aspired to make a living with his hands. After earning a BA from Wesleyan University and a Masters in Architecture from the University of Pennsylvania, Miguel worked for 26 years designing civic and educational projects.

Throughout his time at NBSS, Miguel has maintained a furniture making workshop, which provides him not only personal fulfillment, but also a unique perspective on education. His work has been featured in House & Garden, American Craft, and other magazines, galleries, and museums across the country.

Full Resume — Miguel Gómez-Ibáñez