2017 Distinguished Alumni Award Winner: Eric Schandall PT '67
July 27, 2017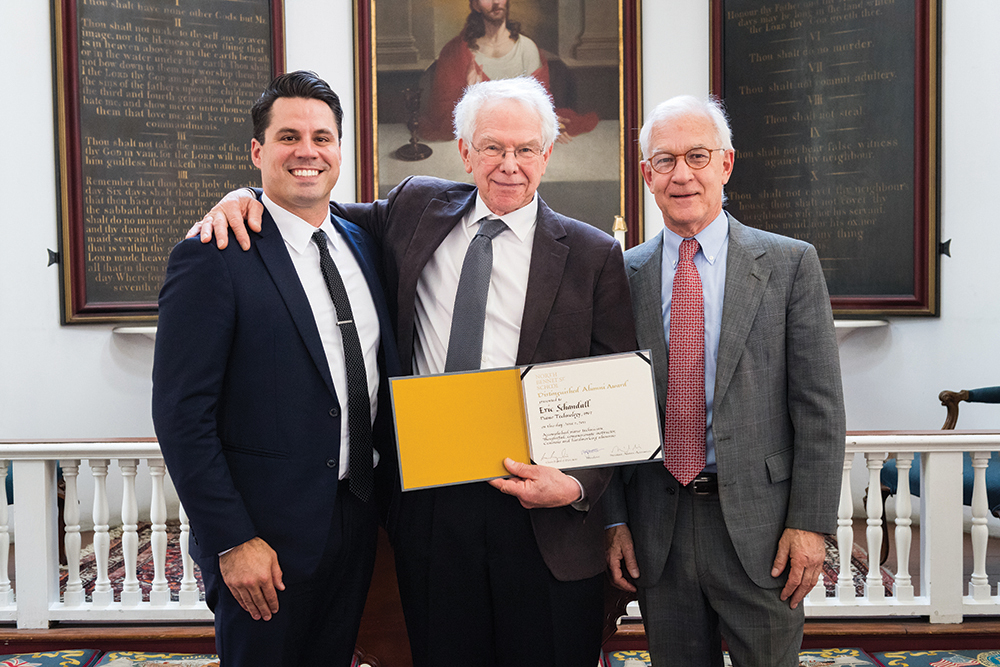 Eric Schandall PT '67 marked the 50th anniversary of his graduation with a celebration of his enduring connection to North Bennet Street School—delivering the commencement address and receiving the NBSS Distinguished Alumni Award, the first time one individual has received both honors, at the 2017 Graduation ceremony on June 2 at Old North Church.
"Eric is one of the most distinguished individuals in his profession. His considerable skills and expertise as a master piano technician help ensure that concert pianos throughout the world resonate with the beauty of their true sound. We're delighted that Eric was with us this year to share his life experiences with our graduates," said NBSS President Miguel Gómez-Ibáñez CF '99.
The Distinguished Alumni Award, given annually to an alumnus who has shown a history of skill at their craft, leadership in their field, and a continuing connection to the school, was presented by Alumni Association President Michael Wilson PT '11, PA '12.
"Eric has impressed the alumni community because he is humble, kind, generous with his time and knowledge, and eager to continue learning and improving his skills—even after 50 years of experience," said Michael.
In his remarks, both accepting the Alumni honor and addressing graduates, Eric demonstrated that humility. "It was more than generous to ask me to come speak to you today, to be here with you, and receiving the Award in addition is a little overwhelming. I frankly do not get why I was singled out for this award, but I am touched to be remembered at the School, and by many friends."
Recalling his own relationship with the late Harold Marshman and the late Eddie Coughlin, former NBSS instructors, Eric encouraged the new graduates to forge similar bonds.
"I can tell you now that the time with your teachers doesn't end when you leave school and set out on your own. They are still there, looking over your work and your life, and if you have high regard for them as a student, it is only a fraction of the love and gratitude you have for them as you go through the decades to come."
In his conclusion, Eric congratulated his now fellow alumni on what awaits them.
"Your lives are full to the brim with possibilities," he said. "With the marvelous start you have at the School, your working lives are beckoning, urging you to move into the next part of the continuum of the unfolding of your lives. I will end by wishing you good luck, success, courage, strength, resilience, and good spirits."
Following his remarks, Eric joined NBSS Chair of the Board of Directors Marc Margulies, President Gómez-Ibáñez, Provost Claire Fruitman CF '96, and faculty in congratulating the Class of 2017.
---
You can read a full transcript of Eric's Commencement address here or see more photos of Graduation day on our Facebook page.