A Wishing Tree for the North End Library
April 20, 2018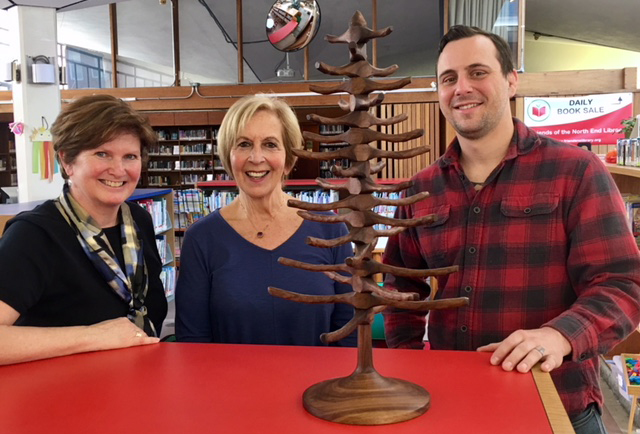 Our North End neighborhood is a tight-knit one, and one of the things we love most about it is the willingness of neighbors to help each other out. We heard that the Friends of the North End Library were in need of a custom piece for community outreach, so put out the call to our students and alumni and recent NBSS grad Grant Burger CF '17 happily took the job. What followed was a lovely story of neighborly good will.
"The Friends of the North End Library gratefully thank local woodworking artisan Grant Burger for his amazing work of art now permanently on display in the North End Library.
The Friends of the North End Library started the Wishing Tree with donation ornaments years ago at the Annual Spring Fling. It was brought out once or twice a year as a way to provide extra funding for the librarians' wishes for items that were not funded by the main branch library. Each ornament on the tree has a specific wish and a donation amount to cover that particular cost, ranging from a $5 book replacement fund to a $300 new table.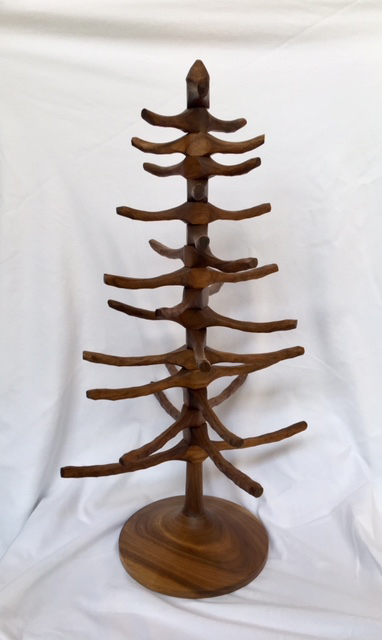 The tree was reinvented every time there was an event and made from various materials. Over the years we have seen a real balsam tree, a cardboard tree, a palm tree and even a balloon tree. We are so excited that a beautiful wooden tabletop tree will be permanently displayed in the North End Library. Now, if anyone is feeling generous anytime during the year, they can make a donation right at the front desk. For more information, visit www.FriendsNElibrary.org."
More About the Artist
Grant Burger (former Marine and accomplished carpenter) acquired his fine woodworking skills at NBSS and currently designs and builds custom chairs and furniture in the Charlestown Furniture Makers Co-Op in Charlestown, MA. He has been featured in the 2017 Fine Woodworking magazine, "Masterful Helping Hand," was the first recipient of the Alden Artisan Advancement by the NH Furniture Masters in 2016, contributed to Popular Woodworking Magazine, "Marine Corps to Maker School," and is Co-Host of The Dusty Life Podcast. Grant accepts furniture commissions.

Republished from North End Waterfront, written by Terese O'Connell.