An Original Artisan: Stephen Kinnane
April 16, 2018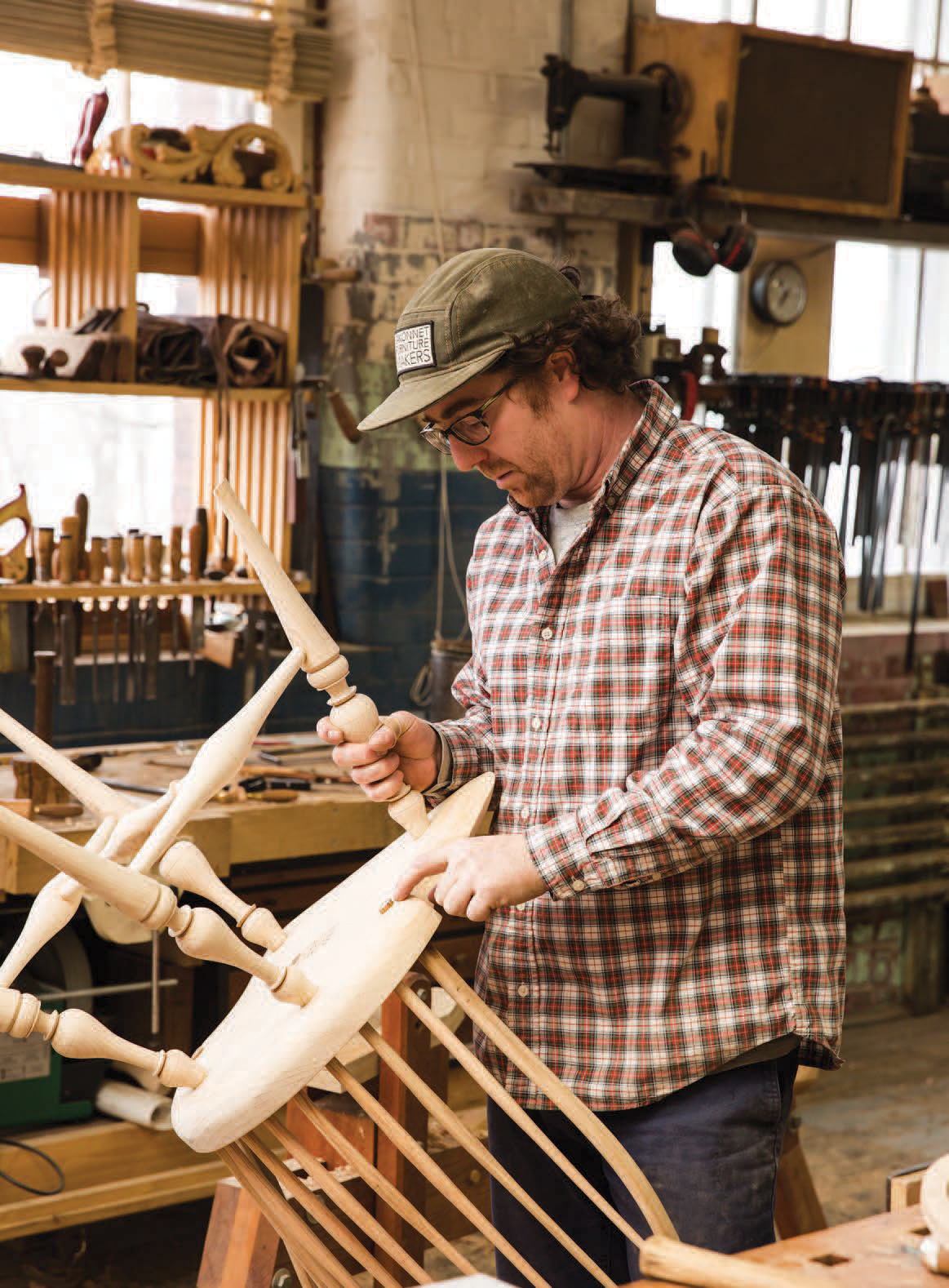 Windsor chairs at varying stages of completion are lined in order; intricate hand tools are strewn about the sawdust-covered tables; antique machinery awaits the buzz of contact on wood; the blues Spotify station blares in the background.
It's in this environment that Stephen Kinnane, owner of Sakonnet Furniture Makers in Tiverton, creates the epitome of artful furniture. His pieces convey far more than function and his process is an art form, crafting custom works from the ground up.
A graduate of [NBSS], he has been trained to employ traditional craftsmanship. He was encouraged into the program by his Uncle Brendon, a cabinet maker. Initially, Kinnane went to his uncle in search of a hands-on job, but was sent back to school instead. Now he recommends those interested in pursuing a woodworking career to get schooled in the basics first.
With his uncle's cabinets and furniture-maker John Seymour's work as inspiration, Kinnane set to work about eight years ago, starting his business and creating chairs, sofa tables, end tables and more for residential and commercial properties.
Today, he works in a sun-soaked old mill studio in Fall River, made even more charming when his two children, Theodore, age 4, and Ruby, age 2, run around pretending to be Dad (with the power turned off and his watchful eye on high alert, of course).
Kinnane's work is fresh, original and built to last.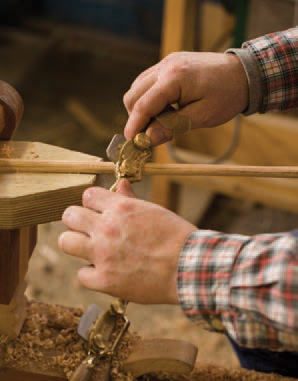 Kinnane knows his strengths, and he plays to them. "I can still feel some unevenness," he says as he glides his hands over what appears to be an ideally-shaped and sanded seat. A perfectionist within his craft, the quality of his work is of the highest caliber, even making glue seem redundant as he perfectly measures and secures steamed, then kiln-dried, pieces of wood together. Before he even touches a tool, he draws up life size drafts of his projects, ensuring the specifications and dimensions are accurate so as not to waste time, resources or risking imperfection.
"I like to create completely original, new pieces," says Kinnane. Although he respects it, he's not one for repurposing old furniture or fixing what's broken. Nearly everything is custom made to order, although he does make some of his favorites available for sale. Those signature items can frequently be found at the Sakonnet Collective in Tiverton Four Corners District, an art gallery he opened in collaboration with fellow local, Padraic Manning in 2010.
His style? "A lot of what I do has a shaker with a modern twist to it, but I make all different styles based on what the client wants." Kinnane's tasteful eye has helped him to create contemporary looks, utilizing contrasting inlays and making reversible coffee tables. When working with other vendors who stain or paint to add the finishing touches, he uses the top tier of specialists. It's no surprise he only uses those he trusts to hand off and complete not only what is a piece of new furniture, but ultimately an heirloom to be passed down through generations.
"An Original Artisan," By Rachael Thatcher, photographed by Marianne Lee. Republished courtesy of Newport Life magazine in the 2018 Newport Home issue. Download a pdf of the article here.