20th Annual Celebration of Craft
May 10, 2019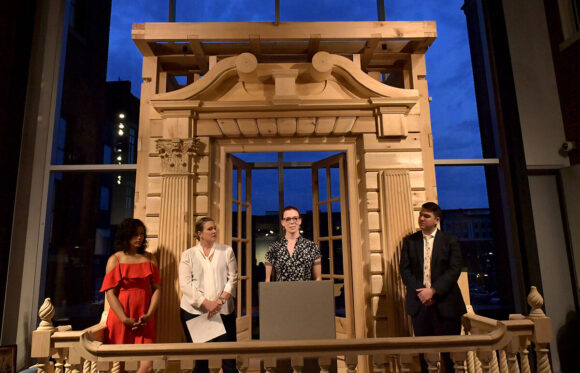 Now in its 20th year, the Annual Celebration of Craft promotes the appreciation of fine craftsmanship and supports the School's mission to train students for careers in traditional trades. Over the course of two months, NBSS displayed exquisite work from our extended community and hosted several signature events at the School.
On Thursday, May 9, the NBSS community kicked off the months-long Celebration with a fun and lively Opening Party. A record-breaking 225 guests gathered to enjoy our expansive Student & Alumni Exhibit, program demonstrations, live music, and great conversation with friends.
A special part of the night were the compelling stories presented by three members of the NBSS community. These stories, and the evening itself, inspired our guests to make additional gifts that support our important work: helping people achieve meaningful lives and rewarding careers.
Read a full transcript of the Opening Party remarks and stories below.
---
Opening Remarks: Sarah Turner
Our students are the reason we're here. Training the next wave of craftspeople and tradespeople is our mission; it's what we've been doing for a 138 years, and it's why we exist. We could not do this without the talented, courageous students who embark on intense learning with us.
We also could not do what we do without the dedication and commitment of our faculty. Our faculty has the rare ability to take their talent, passion, skills, and knowledge and with patience, vision, and generosity, and share this with their students.
But don't take it from me: we've asked some people to speak to you tonight, to share their stories and to share why this School is the right place for them to be.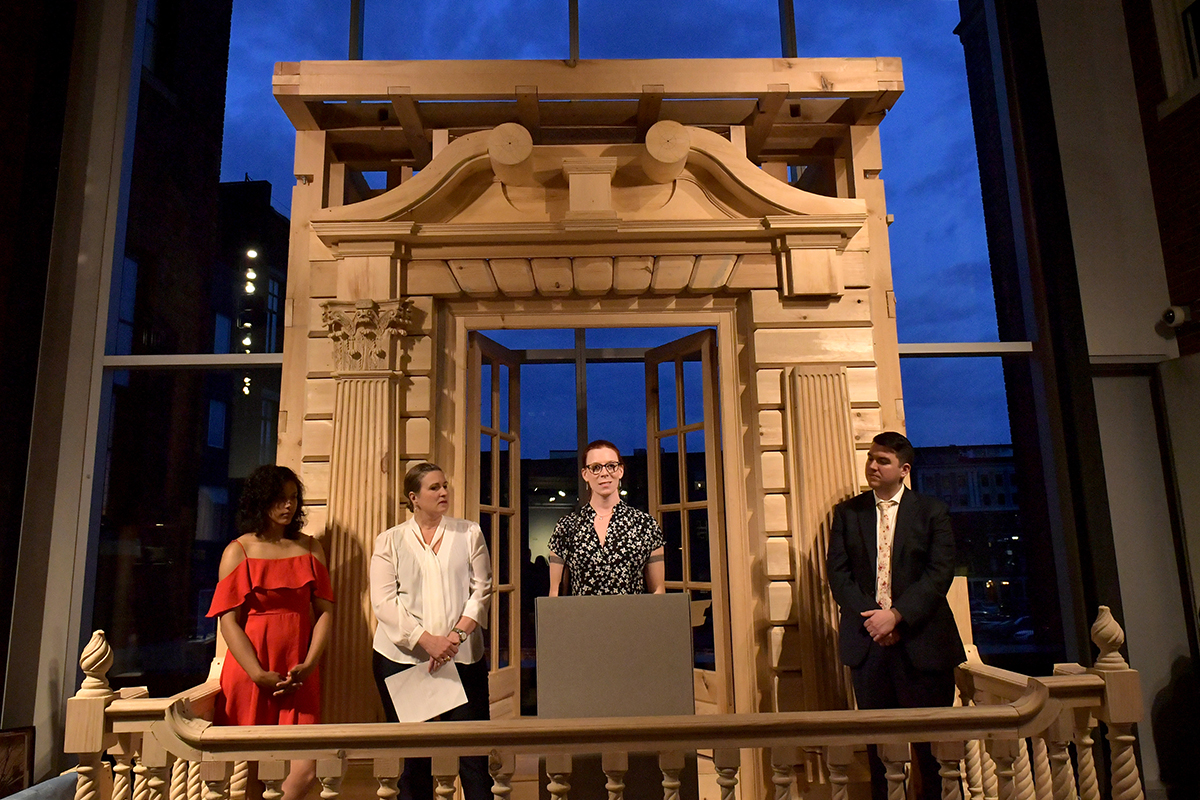 Nyara Muschette, who is currently one of our Carpentry students, decided that working as a carpenter and building homes is a way that she can have a lasting positive effect on the future. As a woman in a male-dominated field, she felt that she could be most successful getting a formal education and eventually starting her own business. She's well on her way to success already – working hard, maintaining excellent grades – while getting to school from New Hampshire every day.
Will Perkins is a current Basic Piano Technology student, and you may have just heard him playing the piano upstairs in Greener. Will has traveled around the world as a professional jazz pianist and was on track to switch careers to become a small business owner when he found NBSS. He comes to us most recently from Idaho, and he will graduate from Basic Piano Technology at the end of this month and then comes right back: joining our Advanced Piano Technology program in the fall.
Ann Cahoon is the Department Head and Instructor for our Jewelry Making & Repair program. She arrived at NBSS in 2000 after realizing even her Honors BFA wasn't technical enough for her specific goals. Eleven years after graduating and teaching Continuing Education classes for us, she joined the faculty of the full-time program and then became Department Head in 2016. Ann has owned her own business for 17 years. Whether teaching students or running her first generation family business, Ann relishes her role as a technical problem solver – and micro engineer.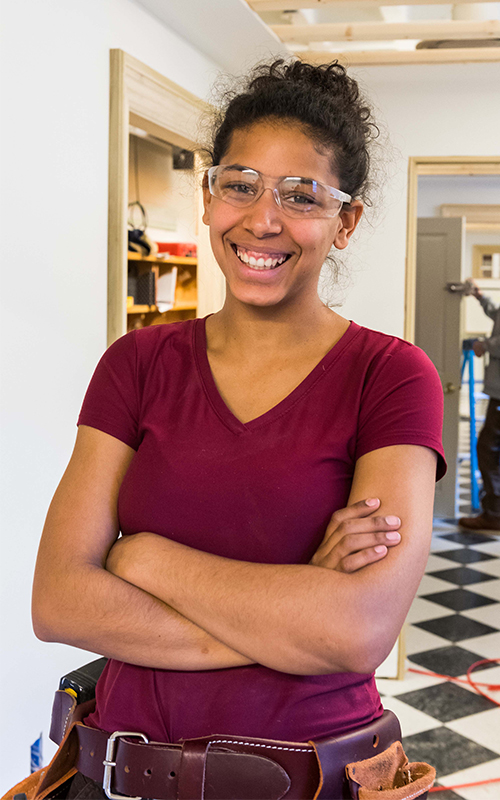 Nyara Muschette CA '19
Good Evening everyone. There are many reasons for why I ultimately decided to attend the Carpentry program at North Bennet Street School, but tonight I'd just like to touch on a few experiences that stand above the rest.
My-Turn, an organization geared towards aiding young adults in becoming successful, is largely to thank for my education in the trades. More importantly, my mentor Franchesca Alcala helped me realize what a great match carpentry would be for me. My NBSS education was influenced by a variety of experiences, including applying to and being rejected by a union, experience in the lumber department at Home Depot, and most importantly, an internship with Girls at Work in New Hampshire. While there, I had eight 14-year-old girls teaching me things about woodworking that I never knew I was missing. Elaine, the founder of the organization, has years of construction experience and spoke very highly to me about NBSS. She taught me that it is okay to make mistakes, that it is important to build up those around you, and that being a girl should never be enough to stop you from doing what you love.
After touring the School in person, there was no doubt about the quality of education offered. Unfortunately, being from New Hampshire means there are other factors to consider. Mainly the commute, but also the issue of cost. As the saying goes "when your only tool is a hammer, you start to treat every problem as a nail." I have been able to take a bus into Boston and drive to job sites, which can take anywhere to three to five hours of commute time each day. As for cost, My-Turn provided funds for tools, materials, and my carpentry textbook. I was also very fortunate for my financial aid package, and Jamie in the NBSS Financial Aid Office who did everything he could to help minimize my debt. Then, seemingly out of nowhere, I got some amazing news. A generous donation was made to the School specifically to aid New Hampshire students, and so a Sanborn Mills Scholarship eliminated the need for a good portion of my student loans. It gave me the ability to really concentrate on my studies.
The Carpentry program itself has been a rewarding opportunity. There, I didn't have to sweat the consequences of my mistakes, but instead could learn from them. The first day, my instructors Geoff and Brian were very clear about what to expect. We began with our "Bennet Town Project," which taught us some of the fundamentals of carpentry. Over the course of the nine month program, I have learned to build a residential home from the ground up. Surprisingly enough, one of the biggest challenges, and critical to good work, was actually sharpening chisels and tool maintenance.
The instructors have trained the class in more than just building and joining abilities. There are aspects to the job that are of equal importance, such as relationships, attire, and attitude. A person that maintains a positive outlook, is clean in appearance, and can respect those that they may not agree with is a million times more likely to be successful.
The need for people in the trades is steadily increasing, and the quality of work out there seems to be decreasing due to lack of proper education and experience. I look forward to getting out into the field with the skills necessary to become one of the best. I want to eventually start my own business and build upon the foundation that I have created here, both literally and figuratively. The NBSS education is an opportunity I am glad to apply myself to. If a long commute is the trade-off for the knowledge and skills I have today, then my only complaint is that I didn't make the choice sooner.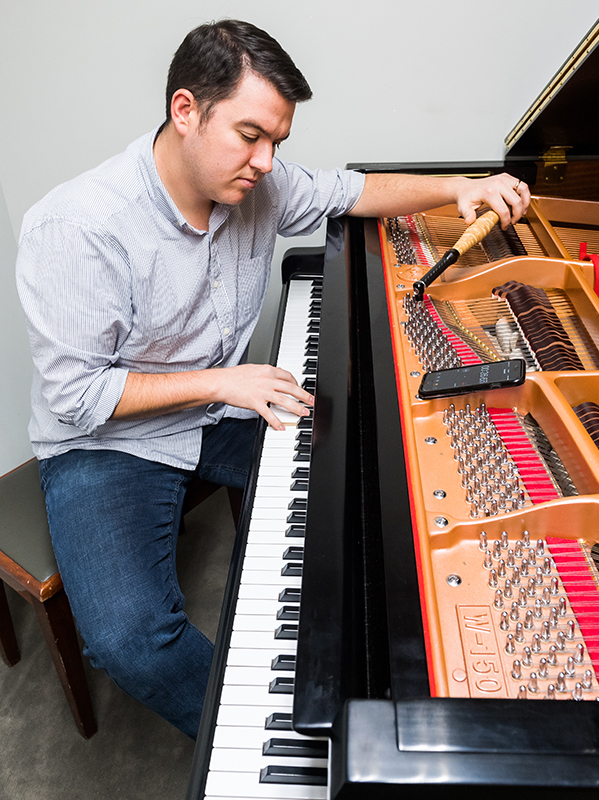 Will Perkins PT '19
In my relatively short life, I've learned that you seem to get what you're looking for when you aren't really looking for it. Before I moved Boston to attend NBSS, I was studying business at a university and had a management position at a small business owned by my in-laws. It was a stable job at a great company, but I found myself far from fulfilled by either my work or my education up to that point.
Then, about 18 months ago, I was contracted to play solo piano at a ragtime music festival in Buenos Aires, Argentina. I decided to take a week or two off from work and use this as an opportunity to relax and do something I love. While at the festival, I went out to grab a bite to eat between concerts with one of the fellow musicians who was a close friend—and just so happened to be a piano technician. We decided to go to a hamburger joint close by, and while we ate, I related to this friend the lack of fulfillment I was feeling in regard to my career path. He suggested to me that I consider attending North Bennet Street School to become a piano technician. I was skeptical. I had performed on pianos around the world, and it was my impression that you couldn't really make a decent living working on them. However, that day, I decided to hear him out. And there, in this dingy, noisy burger dive, I did a quick google search and found a short video explaining what the piano technology program here is all about. As I watched, I was intrigued. I knew immediately that this was something very special. I went back to the hotel that night and explored the NBSS website, read the testimonials of piano technology graduates, and watched the video several more times. I texted my wife about it and to my surprise, her immediate response was "Yes, let's look into this!" A short while later, we decided to tour the School. As soon as we stepped in this building, we knew we had found a place we didn't even know we were looking for.
When I started the Basic Piano Technology program last September, I had never even so much as touched a tuning lever for more than a few seconds. On the first day of class, our teachers gave us some instructions, handed us a tuning lever, and said "Go!" As the weeks and months flew by, I was enamored. This instrument that I thought I knew so well, had a whole other side to it that I never really knew about—and it fascinated me. I have since found that not only do I love working on pianos, but that I have excelled in my work. Recently, I was selected for an internship at the Tanglewood Music Center. I will spend 11 weeks working under some of the world's most skilled piano technicians, caring for the pianos at the Boston Symphony Orchestra's summer concert series.
Additionally, as a recipient of a merit scholarship from the School, I will have the opportunity to delve further into my passion as that scholarship will afford me the opportunity attend the Advanced Piano Technology program next year. My education here has given me skills and knowledge necessary to make a great career doing something I love.
Upon graduation, I have agreed to acquire a thriving tuning business from a retiring technician in Eastern Idaho. When I initially approached this man about his business, his one stipulation was that I must receive an education from North Bennet Street School. He told me that he had gotten some inquiries from self-taught technicians and even some technicians that have learned through apprenticeships or correspondence courses. The quality of work from technicians like these, he told me, can be hit and miss. He had built an extensive clientele over 45 years of service that includes several concert venues, university contracts, and serious musicians. To hand over this clientele to someone who might not be able to deliver was simply a risk he was not willing to take. He knew that someone with an education from NBSS would be skilled enough to handle his clientele.
The reputation the School carries in the industry is really THAT strong. NBSS is the last of its kind. Nowhere else in the United States can someone like me, with no prior experience, come here, and then graduate 9-18 months later with the skills necessary to work on pianos at a very high level.
It is my aspiration to find those young people just like me, and make them aware of the magnificent opportunities and great joy that comes from working with pianos. I have known dozens of people over the years who have floundered in other careers only to realize that something better was available all along. North Bennet Street School is an incredibly special place, and I have felt myself gain in confidence, work ethic, and happiness since enrolling. Throughout my life as a piano technician, piano teacher, musician, and member of the community, I will make it my duty to ensure that those I come in contact with, know of this place. People, especially young people need to know about the career opportunities in piano technology and how NBSS can make these opportunities realities.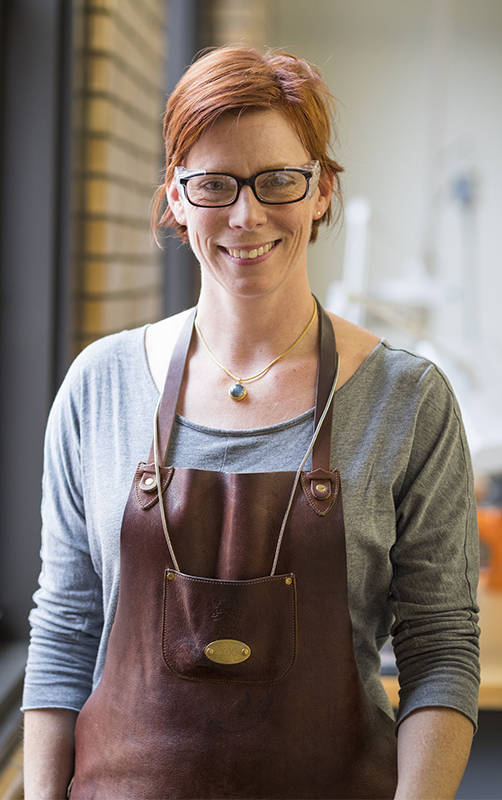 Ann Cahoon JM '02
I was so pleased to be asked to speak to you all tonight. It has been a really wonderful opportunity to reflect on what North Bennet Street School has come to mean to me, both from the perspective of someone who was educated here, and as someone who is now educating here. And what kept coming to me are thoughts on change. Perfectly fitting as we celebrate the community of the oldest trade school in North America, known for its reverence for tradition, right?
I arrived at 39 North Bennet Street for the first time in September of 2000 with the modest goal of completely changing my life. I had come to a point, both personally and professionally, where I knew I had to make a huge shift, and over the course of the following two years, I remade my life. I walked out of graduation at the Old North Church in June of 2002 fundamentally changed. I was no longer an aspiring designer, or, as my family liked to joke, their frustrated artist. I was a bench jeweler and a stone setter. I was a very slow and sometimes timid bench jeweler and stone setter, but I had the tools, both literally and figuratively, to get better. Practically speaking, I had the technical grounding to realize my creative and professional goals. On a deeper level, I had found my voice and my calling, and my world was completely transformed.
Fast forward to 2013 when NBSS would change my life once again—the day I arrived here, at the new building, as a member of the faculty. My job, as I understood it, was to teach folks to make jewelry and set stones. To share my knowledge and skill as a technician and to help students enter the jewelry industry. What I didn't realize was that in joining the faculty I wasn't just becoming a teacher in the trades. I was joining a group of humble, capable, and fiercely committed people, who show up to their shops every morning, and slowly, incrementally, patiently, and profoundly change the lives of the students who walk through their doors.
Our core business, at the oldest trade school in North America, where we teach skills and structures that are decades and centuries old, some even dating from antiquity, is actually change. For some of our students, the change is pragmatic – the shift from a career path that wasn't rewarding, or perhaps not lucrative, into a field that brings challenge and a brighter future. For some of our students their time here is the realization of a dream to work with their hands, to hone a craft, or to explore a skill deeply and fully, altering them from curious onlookers to engaged craftspeople. And for some of our students, these tangible, practical shifts are accompanied by deeply personal ones. In the process of becoming a carpenter, a locksmith, a bookbinder, a violin maker, a bench jeweler, a piano technician, a furniture maker, a preservation carpenter, our students find their community, their passion, and their strength, and become more truly themselves.
And the change doesn't stop there – it's a dynamic cycle. Just as we change our students, our students change us, and they move out into the world and workforce and change our communities and industries. Our students bring goals, viewpoints, and values that drive not only conversation but change in the shop. Our shared work in jewelry this year has sparked discussion around sustainability, human rights, and gender. There have been conversations about the social relevance of jewelry and the jewelry industry, and the changing expectations of a younger generation of consumer- many of them influenced by a deep sense of morality and justice. I know that our students will carry their thoughtful consideration of these, and many other issues, out into the field and challenge convention. As they deliver the confident work of technical excellence that we trained them to do here, I believe they are going to transform our fields, and our society. It's inevitable.
Which makes everyone here an agent of change. In big and small ways, every person here contributes to the change that originates under this roof. First and foremost are our students and alumni, who touch and affect lives, perhaps most importantly their own, through competent and beautiful work. My fellow faculty members, who hone and facilitate that capacity for beauty and competence. The incredible staff that does the endless practical work that allows all that growth and learning to happen in every shop, every day. Friends and family who provide love and emotional support through an experience that isn't always easy. Donors, who see value in the change that takes place here, and are willing to invest in us.
Thank you all for contributing to the positive change our community creates.