Becker wins the Andersson Cup!
January 3, 2013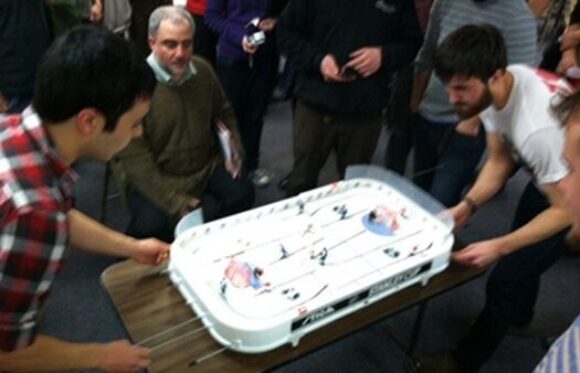 Before leaving for winter break, students, faculty, staff and friends enjoyed the annual holiday party planned and organized by students. The event was held at the new North Street building and was decorated by generous student and staff volunteers. Food was donated by students and by local North End businesses and there was a lottery of books, supplies and donated items. Entertainment was supplied by the musical stylings of the 'All school one-day band' and a marathon of table hockey matches, concluding with the final match-up for the Andersson Cup.
The finalists in the tournament – Francesco Rowe (left) and Garrett Becker (right) – both violin making and repair students, played an intense and close final game with Becker emerging as the winner, 2-1. Read more about the tradition of the hockey tournament and the Andersson Cup on the NBSS website.
Special thanks to the North End businesses that supported the party.
Boston Common Coffee Co.
Lulu's Sweet Shoppe
Theo's Cozy Corner
Ernesto's Pizza
The Cheese Shop
Alba's Produce
Beacon Hill Athletic Club
Ferrara's Kitchen & Bar