Beyond Bookbinding
April 10, 2023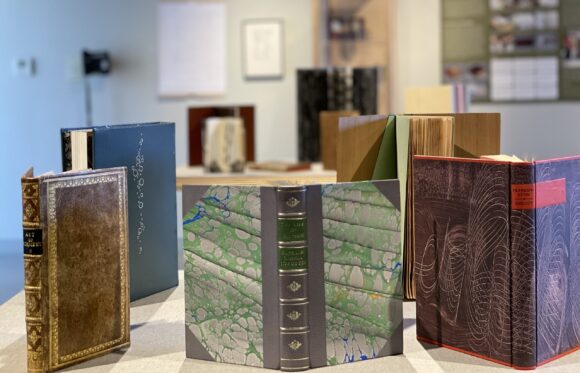 In spring of 2023, we were thrilled to host a special exhibition of work made by the NBSS Bookbinding community, including fine bindings, conservation work, book-related art, and more. On view from Monday, March 6 to Friday, April 21, 2023, it was a unique opportunity to view not only fine bindings, but pieces showcasing the wide variety of work that our students and alumni create, personally and professionally.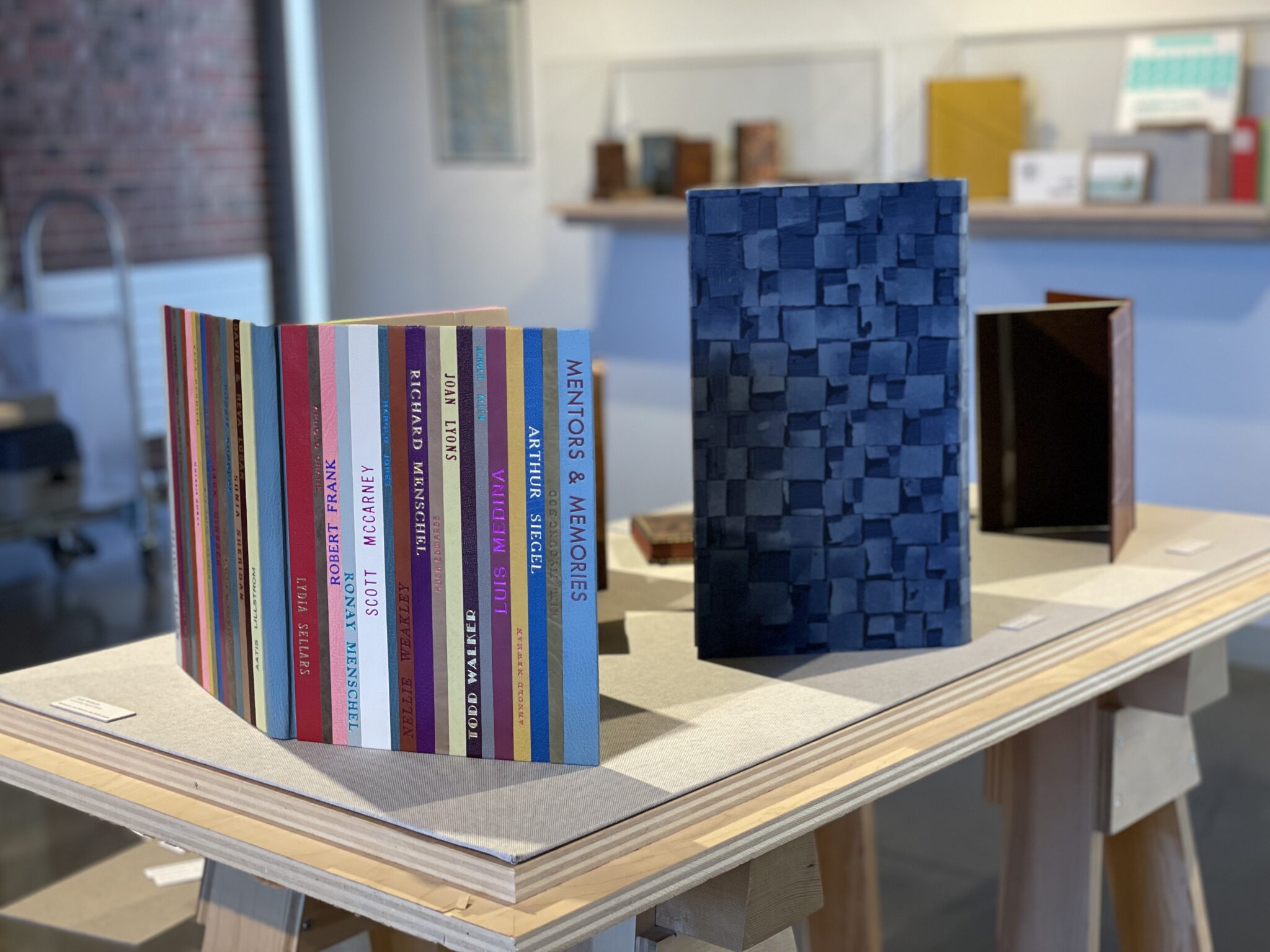 Watch a Virtual Tour
Award Winners
1st prize, $1000, India Patel BB '24 for her piece Paste Paper I.
2nd prize, $500, Mark Esser for his binding of Odes of Horace. Marc was the first Bookbinding instructor at NBSS from 1986-1994.
3rd prize, $250, Graham Patten, Bookbinding Program Advisor, for his binding of A Measure of a Circle.
Honorable Mentions
James Reid-Cunningham BB '91, Bookbinding Program Advisor, for his binding of Benjamin Britten: A Christmas Sequence
Wendy Withrow BB '08, for her wearable accordion book, The Walls We Wear
Lisa Muccigrosso BB '20, for her kintsugi-inspired repair of the mass market paperback, Nine Stories
Thanks to our jury:
John Buchtel, Curator of Rare Books and Head of Special Collections at the Boston Athenaeum
Darin Murphy, Head of the W. Van AlanClark, Jr. Library at the School of the Museum of Fine Arts
Sarah Turner, NBSS President
Exhibitors
Dorothy Africa BB '93
Jeffrey Altepeter BB '99, Bookbinding Department Head
Johnny Carrera BB '97
Ann Conneman BB '98
Marc Esser, first Bookbinding instructor, 1986-1994
Sam Feinstein BB '12
Cynthia Fields Belanger BB '97
Fionnuala Hart Gerrity BB '11
Ken Gilbert BB '10
Jeanne Goodman BB '13
Marc Hammonds BB '17
Martha Kearsley BB '97, Bookbinding Instructor
Nancy Lev-Alexander BB '91
Nicoline Meyer BB '23
Lisa Muccigrosso BB '20
Abra Mueller BB '23
Marie Oedel BB '02
India Patel BB '24
Graham Patten, Bookbinding Program Advisor
Todd Pattison, Bookbinding Program Advisor
Rachel Payne BB '23
Jennifer Pellechia BB '19
Sara Pines BB '23
James Reid-Cunningham BB '90, Bookbinding Program Advisor
Ariana Rutledge BB '22, Bookbinding Teaching Assistant
Jackie Scott BB '15
Rebecca Staley BB '18
Christina Q. Thomas BB '08
Wendy Withrow BB '08
EJ Youcha BB '23
Matthew Zimmerman BB '19
Mimi Zycherman BB '23