Boston Boatworks
November 26, 2019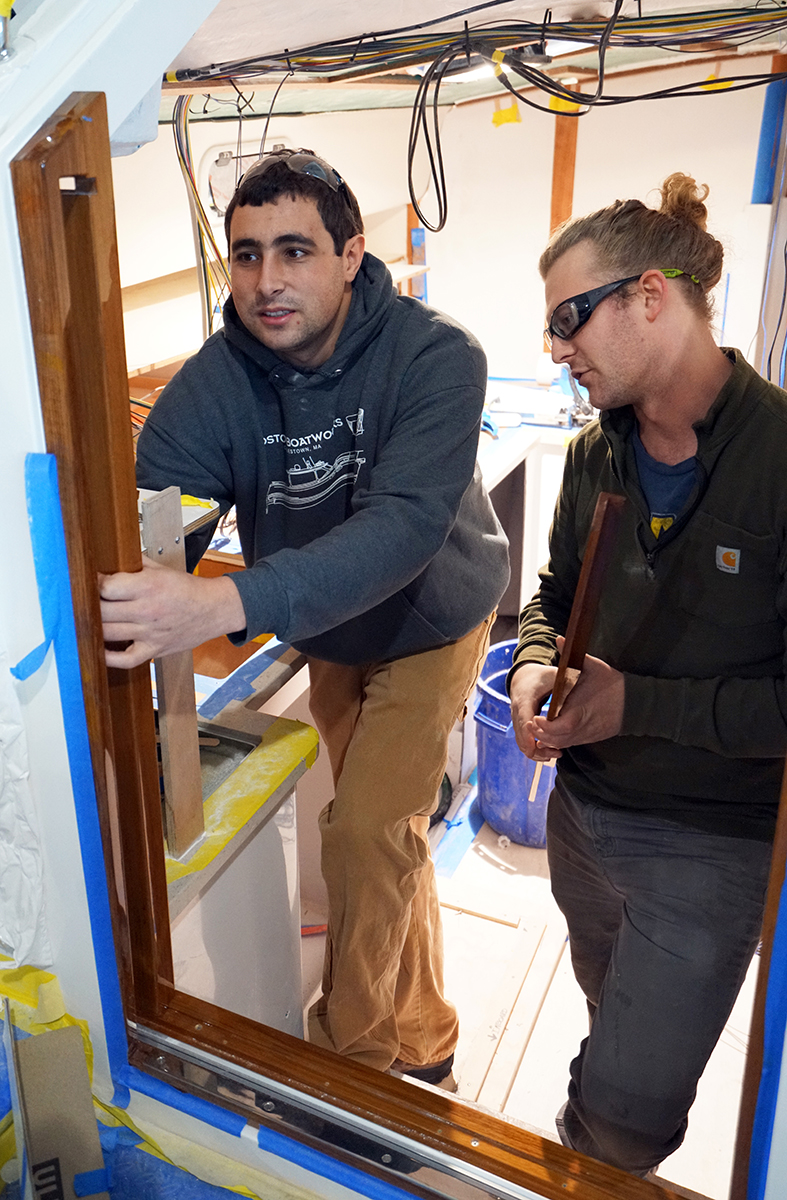 Boatbuilding is among the oldest human practices in recorded history, with archaeological evidence of the first ships existing at least 50,000 years ago. NBSS alumni Jason Krivelow CF '16 and Brendan Sullivan CF '18 carry on this ancient craft at Boston Boatworks, which builds semi-custom boats for clients all over the world.
Jason started his work as an artisan in the theater industry, building sets for eight years after graduating from college. "I did a lot of rigging, background design, and set building, but I got tired of watching my work get thrown away after a show," says Jason, "I saw North Bennet Street School as a new challenge."
Though he was a skilled woodworker before his time at NBSS, Jason would come to learn the more subtle skills through the School's Cabinet & Furniture Making (CF) program. "I had almost no hand tool experience before working at NBSS," says Jason. "I also really had no clue about how to build something that could last a lifetime."
Through his time in the CF program, Jason developed a well-rounded set of skills that caught the attention of a Boston Boatworks manager, who visited NBSS for a recruitment event. Jason was hired by the company soon after graduation. "A dream job," as Jason puts it.
For his part, Brendan also came to woodworking through artistic expression, graduating from the University of Wisconsin, Madison with a degree in fine art focused on woodworking. In his senior year, a student from NBSS gave a compelling presentation to Brendan's class. He was so captivated by what he saw that Brendan enrolled in the CF program soon after graduating.
"I had a good understanding of how to fabricate and how to use the machines, but I lacked the business side of woodworking. I also didn't know much about the inner mechanicals of the machines, or how to service them," says Brendan.
Like Jason, Brendan's skills flourished while studying at NBSS and working on a variety of demanding projects. After two years growing his experience in the craft, another presentation—this time by Jason, on his boat building work—caught Brendan's attention. He joined the Boatworks team after getting his diploma from NBSS. "The thought of working on boats just seemed cool, and it was always an idea in the back of my mind." says Brendan.
Dan Faia CF '94, Department Head for the CF program, reflects on their time at NBSS. "Jason was quick in his production while he was here—an eager learner with a desire to work. As the projects progressed, Jason learned that with patience he was able to grow more refined in his work." Dan relates. "Brendan was also a great worker, and had a deep appreciation for the time it takes to become efficient in furniture making."
Many in the boat making industry have a general contracting background that serves them well enough. However, a more specific set of skills is needed for achieving the fine craftsmanship for which Boston Boatworks is known.
Peter Friedell, Carpentry Team leader at Boatworks, explains how training at NBSS relates to this attention to detail. "I like to hire North Bennet grads because they understand the level of quality that needs to go into our boats. Importantly, they understand this even BEFORE they walk through our door for the first time," he shares. "Usually we have to teach people this. Believe me, sometimes this takes a long time! And sometimes, it is impossible."
Today, in addition to other duties at Boatworks, Jason maintains all the equipment and Brendan works on the floor as the assistant team leader. As a bonus, they each get to work on their own furniture and other woodworking projects in the evening—Boatworks offers its employees full access to its expansive Charlestown wood shop as a benefit.
Jason and Brendan both credit NBSS with providing them knowledge of how machines actually work, and on the other end of the spectrum, the mastery of hand tools for woodworking. These talents set them apart at Boston Boatworks, and help make them invaluable team members.
"For some reason, NBSS grads always tend to be the kind of employees who become leaders on our team," Peter shares. "Both Jason and Brendan quickly moved into management roles soon after joining Boston Boatworks. Now they are training our other, newer employees in the quality they know so well."