Bound Together: Bookbinding by the NBSS Community
May 6, 2019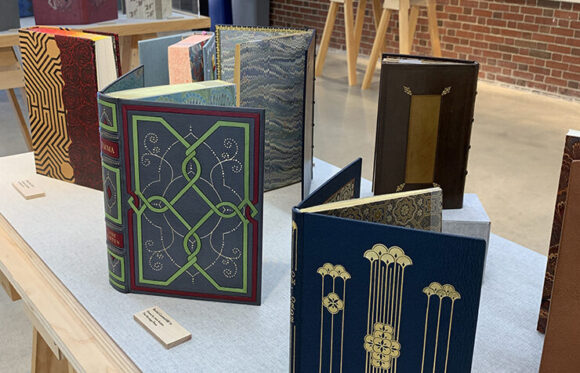 North Bennet Street School recently hosted a special exhibition of exquisite hand-bound books made by students and alumni of the Bookbinding program. This unique gathering of work showcased the many talents of our diverse bookbinding community, and offered insight into the renowned program at NBSS. The thirty-five fine bindings were on view from March 28 to April 30, 2019.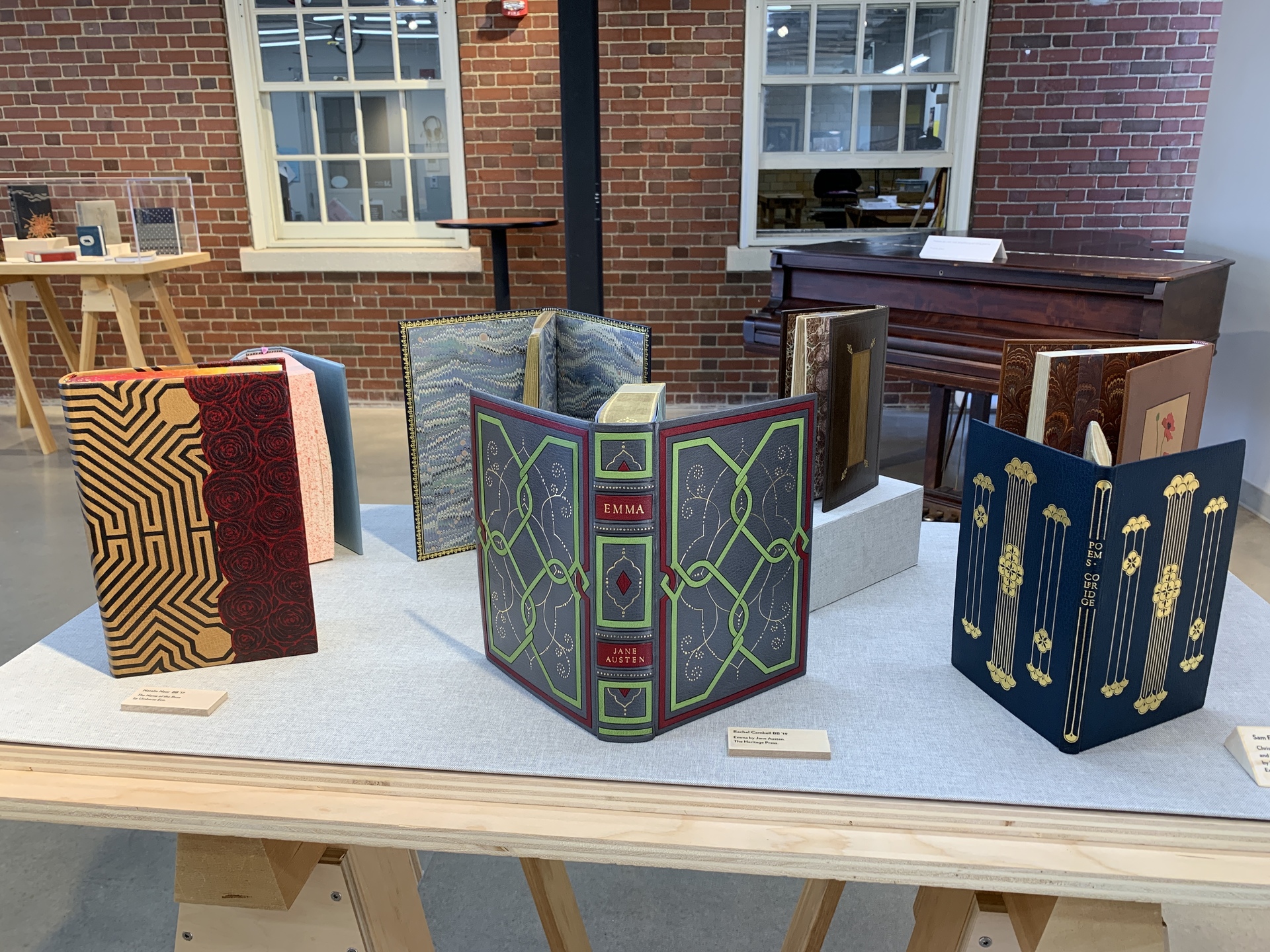 From the full group of work on display, a jury selected four prize winners. The jury included Katherine M. Ruffin, Director of the Book Studies Program at Wellesley College, Stanley Ellis Cushing, Curator of Rare Books Emeritus at the Boston Athenaeum, and Thomas Boss of Thomas G. Boss Fine Books.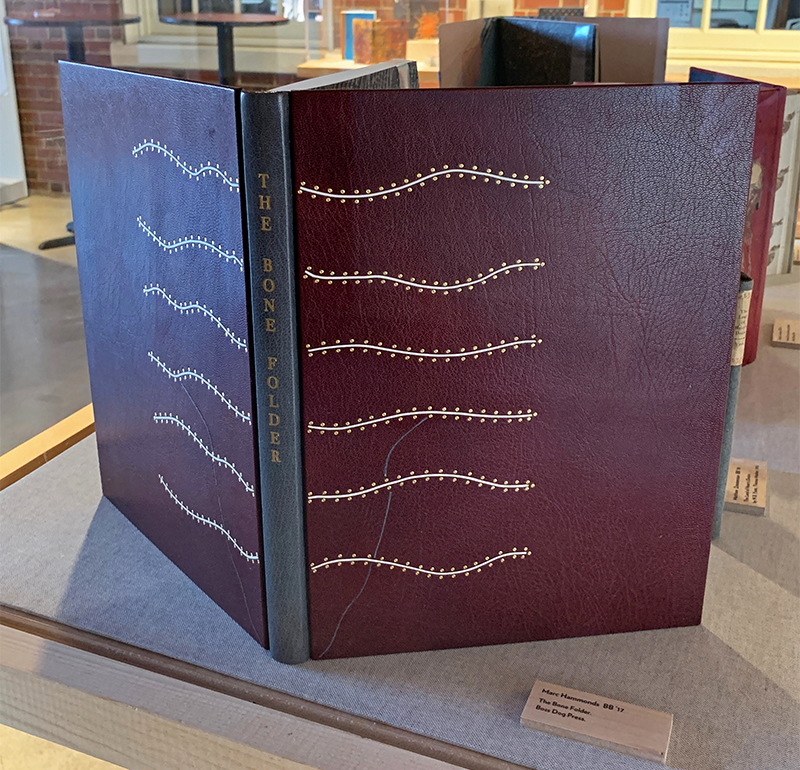 1st Place: Marc Hammonds BB '17, "The Bone Folder," written by Ernst Collins as Der Pressbengel, translated by Peter D. Verheyen, and printed by Boss Dog Press.
Lapped case binding in full goatskin with onlays of tawd and tanned goat, dots tooled with gold leaf, and Diane Bond paste paper endpapers.
Marc says of the book, "Much of the subject of The Bone Folder relates to traditional bookbinding technique. My inspiration stems from the raised sewing supports and endband cores used in historic bookbinding to attach the boards. In my design they are illustrated by leather onlays and dots tooled with gold leaf. The goal I had in mind was to craft a very contemporary binding with a design which would allude to traditional techniques."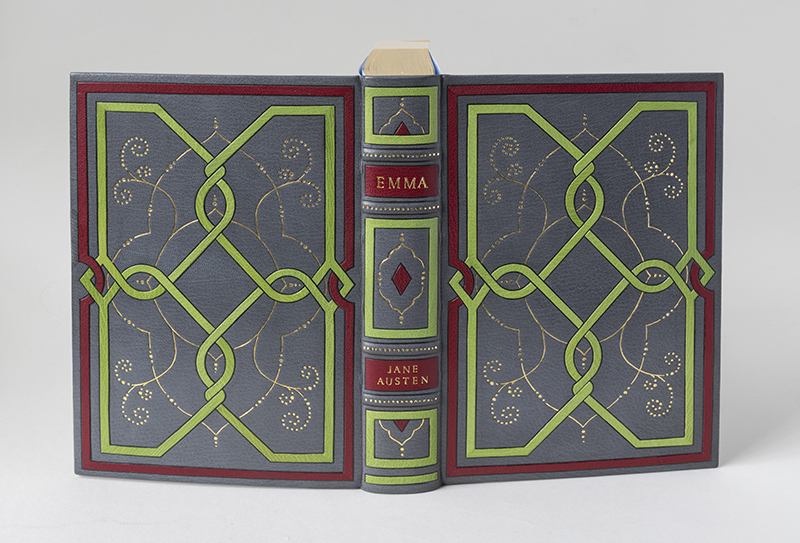 2nd Place: Rachel Campbell BB '19, "Emma" by Jane Austen
Full grey goatskin with green and red leather onlays and carbon and gold tooling. All edges gilt and gauffered, with marbled endpapers by the binder.
Rachel relates, "This edition of Emma has lovely illustrations, so I started by marbling paper for the end sheets using similar colors and chose my leathers to match. I took inspiration for the cover design from some of the books made at the Club Bindery around the turn of the century. I loved how strapwork and tooled dot motifs were used in some of those Art Deco designs. I gilded and gauffered the edges with a frame of dots first and then my cover design evolved, through many iterations, from there."
3rd Place: James Reid-Cunningham BB '90, "The LuLu Plays" by Frank Wedekind, illustrated by William Kentridge
Limited edition artist book from Arion Press, containing 67 drawings by South African artist William Kentridge. The text is the original telling of the LuLu story by playwright Frank Wedekind, which inspired the silent cinema classic Pandora's Box and the Alban Berg opera Lulu. Bound in white and black goatskin, with leather onlays and gold titling.
James says that "An artistic bookbinding provides an aesthetic interpretation of text and illustrations. The LuLu Plays are masterpieces of early 20th century expressionist theater, with cryptic motivations and exaggerated characters providing an electric charge to the audience. The design of the binding is abstract, largely empty yet physically explosive, with stark black and white contrasts marked only by small dots of color."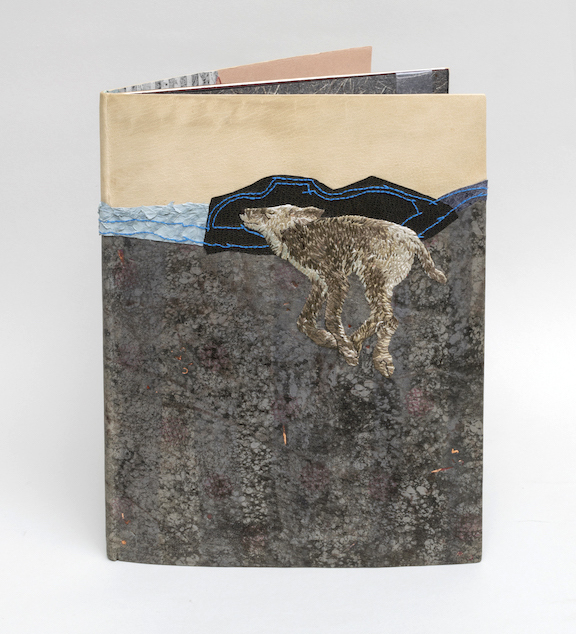 Honorable Mention: Erin Fletcher BB '12, Roadkills: A Collection of Prose and Poetry
French-style binding with laced-in boards, covered in hand-dyed goatskin hand embroidery and onlays in snakeskin, handmade paper, mulberry leather, ell, carp, goatskin, and ostrich.
Erin told us, "My initial inspiration came from the print of a coyote within the text. Alan James Robinson, the artist behind the wood engravings, took delicate care in crafting their portraits. I wanted to show the same respect by creating a soft, lush environment on the binding for the coyote. In doing so, I combined a variety of textures through the use of non-traditional leathers, such as carp and ostrich, along with leather dyeing techniques and embroidery."
All the award winners and many more of the other bindings were on display in our Student & Alumni Exhibit as part of the 20th Annual Celebration of Craft, open through Saturday, June 29, 2019.