Brittany York PT '22, PA '23
July 20, 2023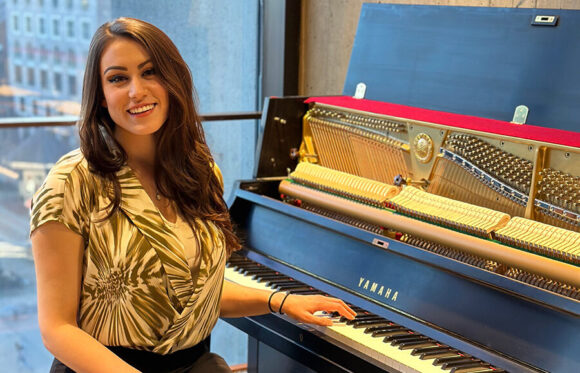 Basic Piano Technology '22, Advanced Piano Technology '23
Brighton, MA
When/how did you discover your discipline/field?
I received my undergraduate degree in music at Salem State University. When I was a sophomore, I started getting into composition. The lens that I was composing through was a lot of digital audio workstations and playing with things like GarageBand and Pro Tools. I remember coming to this plugin that I fell in love with that was all pianos. There were several different types of pianos—Steinway, Yamaha, Bösendorfer, and Bechstein. I didn't know a lot about pianos at the time, and they all sounded so different. I remember thinking, "That's so weird. I wonder why that is?"
I started showing up at piano dealerships that sold these instruments new. I tried to get to know as many different brands and models as I could by playing them and bothering the salespeople. They were so gracious at all the locations I visited.
This became a big passion of mine, visiting piano dealerships. They're just the most magical places in the world to me. I decided pretty quickly that if I could work anywhere in the world, I would want to work at one of them. They are Disneyland for musicians. The instruments are gorgeous—they're so well kept, new, starting off their life, and they're going to be loved by the people who buy them. 
For a long time, I thought the only window into a dealership was through sales, which I had some experience in and was what I was originally thinking of doing. But then someone helped me realize that there is a role of technician, the person who actually cares for the instruments and helps them realize their greatness. I thought, "That's a really cool job."
How did you discover NBSS? Why did you choose to attend the School?
I was blessed with some wonderful mentors and private instructors during my undergraduate degree. Senior year, because of my love for dealership work, two of them—my piano professor and my composition professor—said, "Have you ever heard of North Bennet Street School? Have you ever considered going there?" My composition professor knew a Salem State graduate who went to North Bennet and completed the Piano Technology programs, so there was also a connection there. They both said, "It's a unique place with niche people. You should just go check it out, because if that's your tribe, then it's a special place."
So I went and toured. I was part of one of the last tours offered in person in 2019, right before Covid hit. I was lucky enough to tour in person, and I fell in love with the departments. I realized it was such a special place. And I loved the North End. I decided that if I could, I wanted to go.
Can you name one of your favorite experiences in the program? 
It's so hard to pick one North Bennet experience because there have been so many that are amazing. But the one memory that I could never replace, in terms of the trajectory of my life, is meeting my partner because of this program, as well as finding my dream job.
Last summer, between Basic Piano Technology and Advanced Piano Technology, I completed two internships. The first was with Boston University Tanglewood Institute (BUTI); it is an institute for advanced high school musicians. They have pianos, so they're in need of technicians. (North Bennet has a strong connection with BU—one of our North Bennet graduates, Xiaodan Liu PT '07, PA '08, RPT, is head piano technician at BUTI and senior piano technician at Boston University School of Fine Arts.) 
While at Tanglewood, I was helping set up pianos and getting tuning experience. Xiaodan introduced me to the stage manager, Alex, so he could give me access to the building where I would be tuning pianos. 45 minutes later, Alex knocked on the door and said, "We just moved a clavichord and it's broken. You're the only technician here. Can you help?"
Now, a clavichord is an old historical instrument and is very delicate; it's not a piano. I have no experience in clavichords. I told him I could come look at it but couldn't make any promises as I was not qualified. So I got in the car with this complete stranger, and we drove to where the instrument was stored. It turns out the broken clavichord was actually a Clavinova, which is a digital instrument. It just had some broken particle board and stripped screws. I took it apart, put it back together, plugged it in, and it was totally fine! But Alex and I had just enough time to talk to each other and know that we wanted to spend the rest of our BUTI experience inseparably. 
The second internship I completed last summer was with Faust Harrison Pianos in White Plains, New York. I got to work there for a couple of months and was recently hired as a full-time technician. Now, Alex and I are moving to New York together for my new job; I've found a completely different type of family out of my North Bennet experience.
Can you describe the NBSS community in just a few words?
Creative, quirky, masterful, and connected.
Let's talk about your instructors. What have you learned most from them?
I learned the value of community—not just at North Bennet, but in our industry, which is so connected. You're as strong as your connections are. You can have the best training in the world, but when you start doing this work on your own, you're going to hit a point where you don't know what to do and feel like you're in deeper than you can breathe, and that's when you have your connections. You can call your instructors, the guest lecturers, and the friends that you made in the program. There are so many resources. 
This was a huge lesson for me as an individual because I grew up an only child. I'm kind of a lone wolf. I'm highly independent. Learning that it's not only safe but really good to rely on your people and your network was so powerful. It's unique to being in a trade how much you need these people, and how great they are.
What are some ways you have felt supported at NBSS?
Out of the gate, North Bennet is a place I felt more supported than I've ever felt anywhere in my life. North Bennet has taught me what support means. And it's come through a lot of different avenues: It's come through connections. It's come from making really good friends and adding to my family. And it's come from feeling wanted and valued.
The student-to-instructor ratio is powerful. Spending seven and a half hours a day, five days a week with the same people doing this intense work is so bonding. You get to know your instructors and your instructors get to know you. That is a level of support that most people don't get in education, especially traditional education at the college or graduate level, where you see a couple teachers a couple times a week. You just don't get that same bond. I fell in love with it. 
When I was a first-year student, I was only planning to do the Basic Piano Technology program. I didn't have the resources to do the second-year Advanced Piano Technology program. I had worked in sales before first year, and I had a savings that I was living off of, to support myself outside of school. I was at the end of it, and I wasn't sure what I was going to do. But I definitely didn't think after the first year that I would do the second year.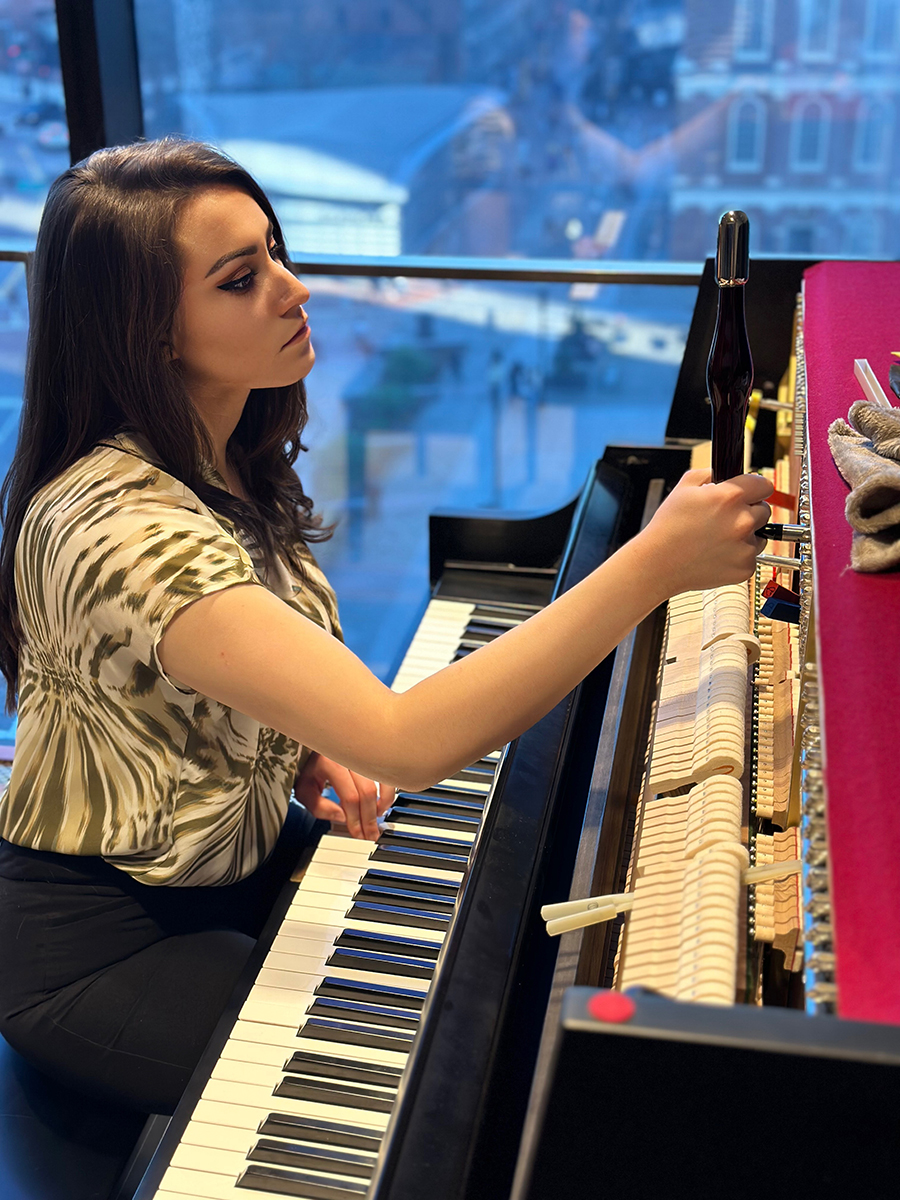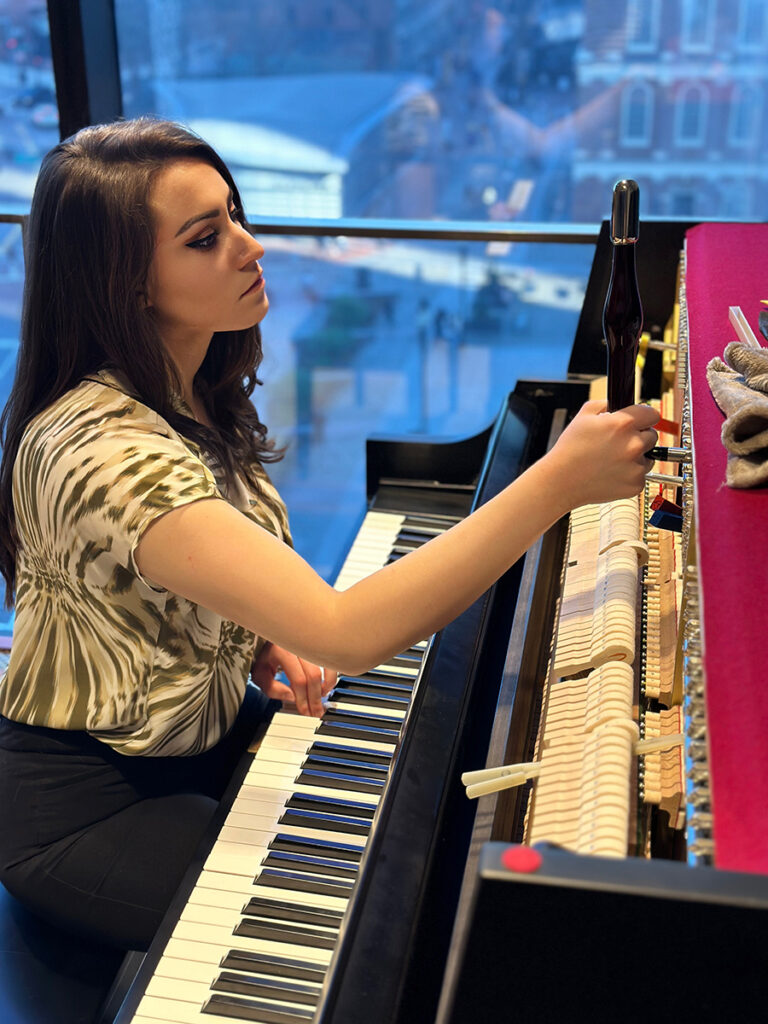 We had so many great guest instructors, and the resounding thing we kept hearing from all of our alumni instructors was, "Do the second-year program; you won't regret it. People who didn't do it, wish they did. If you have the opportunity, it's so worth it." We also took field trips to see the second-year program, and I realized very quickly that I needed to do it. I wasn't willing to not have the experience if I could make it work. 
I was lucky enough to receive the Surdam-Murphy Scholarship, and it was the difference between being able to do it and not being able to do it.
The Surdam-Murphy Scholarship is both financial need and merit-based. It's built off of the work that you're doing first year, the recommendations of your instructors, and the statement of purpose you write when you apply for the second-year program. I put every part of my heart and soul into that statement of purpose, and I was lucky to have it well received and to be the recipient of the scholarship. 
Doing Advanced Piano Technology was one of the best decisions I've ever made. I learned so much. And it was also empowering. I am not someone who's ever picked up tools or used a drill press or a hacksaw or sanders. I had never worked with wood before. They're just not skills that I ever learned. It was special to get that knowledge that's so cross-applicable to every part of your life.
Having the financial aid was the difference between being able to unlock that part of my love of the craft. Because now I love woodworking, and I would have never known that. 
Can you describe your work in just two or three words?
Thoughtful, well-informed (I have so much information behind the work I do because of what I learned at North Bennet), and loving.
When I approach a piano, no matter what I'm doing, it's because I love the instrument. I love how the pianist is going to feel when they sit down and play a really good instrument. And I love the trade. I just love the work I'm doing. 
Besides working in your field, what else keeps you busy?
I'm into weightlifting, boxing, and kickboxing. Any excuse to be outside, I'll take. I love being active. 
I also have a fantasy world-building project that I've been working on for 10 years, so I do a lot of writing and language writing as well as some art for it. That takes up a lot of my mental space that's not devoted to the work that I do.
What motivates you?
Love. That's what all of this boils down to: I love the piano. And I love the work that I do on the piano. One of the things I love the most is sitting back and listening to someone play a piano I've worked on—it's so special. You get to share that love with the person who's playing and loving that instrument.
What's next for you?
I'm moving to White Plains, New York, to take a full-time technician position with Faust Harrison Pianos. They are a piano dealership and a rebuilding factory, which is very rare in our industry. They do both the selling of new pianos (a lot of the European brands that I found myself falling in love with the most during my experience visiting different dealerships) and also a lot of the rebuilding work and the skills that I learned in the second-year program at North Bennet. It's this perfect, best-of-both-worlds dream job where I get to be in a dealership full-time and play.
I'm just so grateful. North Bennet has been an amazing experience. I'm excited for what comes next.
This story is from our Summer 2023 issue of Benchmarks magazine. View more issues.