Building a Chippendale Chair with Steve Brown
November 13, 2018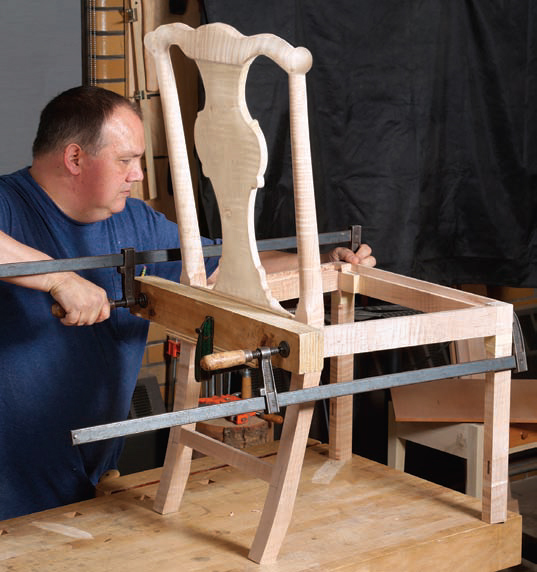 Making chairs can be intimidating even to experienced woodworkers, and Chippendale chairs are no exception.
De-mystify the process with this in-depth how-to FineWoodworking article by Steve Brown CF '90, Instructor in the Cabinet & Furniture Making program. Steve also wrote a bonus master class on compound-angle tenons, a key element in constructing the back of the chair.
Steve writes, "The chair I'm making here, even without the ornamentation found on so many examples, has a combination of angles and curves that are admittedly complex. But the techniques and joinery needed to build the chair are familiar. The structure is a frame mortise-and-tenoned together. If you can tackle the back assembly, where the legs cant in toward the ground as well as kick back, you can certainly handle the rest of the chair. So building the back is what I will focus on here.
"The side seat rail's rear tenon, which attaches to the back assembly, is cut at a compound angle and comes with its own set of challenges. I'll explain those in detail in the Master Class [see PDF below].
"…Even though the back assembly of the Chippendale chair presents the bulk of the chair's challenges, the compound-angle tenons where the rear legs meet the side seat rails can be a sizable hurdle, too. Don't be intimidated. By using two straightforward, effective jigs—one helping with layout and the other to hold the workpieces properly at the tablesaw—you'll be able to tackle these tenons. All that's left at the end will be a little cleanup by hand."
Read the full article, "Building a Chippendale Chair," on FineWoodworking with a subscription, or download a PDF of the article here.
Read the full "Master Class: Compound-Angle Tenons on the Tablesaw," on FineWoodworking with a subscription, or download a PDF of the article here.
These articles are from the November/December 2018 issue of Fine Woodworking magazine, © 2018 by the Taunton Press.