Call for Entries! Award, Exhibit & News
March 15, 2016
Distinguished Alumni Award
Since its establishment in 2005, the Distinguished Alumni Award has recognized an outstanding graduate from one of our eight full-time programs. Nominees' professional accomplishments, contributions to their craft, and work with schools and organizations to promote excellence will all be considered by the Alumni Association. Have someone in mind for the award? Nominate them by Friday, March 18!
Exhibit at NBSS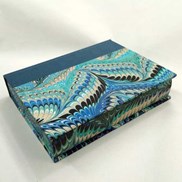 Hand marbled book by Nicole Campana
As part of the School's newly renamed Annual Celebration of Craft, the Student & Alumni Exhibit is a juried show that will showcase our talented community while providing makers the opportunity to learn, socialize, and network. You can help us make this year's Exhibit a great success by submitting your work. Submission deadline: Friday, April 1.
Alumni News
Are you an alumnus who's recently moved, gotten married, had a child, created a new studio, or enjoyed some other life event? Share your personal updates with the NBSS community in the spring issue of our Benchmarks newsletter. Email your news (under 30 words) to info@nbss.edu by Friday, April 1.