Carving Out Space
July 24, 2023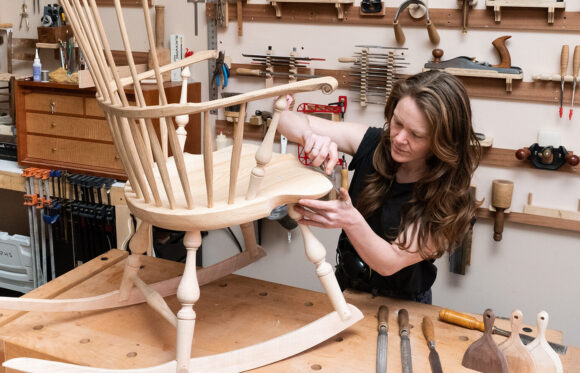 Founded by Aspen Golann CF '19, the Chairmaker's Toolbox is determined to give everyone the skills and inclusive environment needed to craft their own seat at the table.
There is an old photograph of Aspen Golann CF '19 standing in the back of a woodshop in 2019, her hands clasped over her mouth as she peers into a cardboard box and screams with joy. Inside, is a toolbox.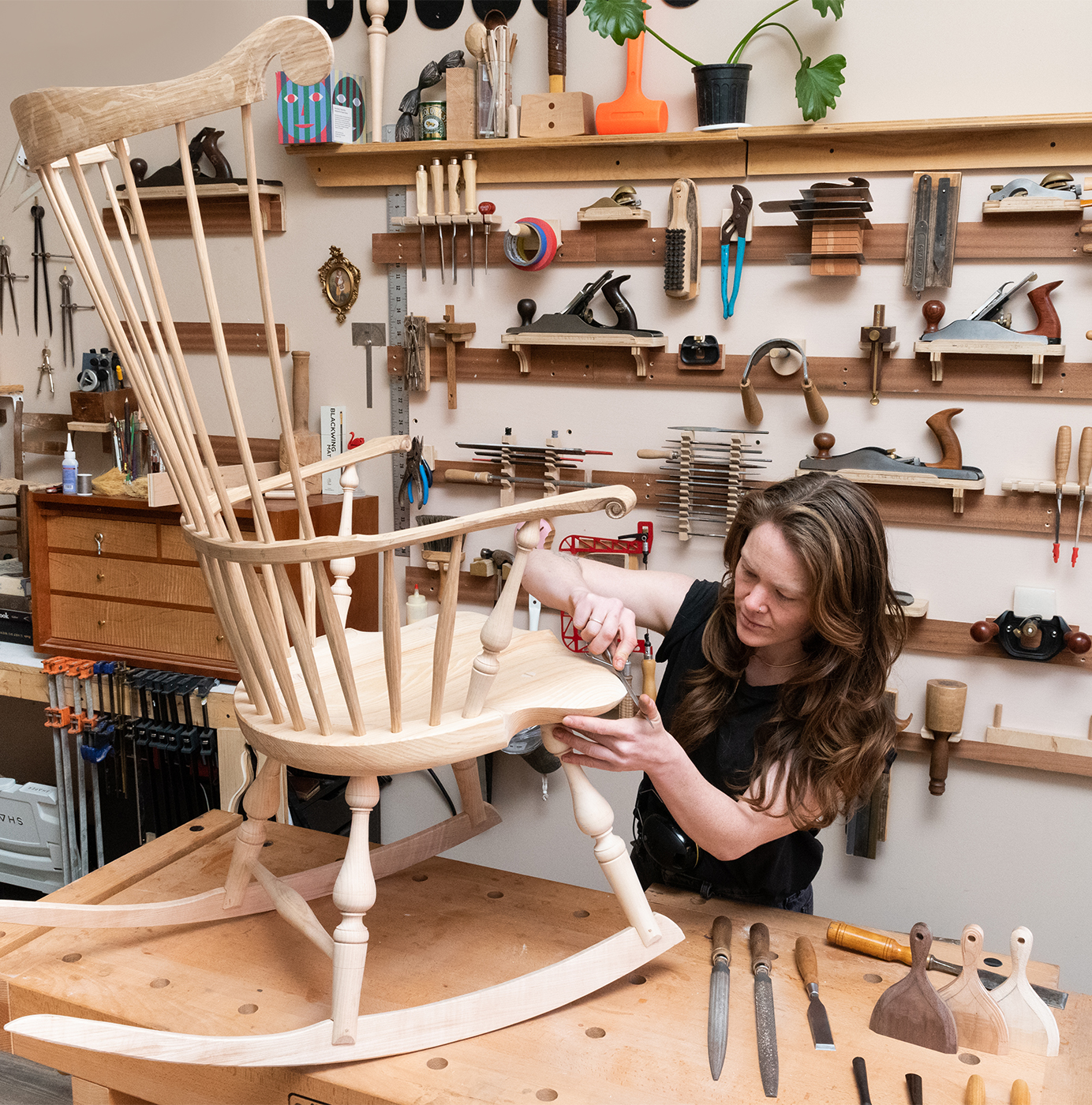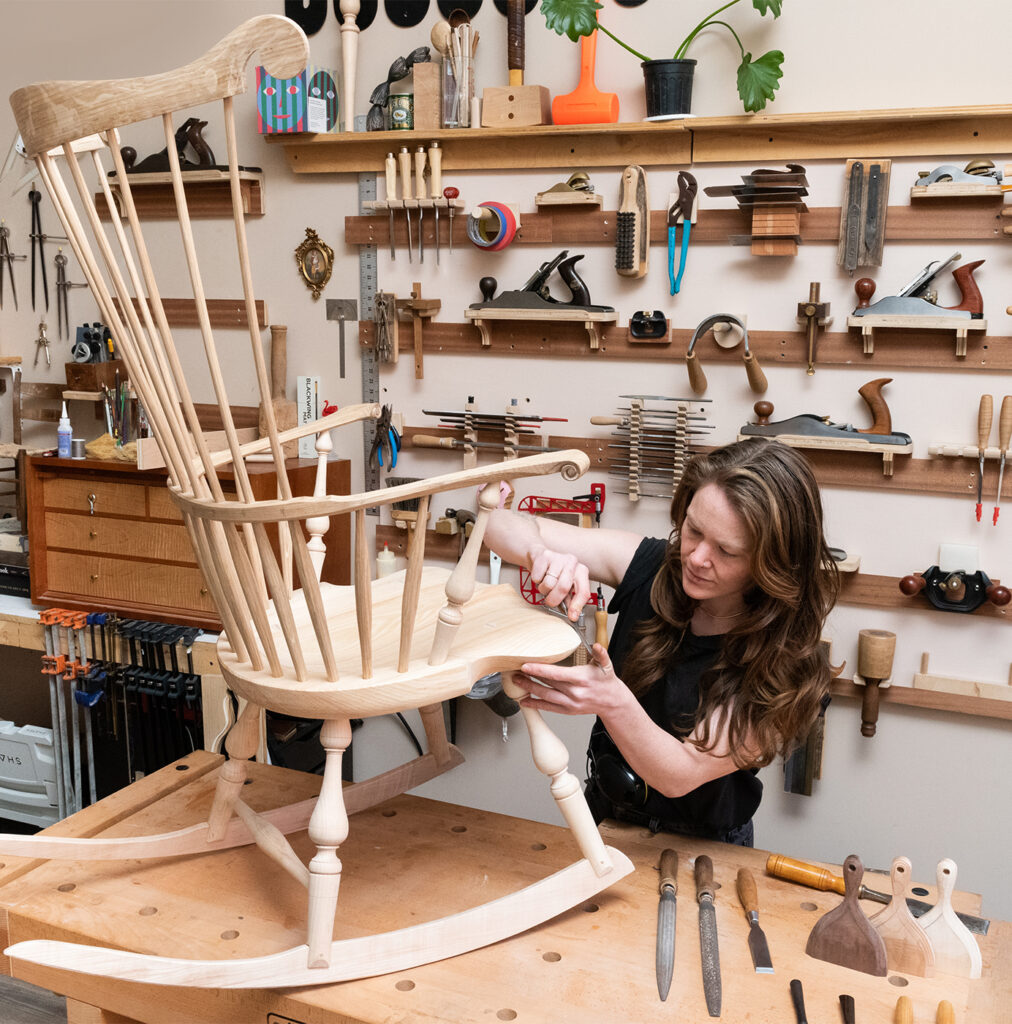 The image foreshadows Aspen's launch of The Chairmaker's Toolbox (CMT), a project that works toward more equitable access to chairmaking skills and tools across the United States and Australia. 
When Aspen graduated from NBSS, she dreamed of purchasing every tool she would need to own in order to work from her own woodshop. "I came up with a spreadsheet and a practical, five-year plan to buy all the tools needed to become an independent chairmaker," she said. 
But the dream became a reality far sooner than she expected thanks to a few plot twists. Her mentor, NBSS guest instructor Peter Galbert, received a phone call from a former student now retiring who hoped to donate their tools to a young furniture maker. Two days later a box arrived in the mail. The candid photograph, snapped by Peter, conveys the pure joy that Aspen felt when she was surprised by the extraordinary gift.
"It contained the very best version of each of the tools I would need to make chairs," she said from the Rhode Island School of Design, where she was finishing up a semester teaching furniture design.
The realization that the tools were passed down from one furniture maker to another gave Aspen a real sense of belonging. She said, "As a queer woman, and often the only woman in a shop space, I felt like an outsider. It was lonely and hard to be authentic." 
However, she did feel at home in the craft, and found mentors at NBSS who made her feel "loved and supported." She also connected with an informal network of female-identifying, queer, and gender non-conforming students. Aspen knew she needed to continue to grow that community in an even bigger way.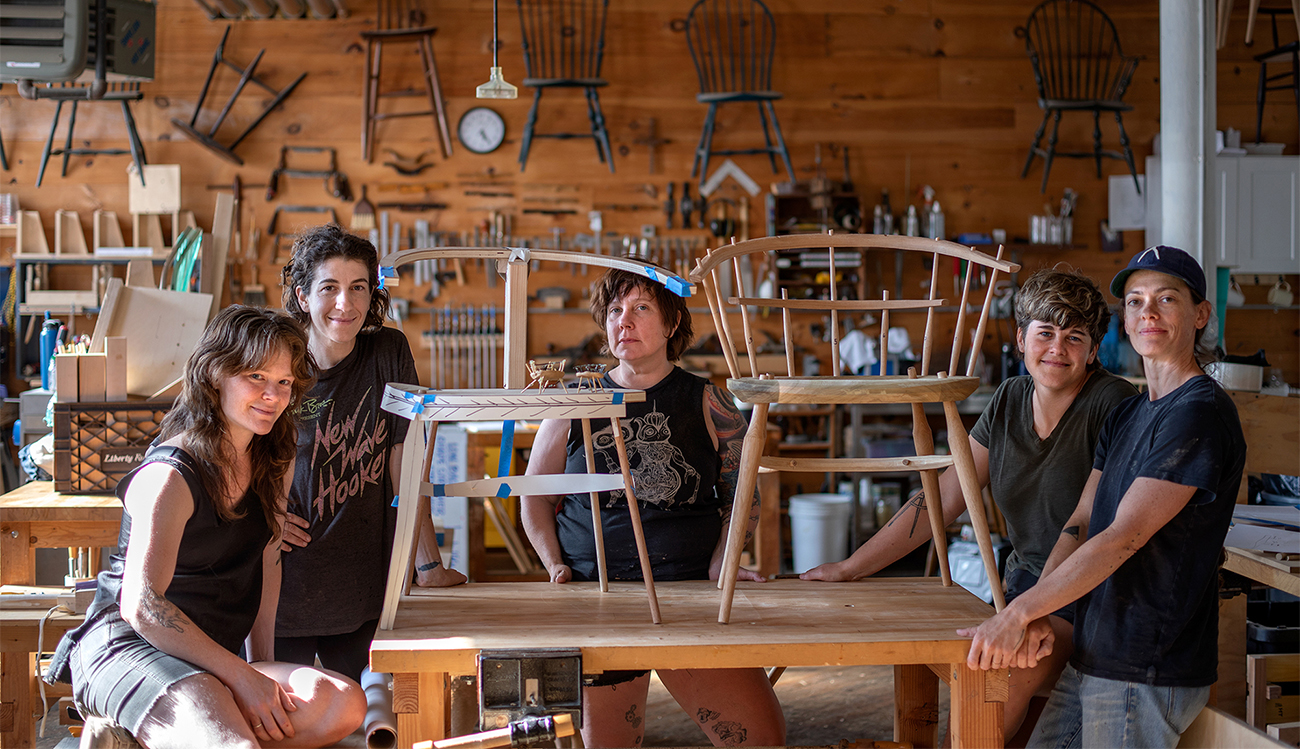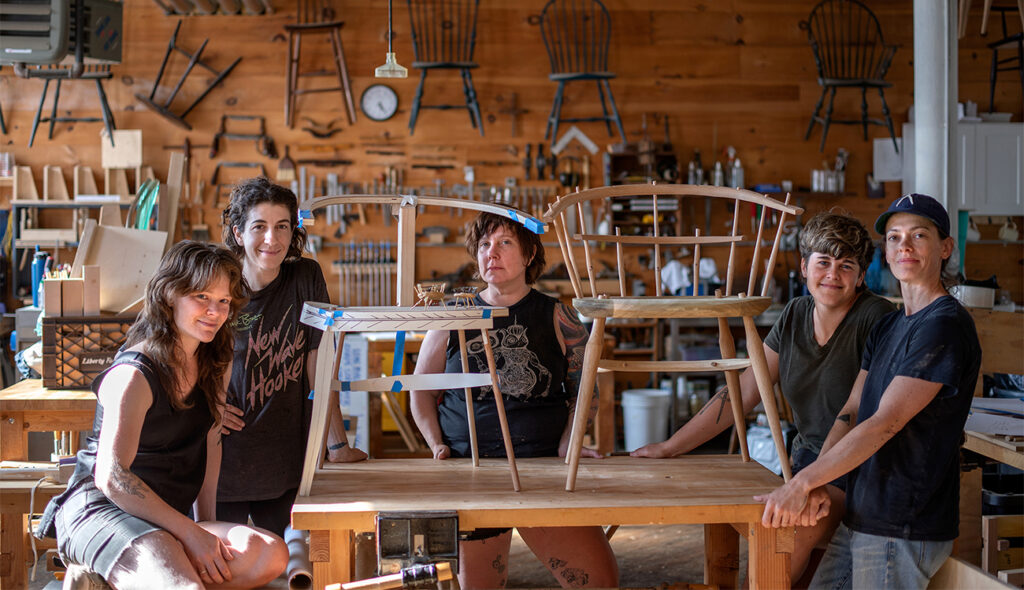 Teaching Against the Grain
A year after graduating from NBSS, Aspen won the 2020 John D. Mineck Fellowship for Furniture Arts, an award offered by the Society of Arts and Crafts to one early career furniture artist each year. Her application had featured work that "examined gender and power through classic American decorative arts," and proposed the launch of CMT. 
With the prize earnings in hand, Aspen founded CMT soon after. The project seeks to break down the barriers that push women, nonbinary people, and BIPOC out of green woodworking and chairmaking—or keep them from entering the trade in the first place. 
It achieves this by collaborating with other makers, schools, and organizations to offer chairmaking classes and workshops completely free of charge. It also provides opportunities for toolmakers from underrepresented communities to develop and sell their own limited-edition tools with the support of established chairmakers as mentors. And finally, through a program called The Living Tools, donors can gift their personal collections of tools to emerging woodworkers in need.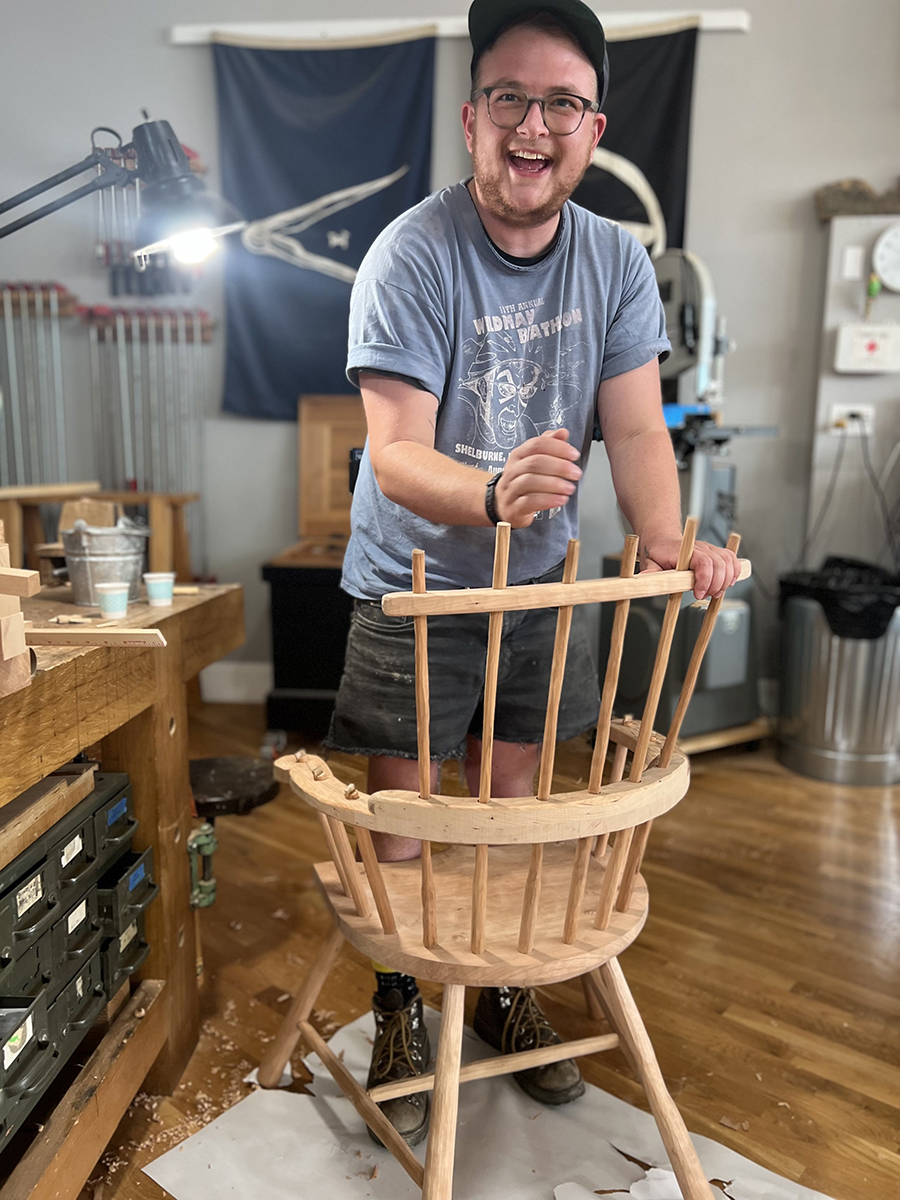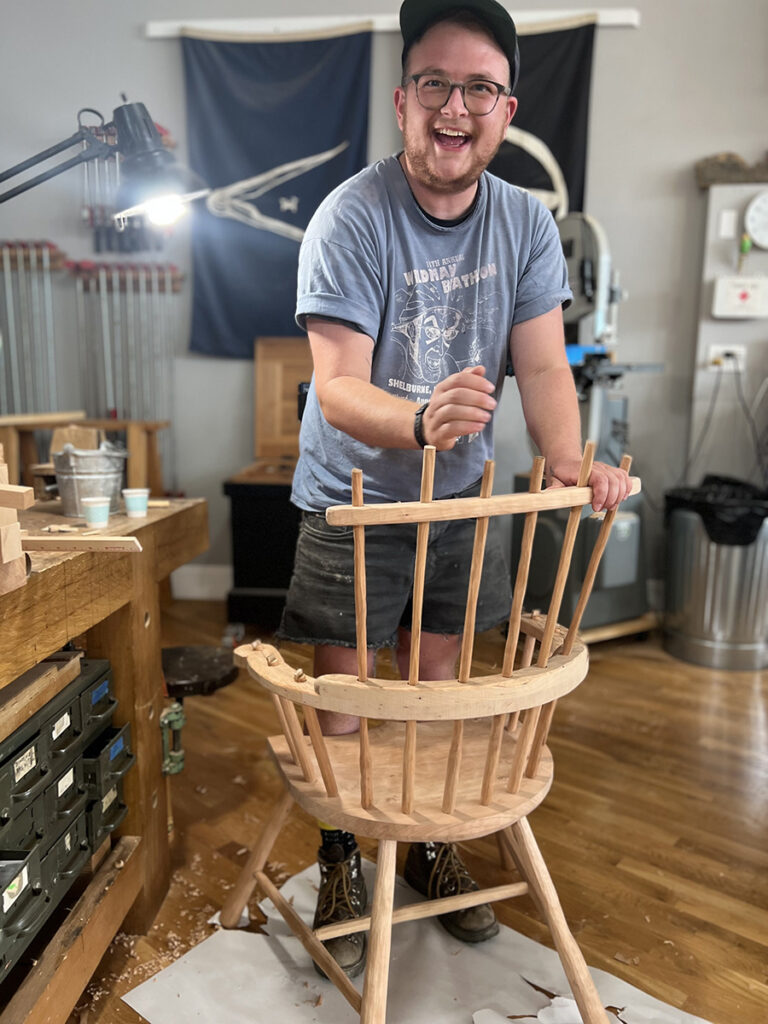 CMT's focus on chairmaking and green wood-working is no accident. Aspen has long been frustrated by the prevailing perception that these sub-disciplines in woodworking require a rarefied skill set or the academic knowledge of a period enthusiast. "In reality, chairs are vernacular furniture once made by American farmers. You only need a few hand tools, and the materials are cheap," she explained. "A chair can be crafted in a small space or backyard, and doesn't require access to expensive machines or a high-end woodshop." 
So far, more than 200 scholarship students have taken a class or received support through CMT, with many of them developing their own individual variations for the design of their chairs. 
Lee Scheffey is one of them. The self-described queer, trans spooncarver and green woodworker enrolled in a CMT stick chair class at Lost Art Press in Covington, Kentucky last summer. Exceeding their expectations, Lee said, "The greatest part of my experience was sharing a space with people who love chairs as viscerally as I do. I left the class with lifelong friends, increased social confidence, and a stronger belief in my own woodworking and building abilities." Finishing their chair after returning home took real commitment but paid off. 
"That chair is evidence of what my hands are capable of and seeing it in my living space pushes me to make more. The relationships I made in the class continue to inspire and support me in that work." – Lee Scheffey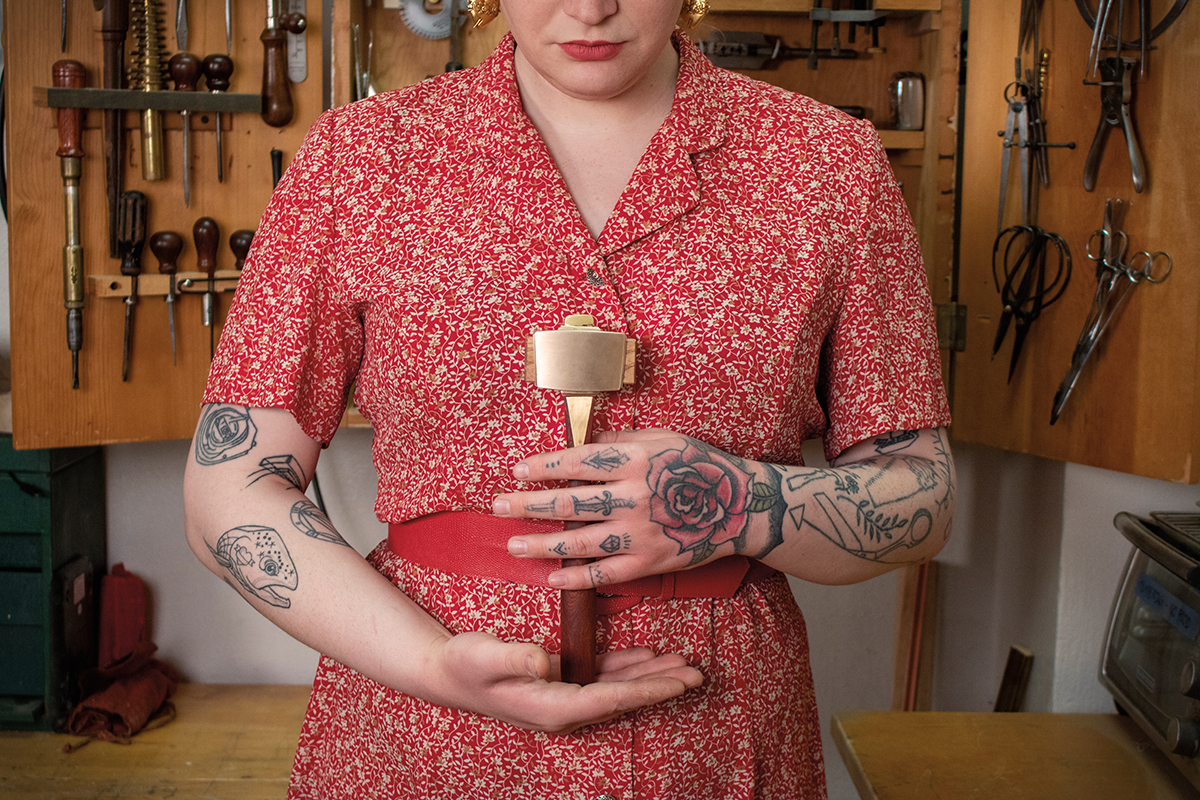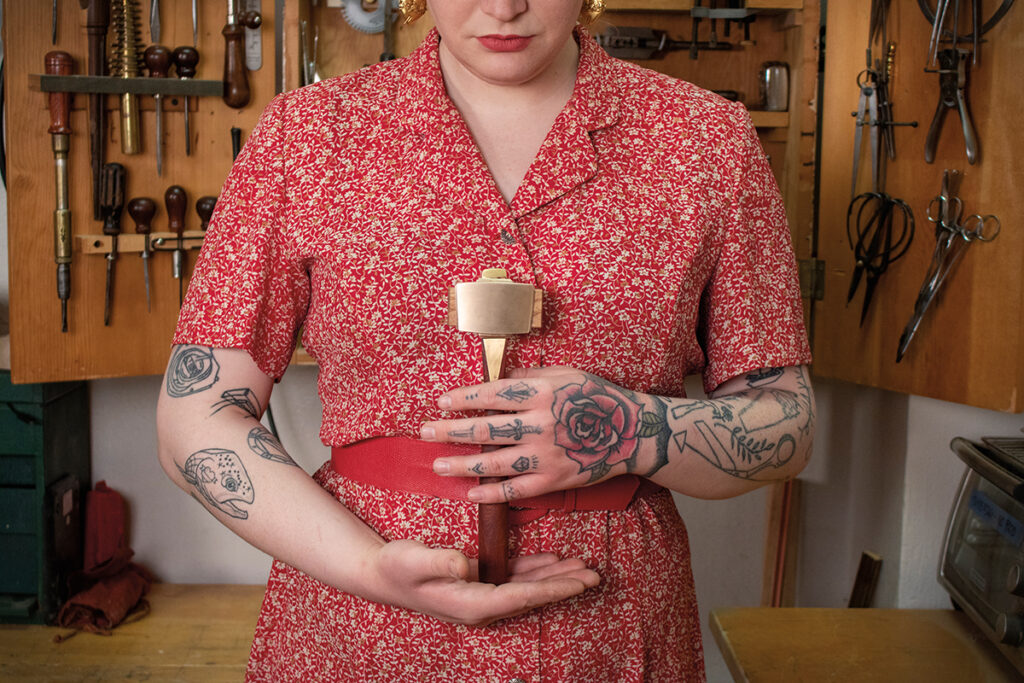 Craft-based sculpture artist and toolmaker Eleanor Ingrid Rose was drawn to CMT because she wanted to nurture and strengthen that community. Last year, she co-taught a CMT class with Aspen at A Workshop of Our Own in Baltimore, Maryland. As a trans woman she hasn't always felt physically safe or welcome in woodworking spaces, and found purpose in being able to help create "a hyper-supportive," inclusive learning environment. 
CMT also commissioned Rose to cast a limited edition infill mallet based on an iconic H.O. Studley mallet. The tool is part of The Toolbox, the CMT line of classic tools produced by underrepresented toolmakers and available for purchase. 
Passing Toolboxes Forward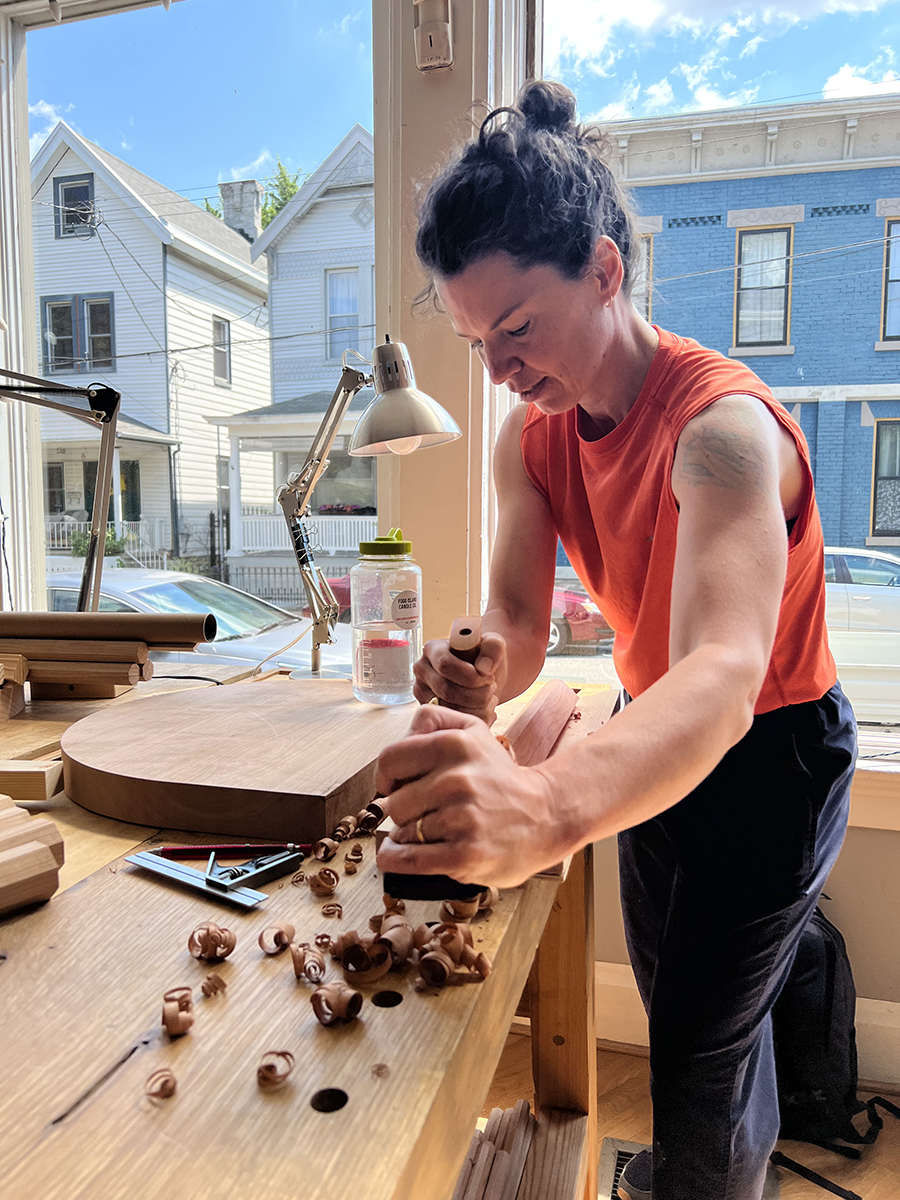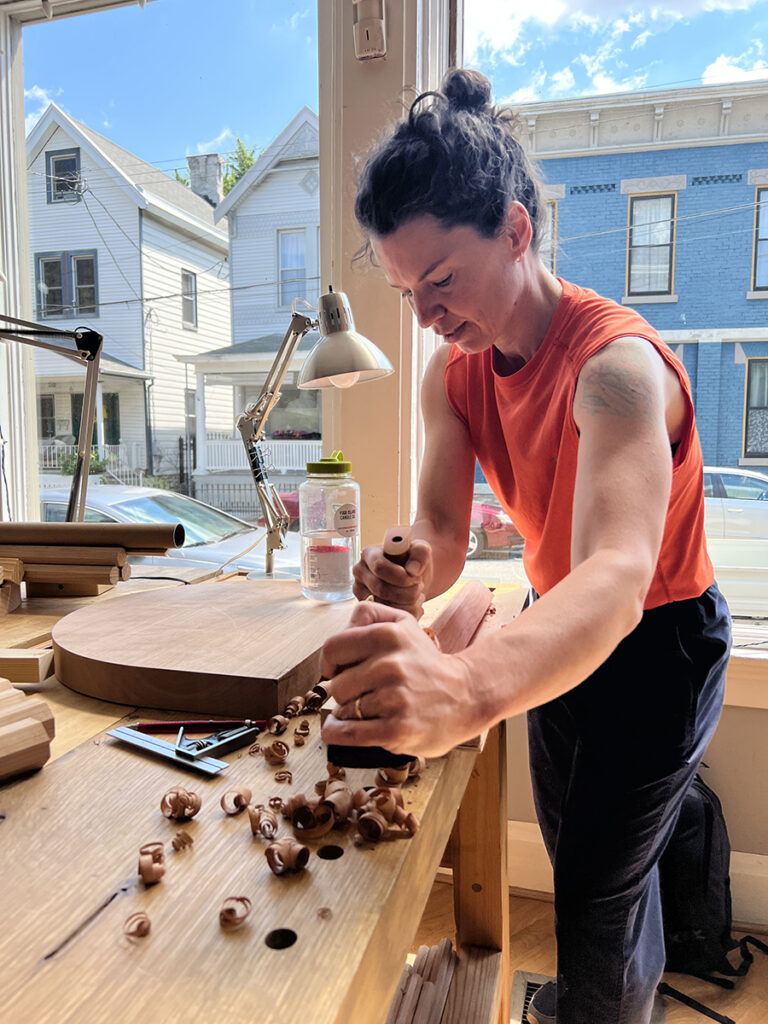 Maia Rosenburg, a chairmaker in Weaverville, North Carolina wanted nothing more than to be able to make furniture with tools like these. 
They said, "I knew that woodworking was my calling for years, but I hadn't been able to start making because the tools are so expensive." A posting in their local guild newsletter from CMT inviting those from underrepresented communities to apply to receive donated tools changed everything. They applied immediately. Soon after, they received a collection of tools that gave them the chance to start carving in their own studio years sooner than their budget allowed. But it's the tools themselves that make Maia feel included in an intergenerational community of makers. 
They shared, "The donor was also a woman of color and she wanted to make sure her tools ended up with someone whose path in the craft was like her own. I can't tell you what it means to me not to just have these tools but to know that someone wanted me to have them. I think it makes every cut sweeter."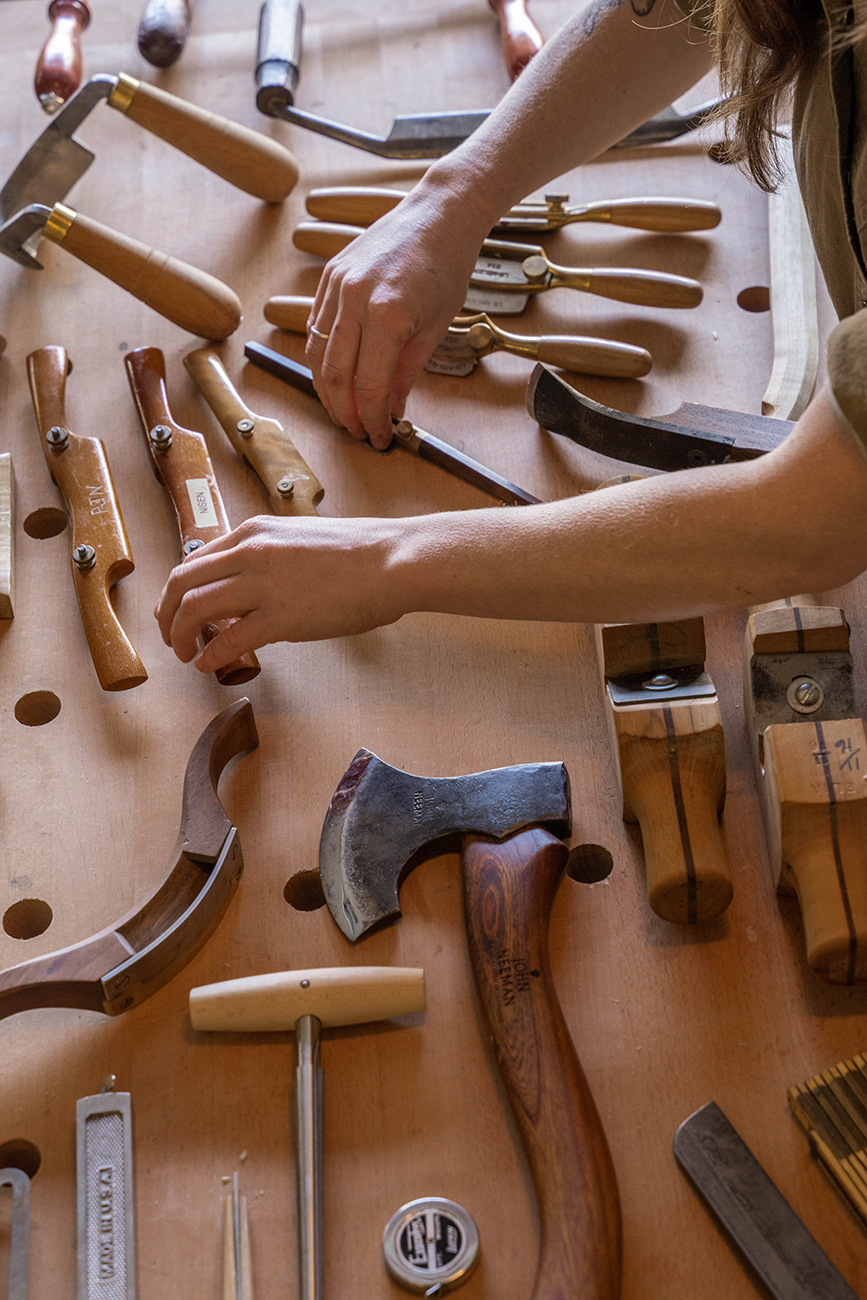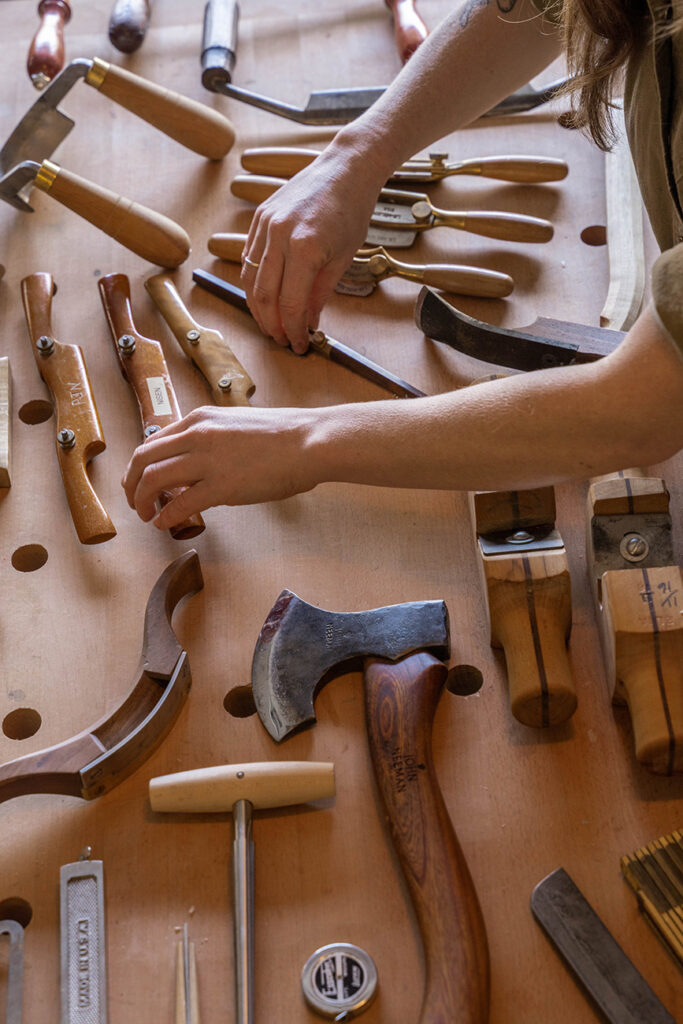 Aspen's own dream of paying forward the toolbox she received is now coming full circle. She was the recipient of the 2023 Award in Craft from The Maxwell/Hanrahan Foundation. If anything, the prestigious award, which came out of the blue with a phone call that changed her life, has validated the project's importance. 
She said excitedly, "This award has helped me truly believe that this work is valuable. I have a lot of plans for CMT: more classes, educational partners, tools, scholarships, and more access. I want to really amplify what we already do and offer even greater support to emerging and established woodworkers in our field." 
Aspen and her partners are just getting started imagining how to scale CMT to give even more people the time, materials, and skills and they need to make their own chairs and pull them up to an ever-widening table. 
NBSS will host The Chairmaker's Toolbox with chairmaking and other classes in the year ahead. Sign up for our newsletter to receive updates at nbss.edu/info.
---
This story is from our Summer 2023 issue of Benchmarks magazine. View more issues.