A Collection Like No Other
December 29, 2019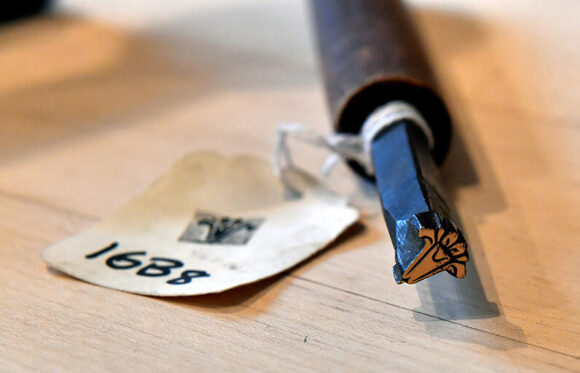 Collectors Kenneth W. Rendell and his wife, Shirley McNerney, of Boston, recently gifted their expansive collection of some 2,800 items from the famed Club Bindery in New York City to the Bookbinding Department at NBSS.
Club Bindery was formed in 1898 by members of New York City's Grolier Club—now the oldest existing bibliophilic club in North America—to bring the art of fine bookbinding to America, and to bind their most prized books in the tradition of European binderies. "The Bindery was created out of respect both for the rare manuscripts that would be covered and for the boxes they would go in," explains Ken.
After the Bindery closed in 1909, its vast array of hand and roll tools, brass plate dies, and other equipment and materials—many originally imported from Europe—were dispersed around the country. Many of the tools and equipment became part of the New York- and later Connecticut-based James MacDonald Bindery before the majority were ultimately sold at auction to Ken and Shirley in 2000.
"We both believe that bookbinding is very important. I was interested in collecting bindings, however, while my wife was interested in commissioning bindings," says Ken.
The couple had intended to set up a bindery in their home, but ultimately couldn't build a house big enough for everything they were collecting. When they decided it was time to part with the collection, they were determined that it remain intact.
"We had a lot of places asking for particular tools, but we didn't want to break up the collection. We believed it would be ideal to keep it all together, which is one of the reasons we decided that North Bennet Street School was the right place for it," explains Ken.
"When NBSS students learned that these classic tools would be available to them, all they could say was, 'Wow!'," shares Jeff Altepeter BB '99, Bookbinding Department Head at NBSS. "This is a very important collection and a very welcome addition to our program."
Jeff's and the students' enthusiasm, coupled with his sterling reputation as a bookbinder, made it clear to Ken and Shirley that they had made the right decision. "Jeff is a force. He has both passion and practicality," says Ken. "All these tools were in active use right up until the time we bought them. We wanted that to continue, and we knew they would with Jeff and his students."
Upon receipt of the collection — which includes a 19th-century Hickok Standing Press — in December 2018, Jeff wasted no time in making Ken and Shirley's wish a reality. The tools, including an array of art nouveau tools, are enabling Jeff to expand broadly what Bookbinding teaches about the proper decoration of 18th- to 20th-century books. Some of the hand tools are already being used, and while the majority of the collection will also be put to practical use, there are other plans as well.
"Our goal is to have a display of tools and brasses and examples of what we do with them. We will use the tools, but we also want to show them off," says Jeff. "The Club Bindery connection gives this collection great provenance. No other school in the world has anything comparable."
---
This article is from our 2019 Annual Report. See all the stories here, or view more issues.