Conversations in Craft Spotlight: Lance Patterson
January 24, 2018
Lance Patterson CF '79: Two Pedestal tables, Hard maple and mixed wood veneers
Paired with Grecian card table, ca. 1818 by Thomas Seymour, Part of the collection at The Old Manse
Harmoniously blending historical precedent with his own artistic vision, Lance created two distinct interpretations of the Grecian table from The Old Manse. His decision to have the tables transform into music stands is to make them relevant and utilitarian for today's home. They also hint at his own passion for music—Lance plays many instruments including the piano and fiddle. He came to the furniture-making field serendipitously via his musical inclinations. As a young man, he made a harpsichord from a kit, and looked in the yellow pages for a school for piano tuning instruction—North Bennet Street School was listed; he applied, but eventually found his way to the Cabinet & Furniture Making program.
The mahogany veneers for this project were salvaged from the Irving & Cason Company, an esteemed Boston furniture company that went out of business in the 1970s. Lance recalls hauling away a truckload of the free materials, a stockpile from which he continues to use for his projects today.
Lance is a graduate of the Cabinet & Furniture Making program as well as a faculty member, and a founding member of Boston's Fort Point Cabinetmakers cooperative. He has designed and built custom furniture for over 30 years. He is also a large format photographer and a contributor to Fine Woodworking Magazine. Lance was recently named a 2016 Mentor in Design by Design New England Magazine.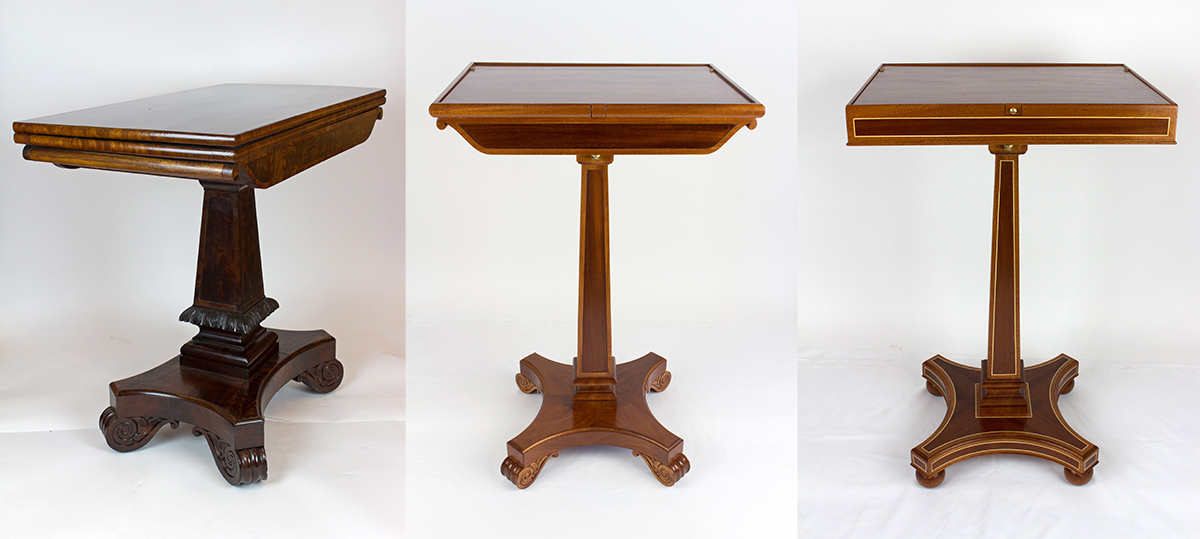 Grecian card table c. 1818 (left), Lance's two pedestal tables (center & right)
This is part 3 of a 13-part series on the artisans in "Conversations in Craft," a collaborative exhibit with NBSS and Fruitlands Museum.
Read Part 2: William Locke | Read Part 4: Bob Miller