Conversations in Craft Spotlight: Matt Huffman
January 21, 2018
Matt Huffman CF '09: Folding chair, Quartersawn ash, Shaker chair tape
Paired with Folding chair, ca. 1870, from the collection at Bryant Homestead
Matt was drawn to the clean lines of the Bryant chair, although he is quick to point out, "it might look like a simple folding chair, but no folding chair is simple." With a background in engineering and an eye for precision, Matt wanted to scale up the size for a modern consumer and adjust the angles in its design. He suggests an object like this must be reliable and useful.
Matt is quick to point out that "it might look like a simple folding chair, but no folding chair is simple."
Matt says what he enjoys creating most are "objects where I can draw on function and weave artistry into the design." When he toured the collections at Fruitlands Museum, Matt took inspiration from the Shaker tradition as well as the region's industrialized production, which each left their mark on Worcester County in the 1800s. He sought to incorporate aspects of these seemingly disparate aesthetics into his design.
Matt grew up in rural northern Vermont, developing a deep connection to his forested environment. After getting an engineering degree from Rensselaer Polytechnic Institute, he began to seek out work with his hands. A job as an apprentice carpenter led to a career as a timber framing foreman. Upon graduating from the Cabinet & Furniture Making program in 2009, he became a member of the Fort Point Cabinetmakers and started his own business. He now designs and builds custom furniture, creating unique pieces that combine functionality with elegance.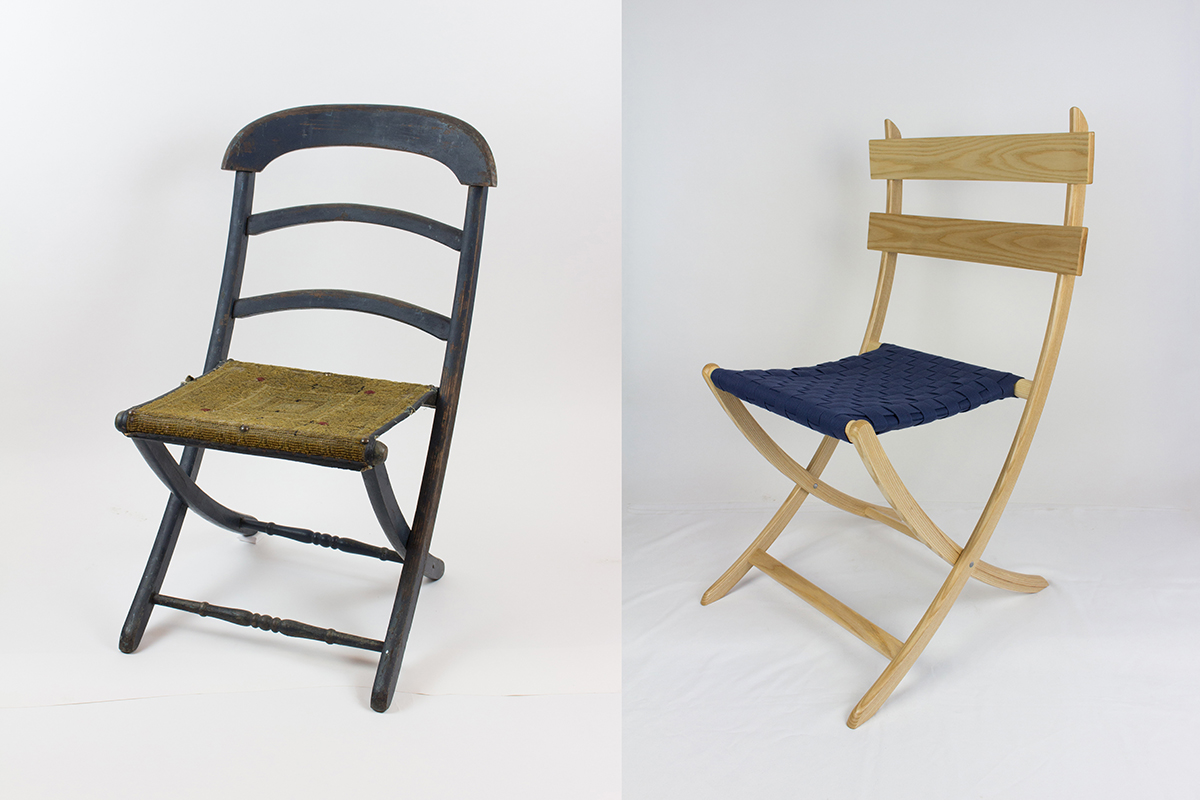 Folding Chair, ca. 1870 (left), Matt's Folding Chair (right)
This is part 6 of a 13-part series on the artisans in "Conversations in Craft," a collaborative exhibit with NBSS and Fruitlands Museum.
Read Part 5: Eli Cleveland | Read Part 7: Ellen Kaspern