Conversations in Craft Spotlight: Ron Trapasso
January 17, 2018
Ron Trapasso, CF '69: Queen Anne drop-leaf table, Curly maple, poplar, pine
Paired with Queen Anne drop-leaf table, ca. 1800, from the collection at Fruitlands Museum
Ron stopped in his tracks when he came into the Fruitlands farmhouse and saw the Alcott table, exclaiming, "it's just beautiful." He set out to create a piece that paid homage to that table's history within this specific place. He originally hoped to use mulberry wood, once common in this area. The leaves of the mulberry tree fed silkworms, and with the great Mulberry Mania of the 1830s, Connecticut produced three times as much silk as any other state.
"It takes a good cabinetmaker to make a piece of furniture with no mistakes, but it takes a better one who can cover his mistakes." – Advice given to Ron during his apprenticeship
However, today the mulberry tree is endangered in this region, so in the Utopian spirit of living with the land, and because he likes to use wood "that has a history to it," Ron instead chose to use reclaimed materials: the pine found in the trash, the legs carved from old bedrails, and the curly maple boards kept from a farm in Maine and stored in his shop for 45 years. To mirror the stenciling found in the farmhouse, Ron used a historic pattern from the J. Sanger Attwill shop, the well-respected cabinetmaking shop where Ron first apprenticed and later took over, carrying on the company's 90-year tradition.
Ron is master craftsman, conservator, and owner of the Attwill Furniture Company in Lynn, Massachusetts. He has worked in the field for nearly 50 years, specializing in furniture restoration. Shortly after graduating from NBSS in 1969, he was hired at Attwill and apprenticed under Mario Torto and J. Sanger Attwill. He eventually purchased the company in 1977. Ronald has had the privilege of working on some of the best furniture made on the East Coast and Europe, with clients including private antique collectors, museums, historical societies, and antique dealers.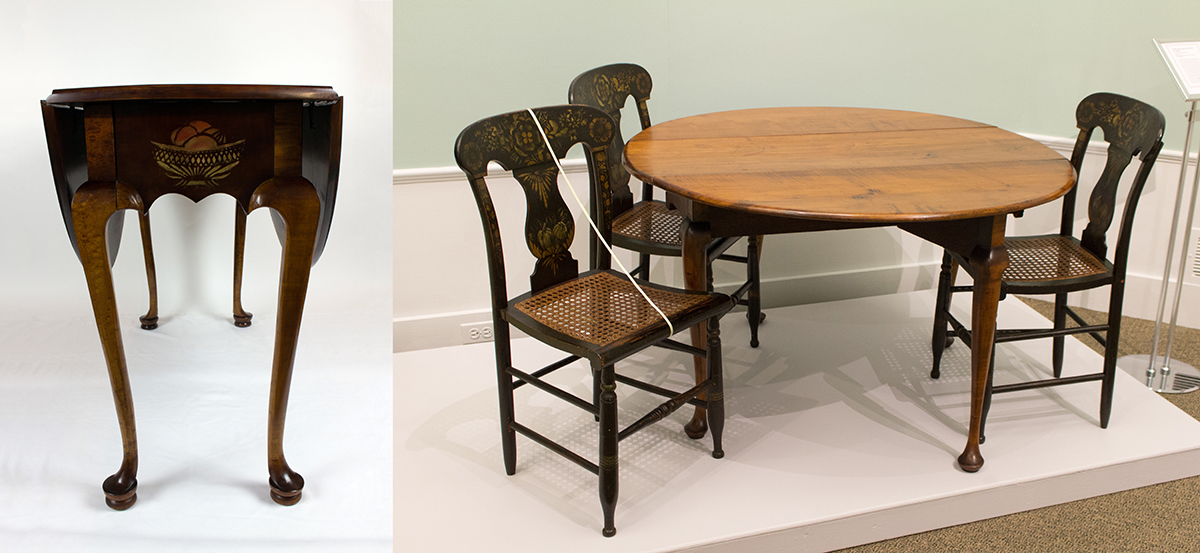 Queen Anne drop-leaf table ca. 1800 (left), Ron's Queen Anne drop-leaf table (right)
This is part 10 of a 13-part series on the artisans in "Conversations in Craft," a collaborative exhibit with NBSS and Fruitlands Museum.
Read Part 9: Steve Brown | Read Part 11: Alex Krutsky