Conversations in Craft Spotlight: Steve Brown
January 18, 2018
Steve Brown CF '90: Oval Tilt-top Table, Mahogany, mixed wood
Paired with Tilt-top stand, ca. 1810, from the collection at Fruitlands Museum
When Steve first spotted this table in The Trustees collection, a sewing bird was attached to its top. These 'third hands' could be screwed onto tables so that fabric could be held taut and in place by a clamp in the bird's beak, leaving the woman's hands free to work. Sometimes small circular marks, the impressions left by the sewing bird, can be found underneath antique tables.
"There is so much to gain by studying historical furniture. It's like good music—the more you listen to it over and over, the more you get out of it."
Steve was drawn to the stories of communal work, textile production, and women's friendships forged around small tables like this one. Steve was reminded of the quilting circles of Mennonite women in the community where he grew up. The Anabaptist commitment to serving communities beyond just their own, is integral to their faith and identity. Steve's 8-pointed star inlay pays homage to these traditions, and he incorporated small impressions on the underside of the table to mirror historic sewing bird marks.
A 1990 NBSS graduate of the Cabinet & Furniture Making program, Steve and teaches in both the Full-Time program and Continuing Education classes. Steve previously worked with Phil Lowe CF '74 at Makers of Fine Furniture in Beverly, Massachusetts. His work has been shown in galleries and published in the Fine Woodworking Design Book, and many museum and private collections feature Steve's restoration work. He lectures throughout the Boston area.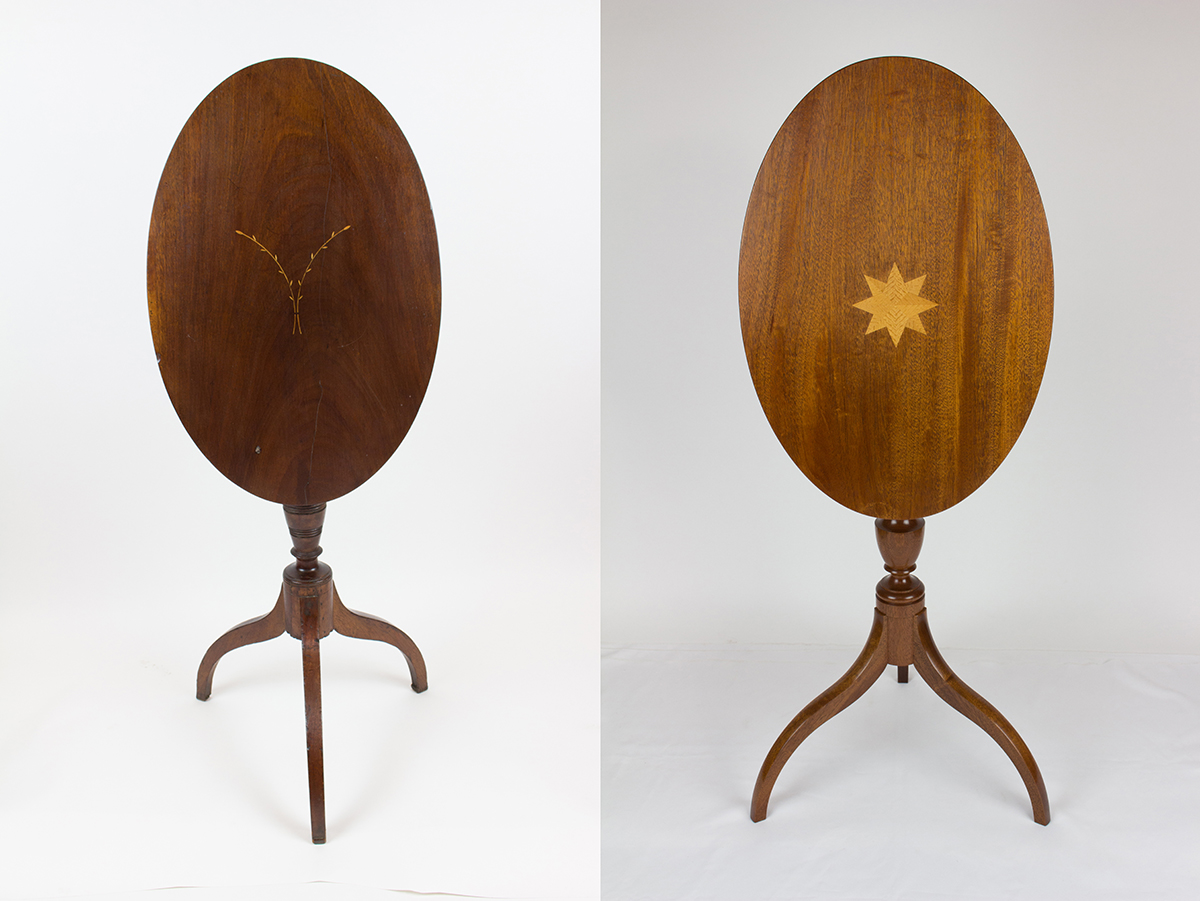 Tilt-Top Stand, ca. 1810, (left), Steve's Oval Tilt-Top Table (right)
This is part 9 of a 13-part series on the artisans in "Conversations in Craft," a collaborative exhibit with NBSS and Fruitlands Museum.
Read Part 8: Miguel Gómez-Ibáñez | Read Part 10: Ron Trapasso