Conversations in Craft Spotlight: William Locke
January 25, 2018
William Locke CF '94: Chest, Cherry, cherry veneer, Baltic birch plywood, stainless steel hardware
Paired with Dressing table, ca. 1680 from the collection at Greenwood Farm
The figured cherry in William's piece is bold and bright, with light reflecting differently from each angle. The placement of each element is intentional. William summarized this process saying that wood choice is "beyond important, its critical—the decision of where to put a single stick of wood can change the overall appearance for the viewer." William wanted to use a domestic wood out of respect for the historic object's local connections to Amesbury. He considered oak, maple, walnut, and cherry, but decided on the later because he also wanted a wood that was highly figured, consistent in coloring, and already in his existing wood inventory.
While this dressing table is a high-style object, William's first project as a young child was of a very different vein: "I started building tree houses when I was probably 5 and they became pretty complex before I was 10—multiple stories, additions off of the back. I've always built things… one thing led to another and I've never looked back."
"I have this vivid memory when I was five—the first piece of wood, a 2×4, that I nailed to a tree. And I thought to myself, wow, I can build anything!"
William is originally from Georgetown, Massachusetts, and attended Northern Essex Community College to study dance. When he moved to Boston in 1986 to continue to study modern dance, he supported himself with carpentry work. A year later, he was working full-time in architectural woodworking for The Osmond Co. This led him to attend NBSS, graduating in 1994, and since then he has been self-employed, building custom furniture for clients, as well as subcontracting work from a number of respected local woodworking companies. His work has appeared in Fine Woodworking, Woodwork Magazine, and The Art of Chairmaking.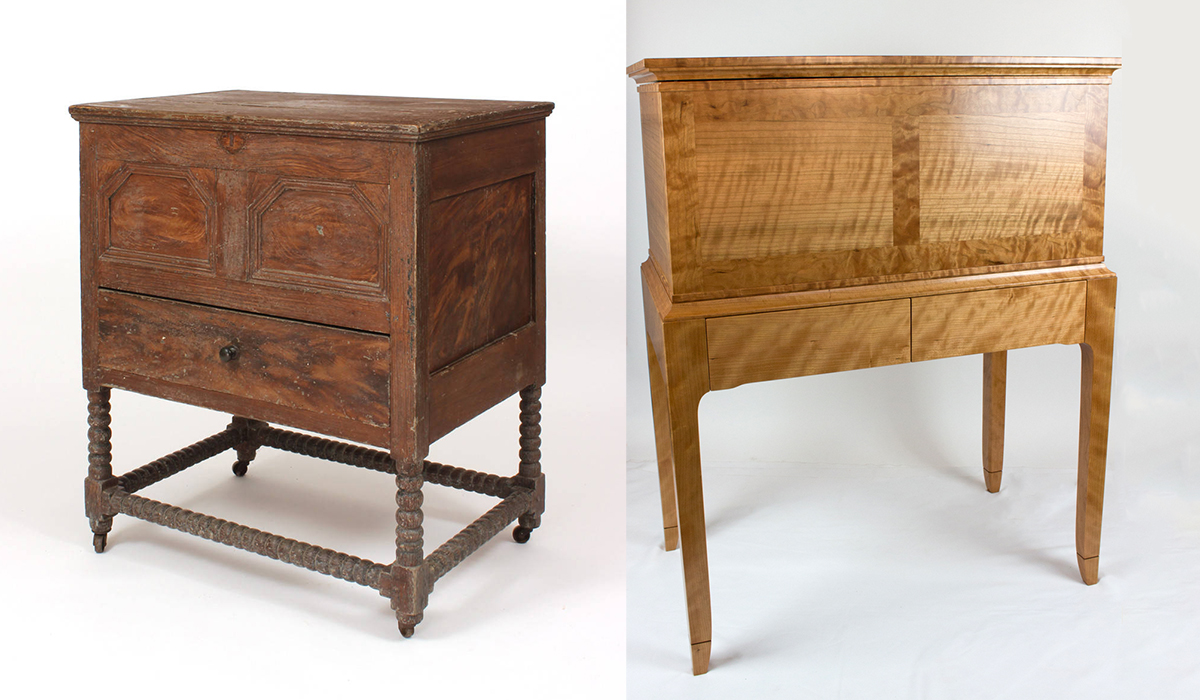 Dressing table c. 1680 (left), William's chest (right)

This is part 2 of a 13-part series on the artisans in "Conversations in Craft," a collaborative exhibit with NBSS and Fruitlands Museum.
Read Part 1: Paula Garbarino | Read Part 3: Lance Patterson