The Highest Honor in Period Furniture Making
October 5, 2022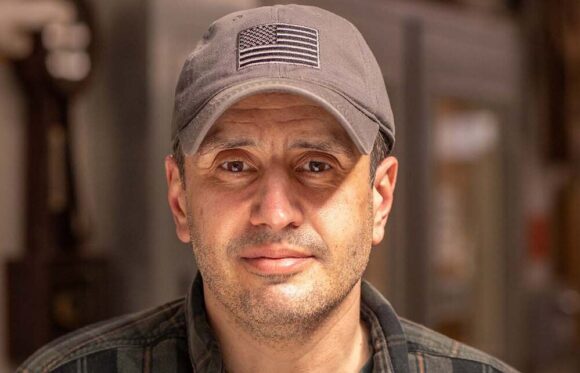 We're proud to share that Dan Faia CF '94, Cabinet & Furniture Making Department Head, is the 2023
recipient of the prestigious Cartouche Award! Presented by the Society of American Period Furniture
Makers, the Award honors Dan for creating work of the highest quality, and his superlative carving skills.
His pieces cover a wide range of styles and woodworking traditions, including high-style period work,
wood carving, and Windsor chairs.
Each year SAPFM recognizes an individual whose achievements reflect the mission of the Society, who has inspired others, and made a positive impact in their field. The award will be presented at the SAPFM Annual Conference in late April 2023.
In addition to designing and building custom furniture and teaching workshops in his Rollinsford, NH wood shop, Dan specializes in traditional woodcarving. After graduating from the Cabinet & Furniture Making program in 1994, Dan worked with fellow alumni Phil Lowe CF '74 and Ron Trapasso CF '69, both master craftsmen. He joined the NBSS faculty shortly after that, serving first as an assistant to former Instructor Will Neptune CF '81 in the short course program. As the workshop program expanded, Dan helped create the Three-Month Furniture Making Intensive course. He became a full-time Instructor in Cabinet & Furniture Making in 2006, and promoted to Department Head in 2010.
Dan's exceptional woodworking skills are matched by his teaching skills, and he has mentored the dozens of furniture making students who graduate from our largest program each year. He has also taught at the Furniture Institute of Massachusetts, The Connecticut Valley School of Woodworking, and the Windsor Institute. Dan has also published numerous articles in Fine Woodworking Magazine and participated in exhibitions and presentations for dozens of cultural organizations and museums including Colonial Williamsburg, Concord Museum, Fruitlands Museum, Guild of New Hampshire Woodworkers, Museum of Fine Arts Boston, Revolutionary Spaces, Old Sturbridge Village, The Furniture Society, and The Old Manse. 
Read more about Dan's award in a recent issue of Pins & Tales from SAPFM, written by Bob Lang.