Drop Dead Gorgeous: Fine Bindings of La Prose du Transsibérien
February 21, 2020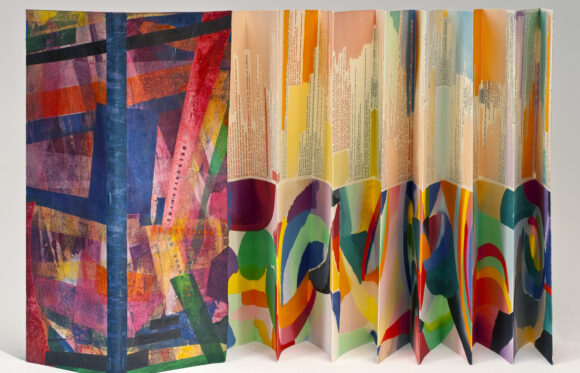 North Bennet Street School is hosting a special exhibition featuring the full recreation of an avant-garde, 1913 book produced by Kitty Maryatt of Two Hands Press, with 24 unique interpretations by internationally-recognized design binders.
The remarkable book by poet Blaise Cendrars and artist Sonia Delaunay, La Prose du Transsibérien et de la petite Jehanne de France, was produced by letterpress and pochoir in 1913. It was a landmark achievement for its time with its unprecedented format, avant-garde typography and abstract imagery, and remains vibrant and modern today.
Kitty Maryatt has been researching the production of La Prose du Transsibérien since 2012. In 2018, she debuted a new edition of 150 copies, which faithfully incorporates techniques and methods used in the original. The exhibition includes her recreation, plus fine bindings by notable design binders from around the world commissioned by Maryatt and her underwriters. Tools, materials, and supplemental material used in the creation of Maryatt's edition of La Prose are also on display.
The exhibit opened on Friday, February 21, and was set to run through Thursday, April 30, 2020. However, due to the pandemic, the School was closed shortly into the run of the exhibit, beginning March 11.
While our building is closed, we made a virtual tour of the exhibit so you can still enjoy all the beautiful bindings from home. Pause the video at any point to read the exhibit labels.
---
Special Events
Introduction to Traditional French Pochoir Workshop
Taught by Kitty Maryatt
Hosted by the New England Guild of Bookworkers
Saturday, February 29 & Sunday, March 1
Virtual Maker Talk with Erin Fletcher BB '12
Tuesday, May 19, 2:00 – 3:00 pm
---
In addition to NBSS, the exhibit will travel to the San Francisco Center for the Book, UCLA in Los Angeles, Maggs Bros. Ltd. Rare Books and Manuscripts in London, Minnesota Center for the Book, and Atelier Galerie A. Piroir in Montreal.

Purchase an exhibition catalog here.

The exhibition features the work of 24 design binders:
Kathy Abbott, England
Servane Briand, United States
Hannah Brown, England
Coleen Curry, United States
Sue Doggett, England
Samuel Feinstein BB '12, United States
Erin Fletcher BB '12, United States
Don Glaister, United States
Derek Hood, England
Susan Hulme, United States
Lang Ingalls, United States
George Kirkpatrick, England
Midori Kunikata-Cockram, England
Monique Lallier, United States
Kitty Maryatt, United States
Sabina Nies, United States
Patricia Owen, United States
Dominic Riley, England
Tracey Rowledge, England
Haein Song, England
Priscilla Spitler, United States
Julian Thomas, Wales
Jonathan Tremblay, Canada