PTG Member of Note: Emily Townsend PT '07, PA '08
November 2, 2021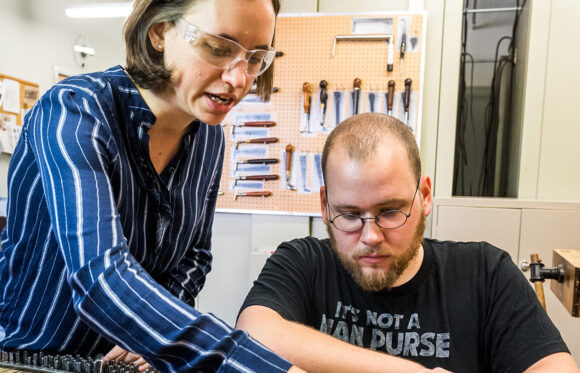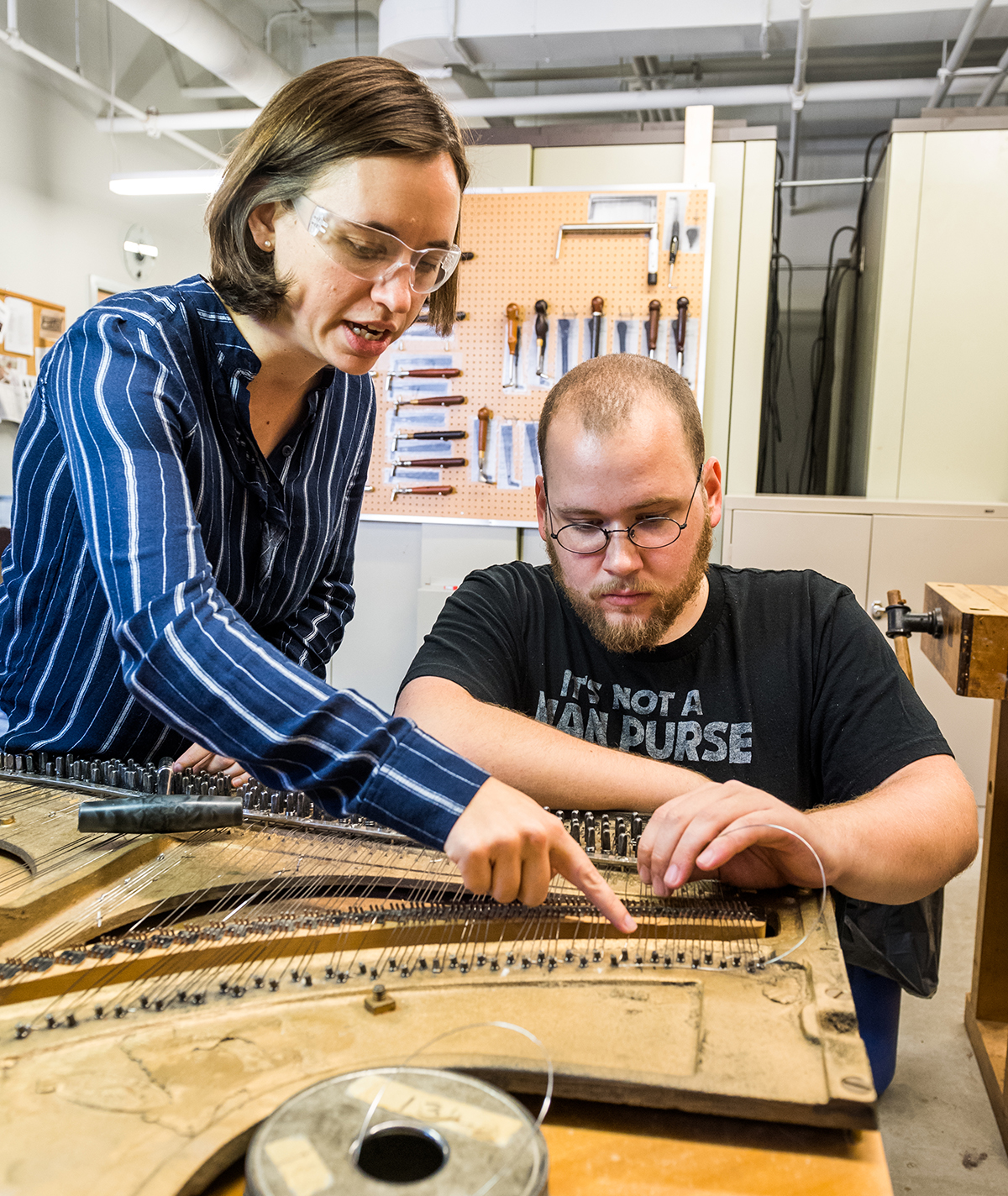 Piano Technology Instructor Emily Townsend PT '07, PA '08 was recently awarded the Crowl-Travis Member of Note award from the Piano Technicians Guild (PTG)—congratulations, Emily!
Emily is a Registered Piano Technician and a graduate of both Piano Technology programs at NBSS, and joined the faculty in 2014. She has been a member of PTG since 2007, the same year she graduated from the Basic Piano Technology program.
The Crowl-Travis Member of Note award is presented for recent outstanding service to PTG and the piano industry. Candidates for this award show significant dedication within the past two years to the causes, ideals, and purposes of the Piano Technicians Guild, and outstanding contributions to and implementation of ideas, programs, and more, resulting in improvement to and upgrading of the piano industry as a whole.
Emily has provided a great number contributions to the Guild over the last several years, including serving as a technical examiner and now the most active tuning examiner in the Guild; adapting Registered Piano Technician (RPT) testing protocols to satisfy very strict covid safety restrictions; training aspiring technical and tuning examiners; beta testing a new digital format for the RPT written exam, leading to its ultimate adoption; serving on the Education and Exam and Test Standards committees; and becoming a member of a special short-term Presidential Task Force to consider potential bylaws changes for the benefit of piano technology students.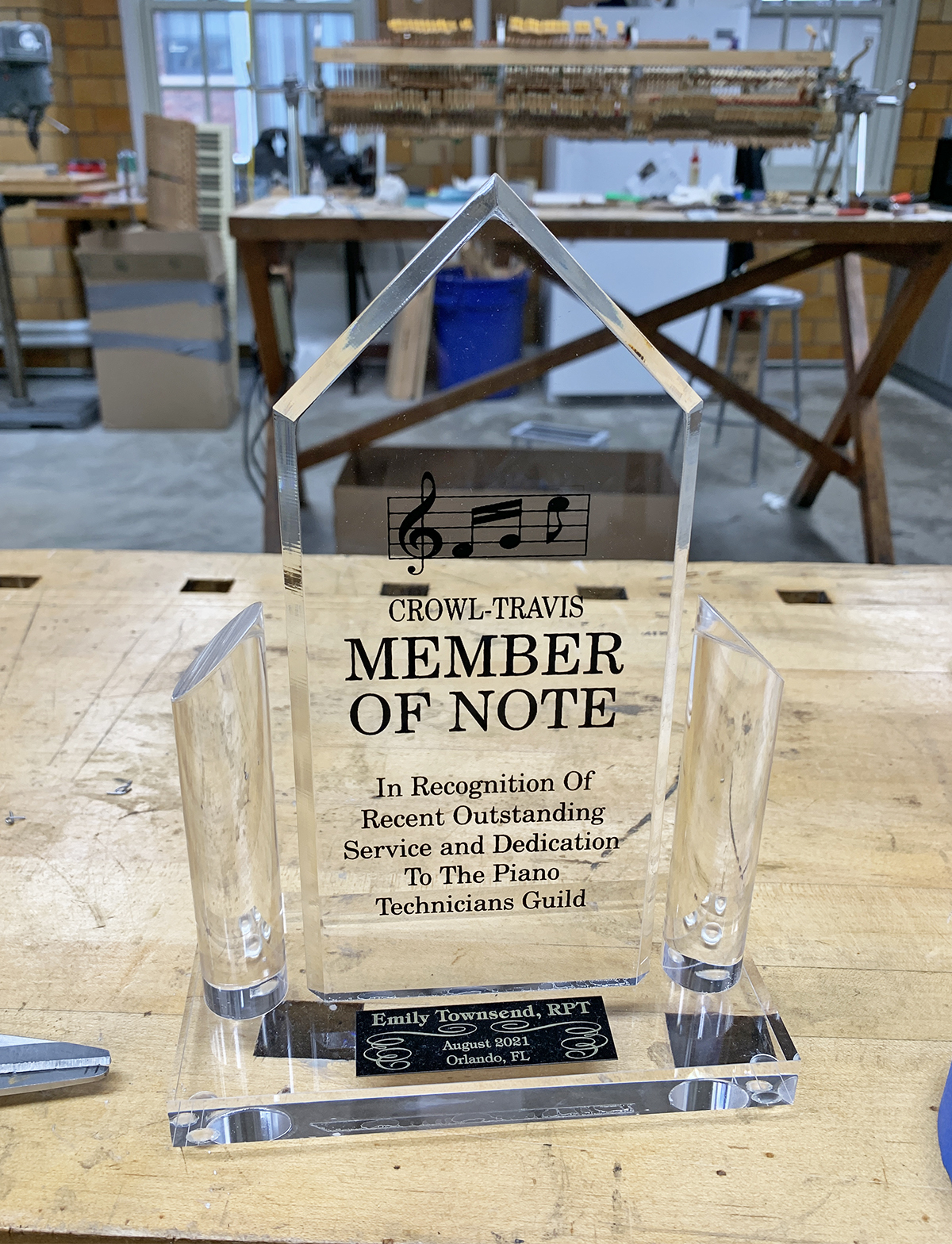 The award was presented during the Guild's conference in early August of 2021 in Orlando, Florida by Rick Baldassin, chairman of the PTG Awards Committee and highly-regarded technician. Below are Rick's remarks he delivered when presenting Emily with the award.
---
Tonight's next recipient of the Crowl-Travis Member of Note Award received a bachelor's degree in Piano Performance before starting her studies in Piano Technology, although from the time she was in the fifth grade, she knew she wanted to tune pianos for her livelihood. Her friends, who knew better about life, cautioned her against such a presumably ill-paying career. It wasn't until she left her home state and got to college that she realized that piano tuning really was actually her true calling.
She trained at North Bennet Street School, joined the Piano Technicians Guild in 2007, and later worked at the college where she earned her performance degree. In time, she joined the faculty at North Bennet. In addition to teaching at the school, she has also served as a technician at the Tanglewood and Aspen Music Festivals.
I first met her at a convention where she was teaching a class, perhaps her first, borrowing from the notes of one of her predecessors at the school. Her teaching style reminded me of someone, but I couldn't immediately make the connection. Later, I slipped into a tuning class she was teaching. One of the well-meaning gentlemen attending asked her, as a girl, how she gained her fascination with tools. She handled herself very professionally. I still hadn't made the connection.
Later still, we were seated next to each other at a convention where a lecture was presented on the Studley tool chest. During the lecture, I leaned over and asked her if she had gained her fascination with tools from having seen the Studley tool chest. She gently punched me, and I knew then that we would be friends. I soon realized that her teaching style reminded me of that of Susan Graham, something I knew well, but had not experienced for two decades.
It gives me great pleasure to present the Crowl-Travis Member of Note Award to Emily Townsend.