Frame to Finish
March 14, 2017
If the Sherborn-based Sequoia Custom Builders, Inc. is any indication, the North Bennet Street School tradition of alumni hiring students as interns and employees is alive and well.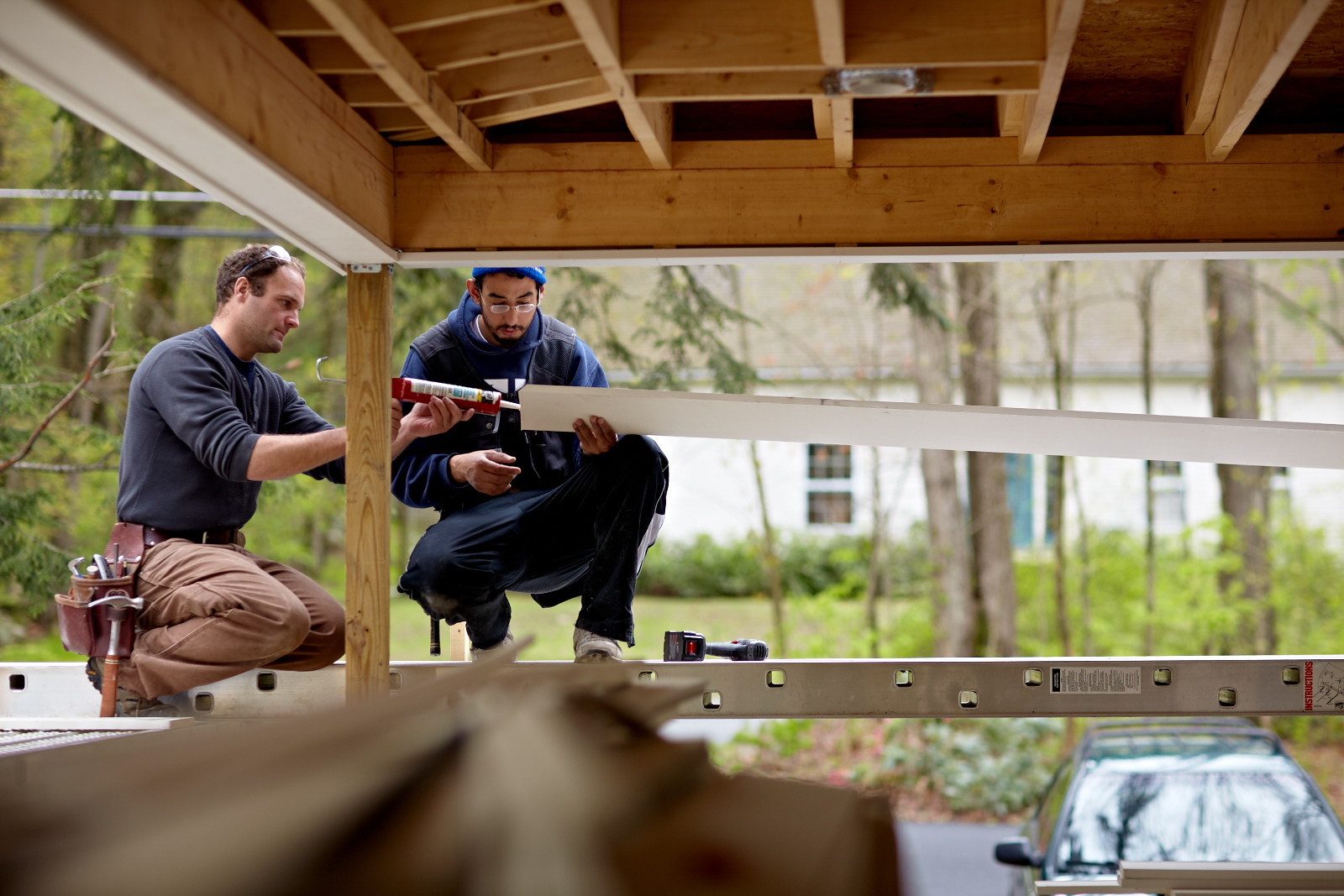 The current team at Sequoia is comprised of five Carpentry alumni employed full-time as carpenters and assistant carpenters. Owner and operator Patrick O'Shaugnessy CA '06 believes hiring NBSS graduates just makes good sense.
"I don't feel that hiring alums is a way of giving back. I feel lucky as a business owner to be hiring formally trained tradesmen. The fundamentals that they learned in the classroom make them more adaptable and better able to continue learning in the field. What I look for in an employee is that North Bennet mentality to love what you do."
Pat says that he developed that understanding himself during his time as a teacher.
"I taught at NBSS for five years (2009–2014). It is a special community. The skills I learned gave me the ability not only to make a living but to fulfill a passion. And when I was a new graduate, first working on my own, I missed that shared passion, so going back to teach really re-inspired me in my craft as well as my commitment to pass along those incredibly valuable skills. Since we're all NBSS graduates, we focus on staying true to the traditions of the School in bringing fine craftsmanship to every project we take on." Now an assistant carpenter at Sequoia, Jayquan Richardson CA '16 first began developing his own carpentry skills when he was just a young teenager.
I don't feel that hiring alums is a way of giving back. I feel lucky as a business owner to be hiring formally trained tradesmen.
"I had a friend who owned a house and, when I was about 14, I helped him build a cabinet and do some small carpentry projects," recalls Jayquan. "He liked my work and recommended North Bennet Street School to me. When I first arrived, I had no idea exactly what I was getting into, but I knew right away that it was what I wanted. I knew I could never work in an office. It would just be too boring. I like doing something different every day. That's what I like about hands-on carpentry," explains the 2015 graduate of Lowell High School.
"All the skills I have, I learned at NBSS, including patience. I also learned about resilience and a lot about teamwork, too." After completing the program, Jayquan set out to find employment. One of his first stops was an NBSS alumni event, where he met Pat.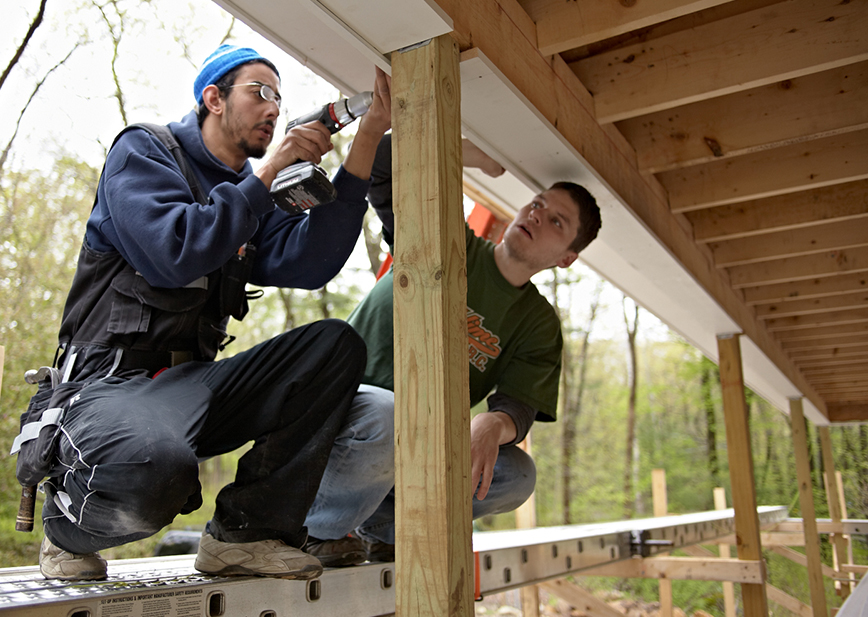 "Jayquan made a great impression. He was assertive in meeting me at an alumni function, and he was diligent in his follow-up," remembers Pat. "He was honest in his conversations and really knew what he was seeking for employment. He wanted to do an array of carpentry tasks from frame to finish. He wanted mentors, too, and fortunately we were able to offer him the right environment to cultivate his craft. It has been great to see him excel on our team."
Grateful for the opportunity to do things the NBSS way and happy to have earned Pat's respect, Jayquan is also pleased with the support the boss shows the entire team.
"Pat wants us to be set up for success, too, so if a tool is broken he wants to be told so he can repair or replace it. He always makes sure we have a uniform. I have maybe 30 different Sequoia shirts – long sleeve, short sleeve, some with and some without collars. If you get something on a shirt and it doesn't come out, Pat gets you a new one."
Pat's attention to detail and professionalism are traits shared by Jayquan, who plans one day to open his own carpentry business.
"I approach all my work with determination," he says. "I want to get it done efficiently and correctly."
This story is part of the Winter 2017 issue of Benchmarks magazine. See more Benchmarks stories here, or download a pdf of the entire issue.