From Weekend Woodworker to Furniture Master
September 27, 2017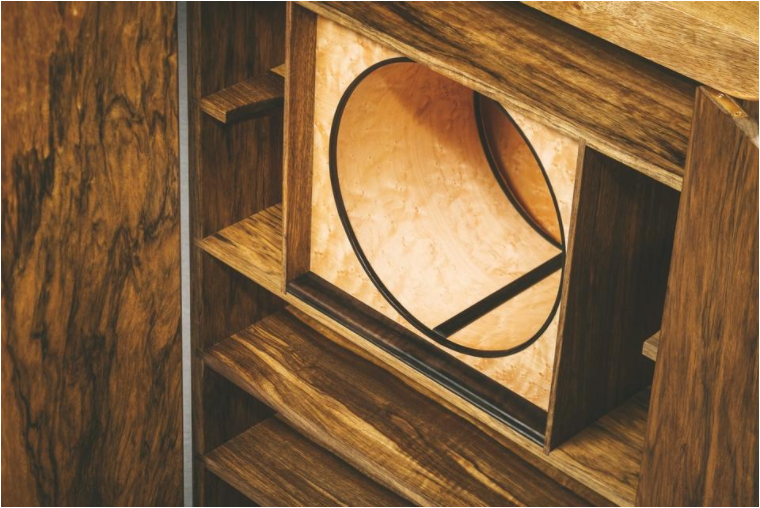 The New Hampshire Furniture Masters Association has announced Roger Myers CF '14 of Stratham, New Hampshire, as an Invited Artist for the 2017 exhibition season. Myers' artistry has reached the Master level, and this is the first step to becoming a full-fledged Furniture Master. Roger joins Richard Oedel CF '05, William Thomas CF '80, Jeff Roberts CF '81, Greg Brown CF '10, and Brad Wolcott CF '12 as NBSS alumni members of The NH Furniture Masters.
Roger's achievement was announced on seacoastonline.com, as well as his work. They said of Roger:
"Myers has a design studio in Stratham and a workshop in the Salmon Falls Mills in Rollinsford. He has been woodworking for 30 years, but most of that time was spent balancing a busy career in the corporate world at Osram Sylvania. It wasn't until his retirement in 2011, that this weekend woodworker was able to focus full time on his craft. He left the boardroom for the workshop and has never looked back.
'For many years, the only opportunity to be in the shop was weekends and vacations,' Myers said. 'I urge any other weekend woodworkers to keep perfecting their craft simply for the joy of creating and where the journey will take them.'
After retirement, Myers first headed to NBSS for two years of instruction and to further explore his interest in American period furniture. He now takes that classic training to a new level by creating contemporary pieces inspired by the Federal Period. Myers is perhaps best known for his inlay work and masterful wood selection inspired by his walks through the New Hampshire woods. Reinventing the classics with a modern twist is what brought Myers to Master level and made him a champion to all weekend woodworkers." Read the rest of the article here.
Roger's work was also featured in another article on Woodworkers Journal. He elaborated on his journey to NBSS.
"He and his wife had heard some friends of his give presentations about the school at a conference on 18th century woodworking, and when they came home, 'She asked me I ever thought about attending North Bennet Street School, and I said, 'Well, anybody that's been working with wood has, but it's expensive and I won't get in.' And she said, 'Well, I think you ought to try.' So I applied and was accepted. That was a quick entry to, really the higher end of woodworking, if you will.'
The North Bennet Street School experience, Roger said, 'was an opportunity to really embrace the craft and take whatever skill set I had and try to develop it further.' He feels he came out of the school with 'the ability to analyze and solve just about any problem that comes up in woodworking, whether it's how to construct something with the appropriate joinery or how to deal with an issue that comes up. It's just a quest for total perfection in what you do. It's not almost good enough. It's right, or it's wrong.'"
…For himself, Roger said, a big part of the appeal of woodworking is 'the ability to leave something behind that's tangible. Many of the things that we do in our corporate life, they may have benefit for the moment, but they're long since forgotten. When you're creating something, you create a piece of art or a piece of furniture, hopefully it's going to be enjoyed for generations.'"
Read the rest of that article here, including descriptions of Roger's work and creative style.
For more on Myers' work, visit his website.
Photos courtesy Bill Truslow.