Greenwood to Windsor Chair
September 7, 2015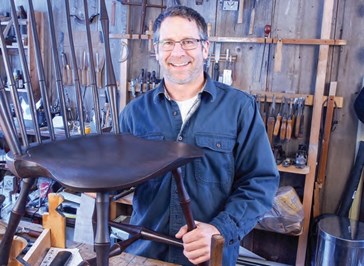 Peter Galbert
While most East Coast residents aspire to spend the last days of summer at the beach, a dedicated group of woodworkers from Maine to South Carolina took to the NBSS shop in late August. Led by specialist Pete Galbert, students bent, shaved, and carved fresh green wood into handmade Windsor chairs.
Building a Windsor chair is not about a style, but a technology. It's a way of working with wood that is a departure from the usual flat and square. Students in this workshop also learned the process is laborious yet gratifying. "I have taken many classes over the years at NBSS but none as good as this one…there was never a boring moment" said student Bill Boyd.
Peter Galbert is a chairmaker, toolmaker, teacher and writer, working from his Massachusetts woodshop and teaching at craft schools around the country. He writes the Chair Notes Blog, and his first book Chairmaker's Notebook is available from Lost Art Press.