Greg Brown CF '10 Works to Perfect Furniture Building Craft
August 28, 2016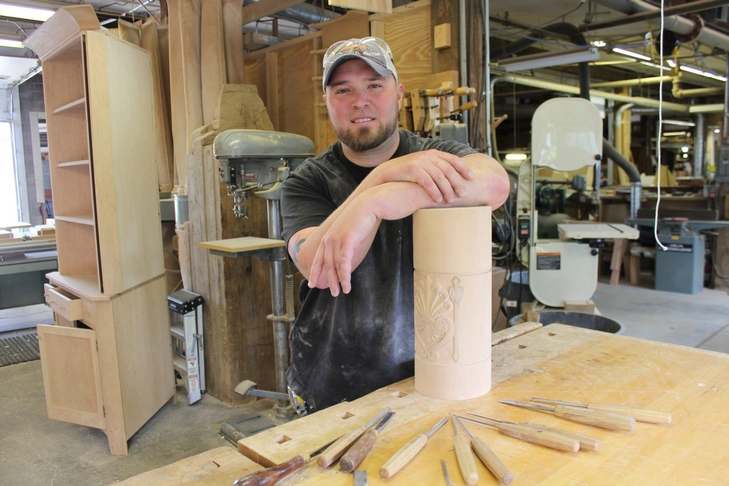 Excerpt of story from The Bedford Bulletin by Darrell Halen.
Left: Greg Brown with a mock-up of a carving for a piece of a table at the Massachusetts State House Library. (Darrell Halen Photo)
The Design Journal accepts nominations for awards across the spectrum of art and interior design. To win an award from the publication is considered a career milestone.
Bedford resident Greg Brown CF '10, who designs and makes high-end furniture, was won two of them.
"It was a really nice honor," he said.
A chair made by Brown, the "Alden Rocker," was honored by the Journal's Best of 2015 Products category. The chair will be on exhibit July 12 through 23, 2016 at the New Hampshire Historical Society in Concord and Sept. 10 through 25, 2016 at 3S Artspace in Portsmouth.
His "Devil's Embrace" tilt-top table was honored in the Journal's 2016 Awards for Design Excellence. The table was juried for the Contemporary Translations exhibit this summer at Canterbury Shaker Village.
Brown, an accomplished self-employed cabinetmaker and carver, is a member of the New Hampshire Furniture Masters Association – an organization with rigorous requirements he had to comply with to become a juried member. At 33, he said, he's a generation younger than many of its members.
Brown, who never took art or shop classes in high school, is enjoying a successful career in a field that he didn't seek out. After his mother's boyfriend found him a job on a carpentry crew, Brown befriended a shop owner and one opportunity led to another.
"What I always tell people is that woodworking found me," said Brown, who describes the start of his professional journey as working in a cabinet shop by day and a furniture-making school by night, while trying to find his purpose. He furthered his training at North Bennet Street School in Boston while working at several shops in the area.
"It was another thing to skyrocket my abilities, that repetition – constantly being able to do work to build up my confidence and take on a job on my own," he said of his two years at the private vocational school.
Before going to the school, he said, he had spent time learning how to carve.
"I just hit it hard," he said of his time at North Bennet. "Most of my projects were very intricate, very embellished. Carved most of my projects, and gained a fair amount of notoriety as a student down there."
Read the rest of the story at The Bedford Bulletin.