Historic Knowledge, Today's Skills
December 17, 2022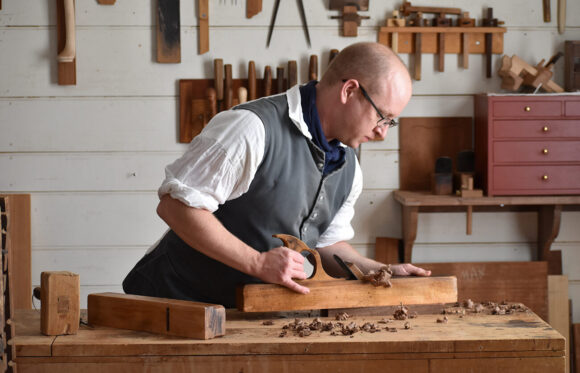 At Colonial Williamsburg, artisans play a key role in transporting visitors back in time to 18th-century Virginia. But with every cut of wood or pluck of a harpsichord string, these skilled makers and interpreters are not only educating guests about colonial trades: they are also demonstrating that traditional hand skills are very much still alive today.
Here, three North Bennet Street School (NBSS) alumni have found unique careers that allow them to be makers, teachers, and historical detectives. As they gear up for Colonial Williamsburg's 25th annual Working Wood in the 18th Century conference in January, we check in on what it's like working at the nation's largest living history museum.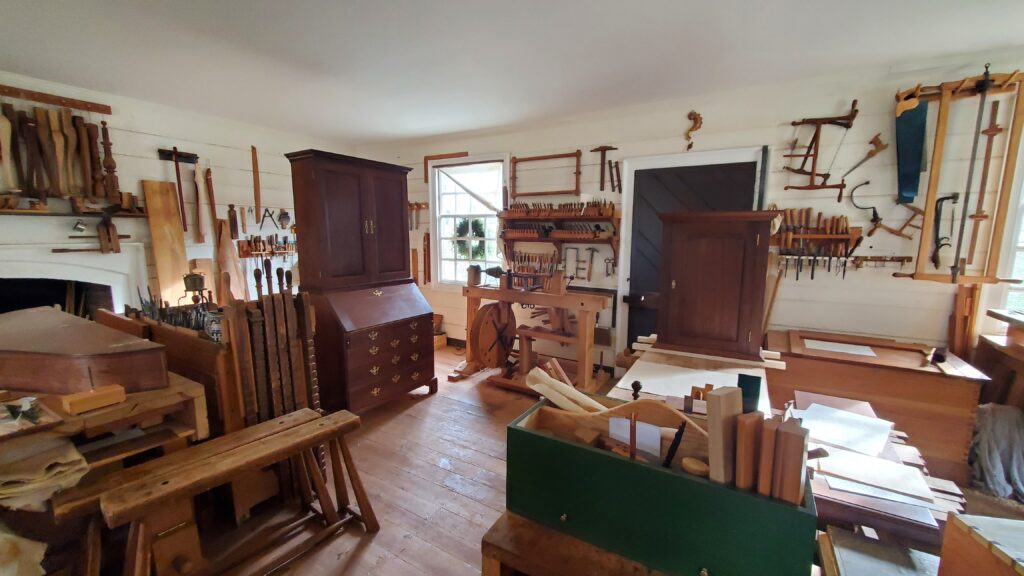 Jeremy Tritchler CF '18
Apprentice Cabinetmaker
In the morning, Jeremy changes into his period costume and follows a gravel path to the Anthony Hay Cabinet Shop. "I can hear the birds, and a stream trickles nearby. It's my favorite moment of the day." As he takes a sip of water from his clay mug, he looks over his latest project.
"I'll open up the window shade next to my bench and let in that nice morning light. If it's cloudy, I'll do something that doesn't require a lot of detail." (The shops use natural light.) Makers at Colonial Williamsburg often get to pick pieces they want to study and reproduce. "When we're done, we'll usually offer it up for sale out of the shop." Currently, Jeremy's applying boiled linseed oil to a black walnut desk and bookcase. It's part of the finishing stages of a collaboration between him and the other shop apprentice. "The shop smells like oil and turpentine," he laughs.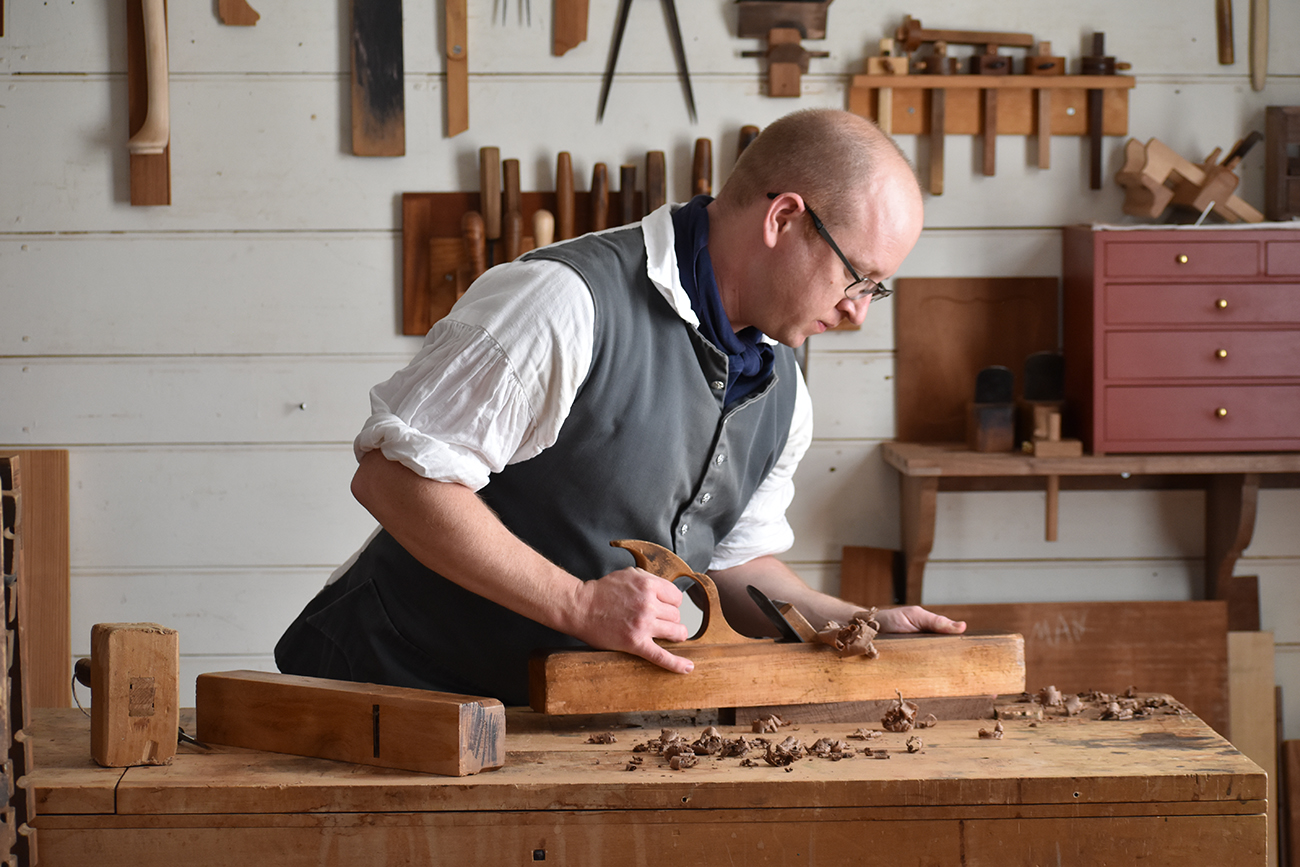 A former geologist, Jeremy found woodworking and the Cabinet & Furniture Making (CF) program at NBSS in his thirties. "I can't say enough about how much I loved my experience at North Bennet—the instructors, the atmosphere, the hands-on learning." One NBSS field trip in particular changed his life. "We went to the Museum of Fine Arts before it opened and spent two hours on the floor with a piece of furniture—pulling out the drawers, taking pictures, measuring it. That was the moment I realized, 'I love this.'"
"Colonial Williamsburg became the perfect job," says Jeremy, who started in 2020. "I get to build, research, and teach—all in one package. What I wrote in my NBSS application is what I now get to do." When selecting projects, he follows a rule from his time as a student: "Pick something where you know 80%, but 20% is going to stretch you." 
His work in the historic trades has also taught him to be more efficient in his home shop, where he has limited power tools. "I recently built a pair of tables where I had to re-saw a thick, wide board into two thin boards—while maintaining as much width as possible, and wasting as little as possible," Jeremy says. He weighed out all his options before ultimately deciding it would be fastest to do by hand. "And it yielded a finer result with minimal waste and fewer glue lines," he says. 
"So much time can be saved with confidence in good sawing technique—that is one technique in which I have greatly improved during my time here," Jeremy notes. "Every woodworker I know finds themselves reaching for a saw at some point. The better you are at cutting on a line, the less time you spend planing or chiseling to that line later." 
"There aren't a lot of museums like us," Jeremy adds. "We're not staging this—we are actual practitioners of our trade. Sometimes we get visitors who think this is a dead art, and I enjoy teaching them that it's not lost."
Melanie Belongia VM '03
Apprentice Harpsichord Maker
"No two days here are ever the same," Melanie says. "Yesterday, I got to go to the museum's collections to see a 1750s bass viol we just acquired. It was an unexpected shift to my day and a wonderful way to spend an hour."
Raised in Virginia in a family of musicians and woodworkers, Melanie grew up visiting Colonial Williamsburg: "My dad always made a beeline for the shop where I work now." She played in string quartets as a professional violinist and even took a detour to Harvard Law School before ultimately enrolling in the Violin Making & Repair program at NBSS.
The Colonial Williamsburg community often feels reminiscent of NBSS: "There's that feeling of camaraderie," says Melanie, who joined the museum in 2018. "I can always ask questions of my colleagues, and we share what we learn. It almost feels like a research lab."
Melanie's latest challenge is a harpsichord "mash-up"—building an instrument modeled after works from two generations of 18th-century makers. "I'll be painting the soundboard, which is something I've always wanted to do." A project like this takes intense forensic research. "I get to put my Sherlock hat on, whether it's studying a piece looking for tool marks, or researching the makers."
"Given my violin restoration background, I've been able to work on some of our antique instruments, which is a joy," Melanie says. Examining these instruments often reveals what stands the test of time, and what doesn't—leading to helpful improvements today. In this video, Melanie gives a behind-the-scenes look at building a harpsichord modeled after a 1726 instrument in collections. After noting how the original's fragile key backs wore over time, she and Master Harpsichord Maker, Edward Wright, chose to leave the forks on the back of their instrument's keys more stable and supportive. "We're building these with the modern player in mind," she explains.
In her home shop, Melanie continues making and restoring violins for clients and keeps her range of skills active by using a wide array of tools, like her favorite Japanese saws.
"Working at Colonial Williamsburg, you have so many opportunities to grow as an artist," Melanie says. This includes a range of on-site educational conferences, forums, and symposiums—where the environment is always very supportive and inclusive, she says."There are new makers just starting to dive in, as well as folks who've been doing it for decades. The goal is to preserve this information for future generations."
Brian Weldy CF '01
Master of the Joiner Shop
"One of the first things guests say when they come into the Joiner Shop is, 'I love the smell of wood.'  The piney, aromatic smell permeates the shop," Brian says. "You'll hear someone using a try plane on a piece of southern yellow pine or poplar. It reminds me of the sound of a crisp apple when you bite into it—that clean crunch as it goes through the wood." As a Joiner, Brian uses hand tools like saws and planes—rather than power tools—to make shutters, millwork, and decorative moldings. "In modern terms, I am a custom trim carpenter," Brian explains. 
Understanding how makers throughout history used evolving technology to problem-solve can be relevant to all woodworkers, whether they use traditional or modern techniques, Brian notes.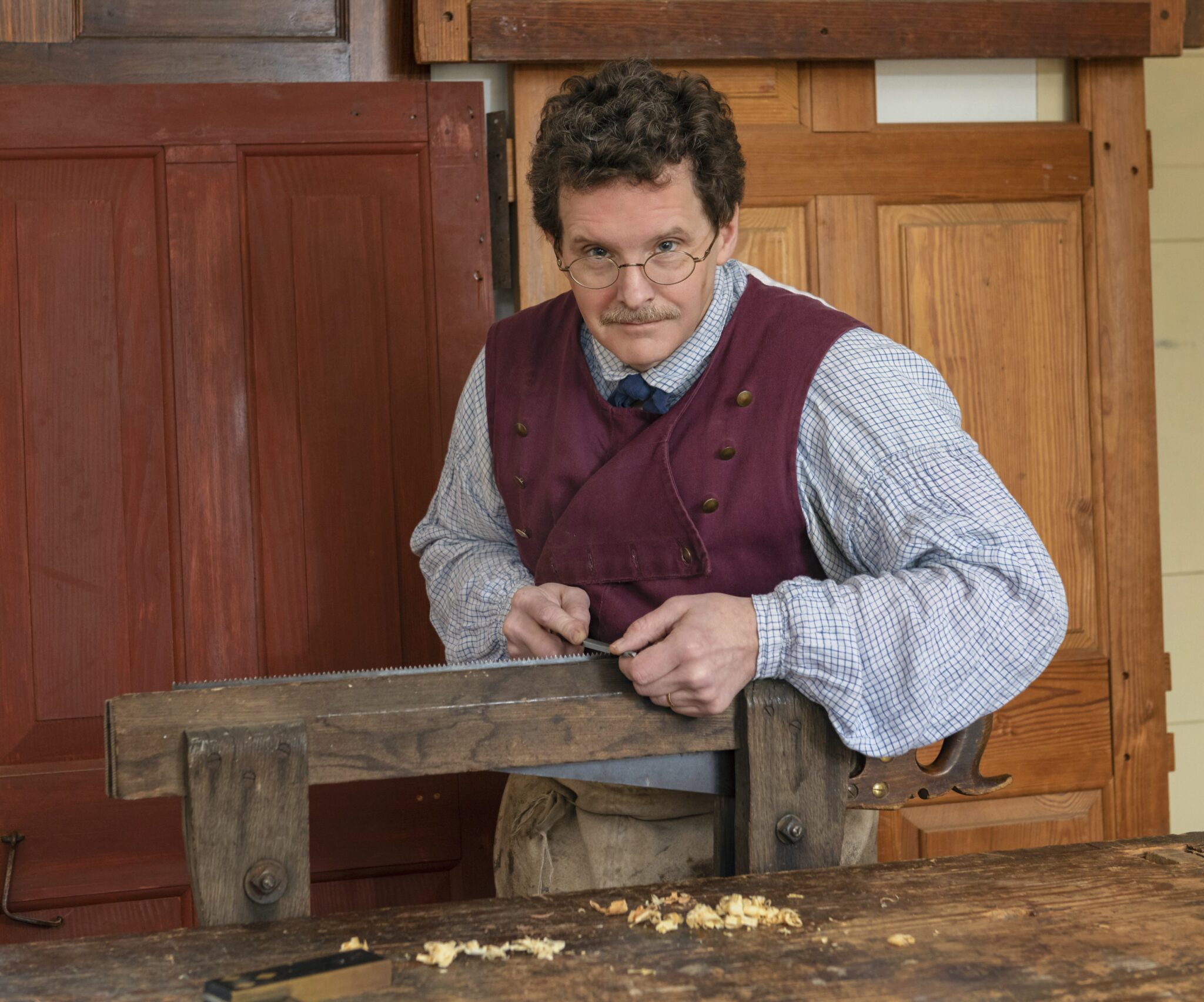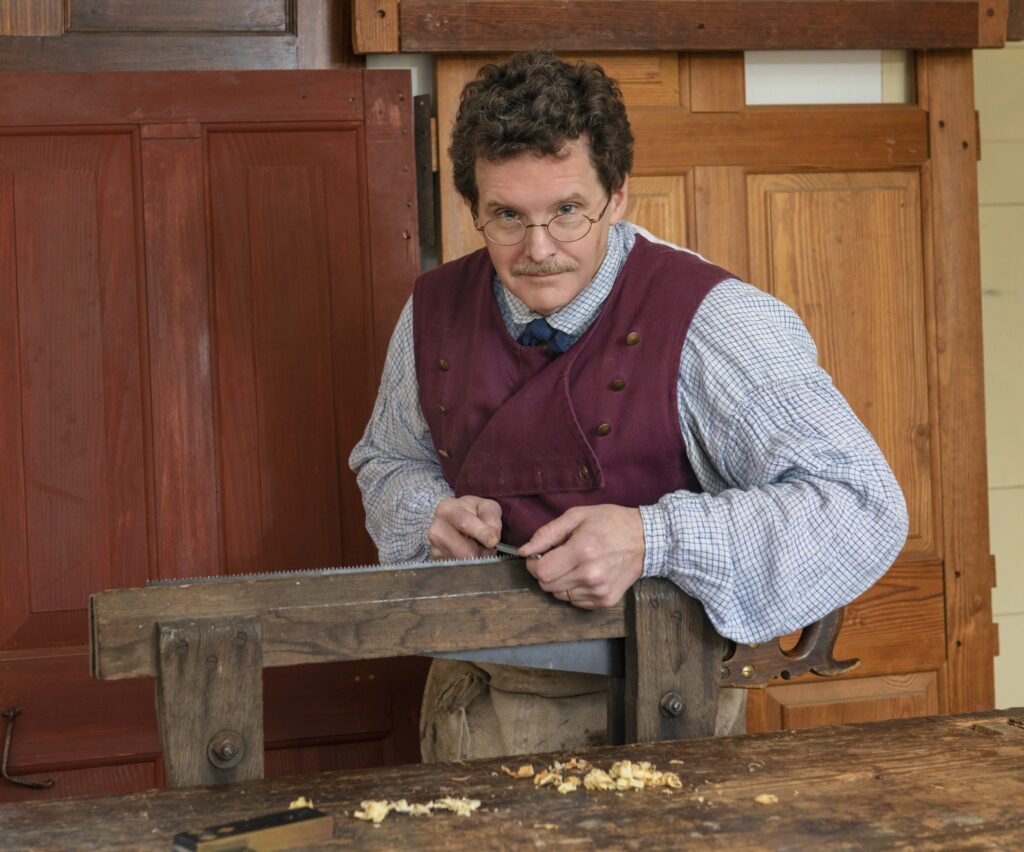 When contemporary woodworkers visit the shop, Brian loves watching them make connections to their own work. "They get that look in their eyes, and I can see their minds trying to recognize our tools or processes. Oftentimes, their reaction is, 'Wow, I wish I had my router or some modern tool—that could do it in a fraction of the time.' But, I always remind folks that it doesn't matter whether it's a hand tool or power tool. The key is that it's a tool, and it should convey the desire of the woodworker."
Projects require meticulous research. How did a colonial Joiner make this efficiently and economically? Figuring that out is one of Brian's favorite parts of the job. "Not too many people can say they've crawled up in the steeple of the Bruton Parish Church," he laughs, recalling up-close exploration of the 18th-century church on the museum grounds. "The beams come together in a beautiful latticework." In the shop, he's currently recreating one of the circular windows from the church.
Sometimes, Brian's research even takes him off museum grounds. He recently visited the Rolfe-Warren House, a mid-1700s historic home located in nearby Surry, Virginia. Here, he studied decorative columns known as fluted pilasters and will present his findings at the 2023 Working Wood conference. 
A longtime employee, Brian says the museum fosters a spirit of collaboration that reminds him of his time at NBSS in the CF program. And, like at NBSS, inspiration is only ever a short stroll away. "The Blacksmiths make nails and hardware for us. And I love going over to the Engravers—they are meticulous, carving curved surfaces and leaf patterns in metal. The skill they have is amazing."
---
Register today for Colonial Williamsburg's 25th annual Working Wood in the 18th Century conference, taking place January 26-29, 2023. Options are available for in-person or virtual attendance. Deadline for registration is January 1, 2023.