Made For Veterans, By Veterans
December 28, 2019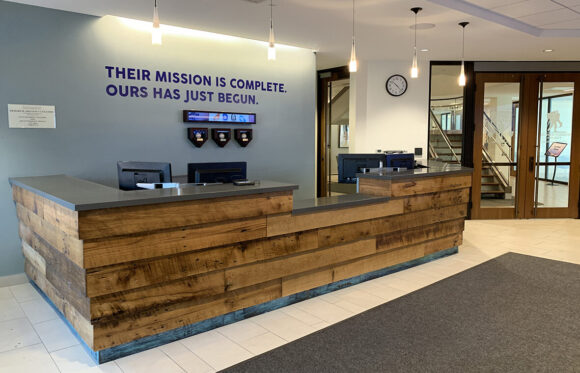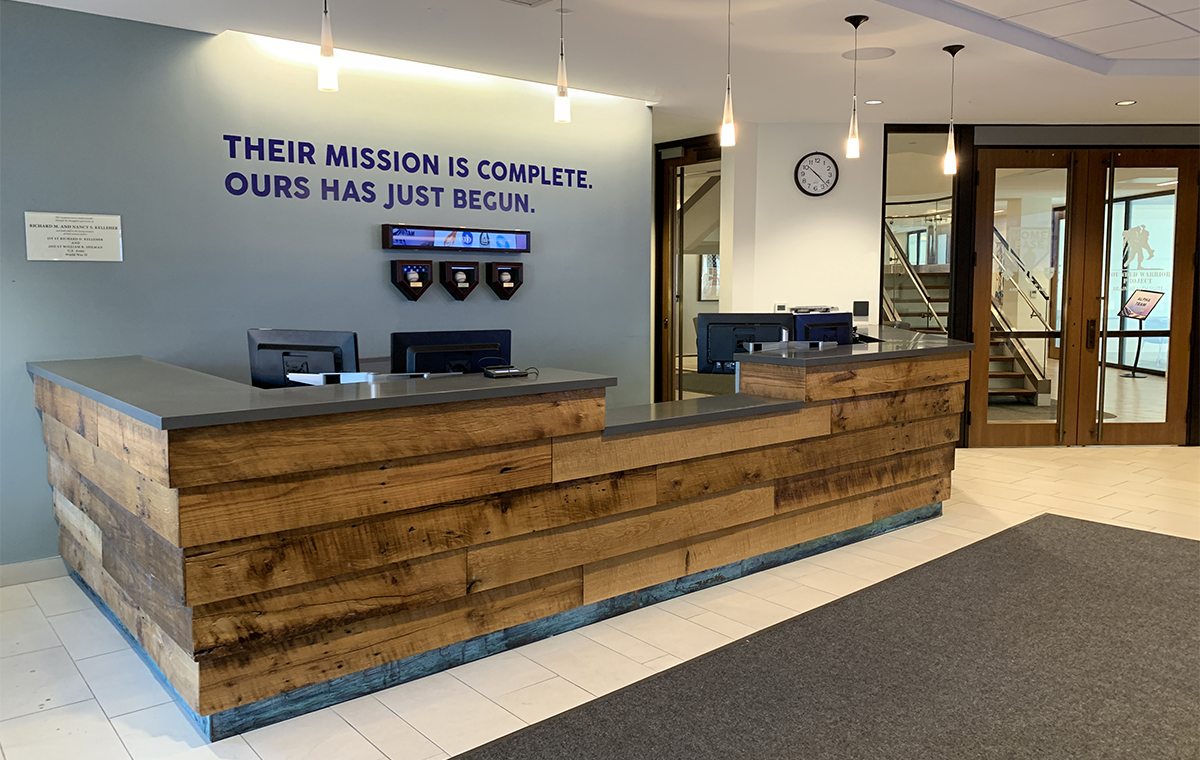 The new Home Base National Center of Excellence in Charlestown helps at-risk veterans and military families regain the lives they once had. When the clinical facility needed help with the design and execution of its reception desk, it turned to NBSS.
After reviewing proposals submitted by various members of the School's Student Veterans Organization (NBSS SVO), a proposal by Brennan Simpson CF '18, Matt Frechette CA '16, CF '18, and Charles Strong CF '18 was selected. Brennan and Matt served in the U.S. Army, and Charles is a former Master Sergeant in the U.S. Marines.
The three classmates then began work on a design inspired by the USS Constitution, which is notably the world's oldest commissioned naval vessel still afloat, constructed in the mid-1790s. The vessel is berthed at the Charlestown Navy Yard, next to the new Home Base building, and the desk itself takes cues from the shape and materials of the vessel.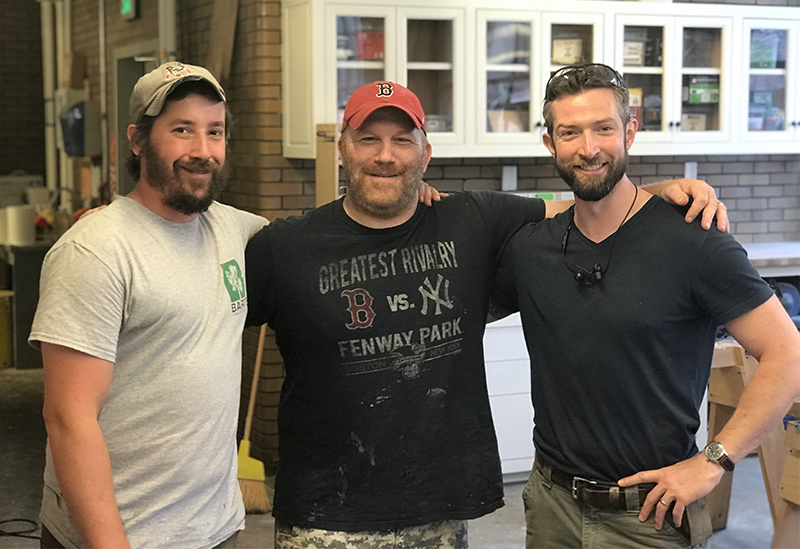 "The Constitution is made out of live oak so, as a nod to that, we chose two-inch thick reclaimed live oak as our primary material," explains Brennan. "Since the hull of a boat flares outward and upward, we used stair-step construction to give the desk a terraced look, and added a copper toe-kick that we patinaed to emulate the hull of the Constitution."
Reclaimed materials, including copper nails original to the Constitution, imbue the desk with layers of symbolism that connect it both to US military history and the veterans it serves today.
"We chose materials that bore the mark of time with the scars to prove it. Like injured vets, they retained their character and purpose," he says.
Founded in 2009 as a partnership between the Red Sox Foundation and Massachusetts General Hospital, Home Base is the largest private-sector clinic in the country working solely with service members, veterans, and their families as they heal from the invisible wounds of traumatic brain injury, post-traumatic stress, and related conditions.
The NBSS SVO was a natural fit for the Home Base undertaking. Its mission is to provide student veterans with the personal and professional support necessary for successful transition from military to student life, and for employment after graduation.
Rob O'Dwyer, Director of Admissions & Student Success, points out that in recent years close to 20 percent of current NBSS students are veterans who represent "a wide swath of diversity, not just in who they are and how they identify, but in the programs they're interested in."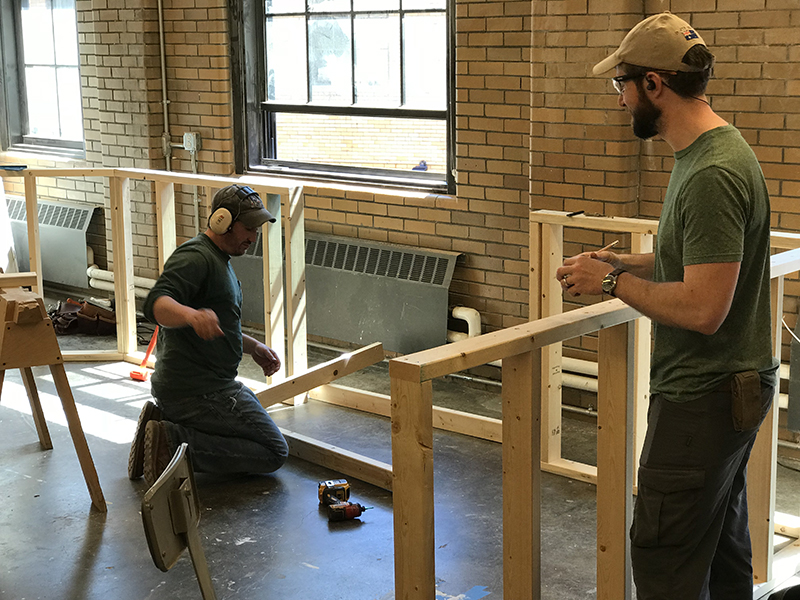 "As a group, military veterans are diverse, accomplished, and self-qualified. They bring a mission-driven, goal-oriented, can-do attitude that are all markers of success for an NBSS student," he says.
Brennan believes that what is most important about the Home Base reception desk is that it was made by veterans, for veterans. The project was a team effort that built on existing relationships. The architect for the site was Margulies Perruzzi, where NBSS Board Chair Marc Margulies is Owner and Principal. On the client side, Home Base's Chief Operating Officer has two relatives who are both military veterans and graduates of NBSS. Michael Patrick Wheeler CF '74, a frequent guest instructor at NBSS and an Air Force veteran, assisted with the installation.
"When service ends, there is often a loss of belonging and mission. Our hope is that this desk will demonstrate that there are options, that there's a path forward," he says. "That after their service they can be find a new purpose."
This article is from our 2019 Annual Report. See all the stories here, or download a pdf of the entire report.
Read more about the project in an article by Home Base.