In the Making: Aspen Golann
July 20, 2020
"There's no hierarchy of making… big is not better than small, functional is not better than sculptural, and serious isn't better than playful."
Aspen Golann CF '19 is ambitious, always setting her sights just beyond what she feels she's able to accomplish. And yet, she does just what she intended, and more. This mindset is evident when one looks at her work, both in terms of its breadth of her artistry and depth of her skill.
Within just a year of completing the Cabinet & Furniture Making program, Aspen has already begun to make her mark in her chosen field. A far cry from someone who early on wondered if she could ever make a career of craft and creativity.
I connected with Aspen virtually at her home in the mountains of North Carolina, where creative projects surround her at every turn. (Proof positive: her partner was building a pizza oven in the background even as we spoke.) Aspen shared her journey to the current moment, her thoughts on the importance of "play," and her take on the value of small objects—like her signature pinstripe brushes.
Below is an excerpt from our conversation, edited for space and clarity.
---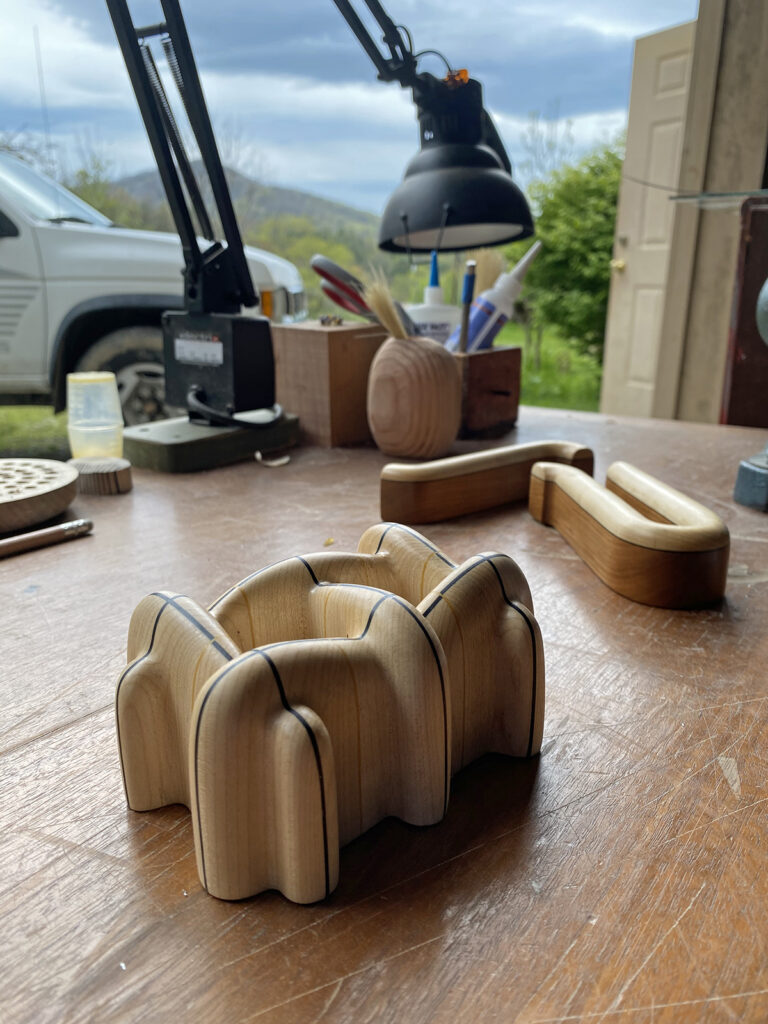 Kristen Odle: So good to see you here. How are your spirits these days?
Aspen Golann: It oscillates. Sometimes I feel grateful and I enjoy not having every second of my day spoken for. And then I have these cloudy moments where I can't help but be aware of my community, and the impact this is having on them… And the impact that this is going to have on my career and the career of all the makers that I know. I try to make space for that feeling. Let it in.
KO: You are one of the most creative people that I know. You're obviously trained and highly skilled in furniture making, and yet you recently started making these little brushes that are getting a lot of attention. Was it a happy accident or an intention to create something that is small and mobile, not requiring a workspace?
AG: It's more the latter. I think it's important to have a tiered practice of making work that's small, fun, and sculptural, where you can test out ideas, things that don't take a month and a half to make. And then it's also important to have these larger, more ambitious projects.
I've had furniture to build for a long time, but I hadn't developed a practice of small objects yet. I wanted something that I could do at home, because my shop is my work. It's more than just where I make my furniture. And so brushes and small objects have become my creative outlet.
KO: It's great to hear you say that. Recognizing the importance and value of small creative objects is hugely important.
AG: Yeah, and there's a practicality to it as well. It's very easy to sell small objects, because you have a much wider audience. There aren't a lot of people that can afford handmade furniture. I'm one of them. But, I do buy jewelry from my friends because they're smaller objects. It's less of a time investment.
On another level, there's nothing that gets me to new ideas faster than just lighthearted playing with the material.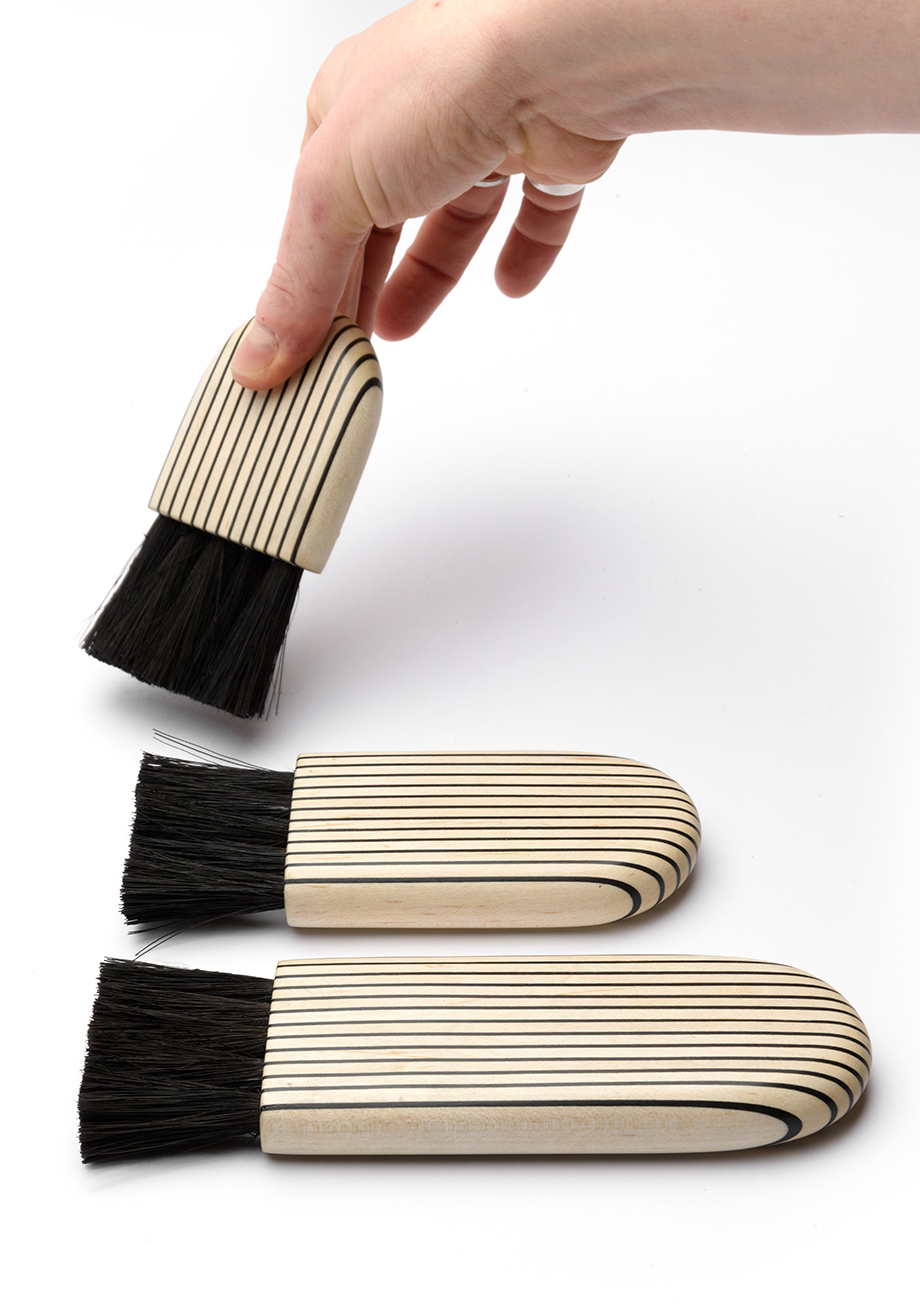 KO: I love that. Play time.
AG: Yeah. Totally.
KO: What has been your most used tool at your home bench?
AG: I'd say it's a combo between this metal vice that I borrowed from the Penland shop and a little set of grobet rasps that I bought at the NBSS store. They're fantastic for the work I'm doing right now to slowly chip away at wood.
KO: I'm going to pivot to your history. What ultimately led you to study at NBSS?
AG: I was drawn to making as a career. For years, I thought it was impossible, and so I was a teacher. I taught people, mostly kids, how to make, which was super fulfilling. I think I could have done that forever, but one day I had a moment of clarity and a moment of bravery, and decided that I wanted to just give it a try. I wanted to see if it was possible to find a school where I could learn enough to have a shot at a career in making.
I chose North Bennet specifically because of its focus on that technical work. I'd been designing and drawing my whole life, but I didn't have the technical know-how. And I wanted to go somewhere where that's what the focus was going to be on, very unapologetically so.
North Bennet was like that. And the skills that I learned there, they've been so flexible, and I've been able to use them for so many different things.
KO: What were you teaching kids to make?
AG: I did a lot of different kinds of teaching, mostly art. So I started with dark room photography, fibers, and weaving. And then I designed a conceptual art class where kids were talking a lot about the meaning of their materials, doing performance work, and lots of other stuff.
So, that was really fun.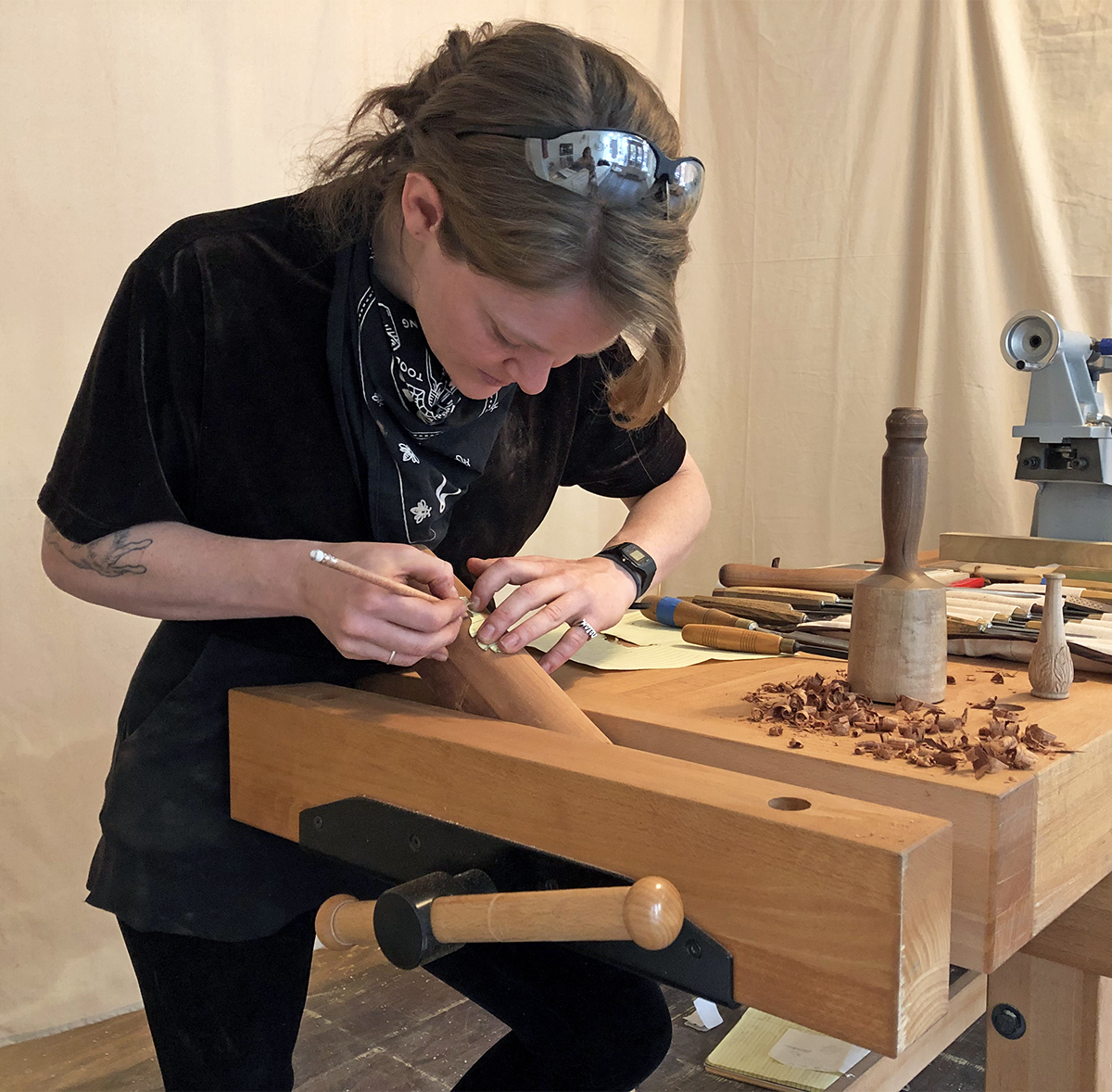 KO: When you say you thought that it was impossible, are you referring to actually making it a career?
AG: Kind of. I had always made work, but didn't have a network of makers. I didn't know how you even get to the point where you know people who make things for a living. The world of woodworking is actually pretty big, but also somewhat insular. You have to break into it.
I hoped it would happen once I enrolled at North Bennet, though I didn't necessarily believe it. But that changed really fast—all of a sudden there were woodworkers everywhere. [laughs]
KO: I know that you grabbed every opportunity while at NBSS and since, to create your own network.
AG: Yeah. North Bennet was a place where I found a lot of kindred spirits. I found a lot of people who thought the way that I did and wanted to live the same kind of life that I wanted to live.
North Bennet and the curriculum is so focused on replicating period furniture. And while that's exactly what I wanted, and I would have it no other way, there were moments where I was just like, "I need to be around people who just want to make super eccentric, bizarre objects. Not only to feel at home, but also to remind myself that that's also valuable." And I found some of those folks during my time at North Bennet, I'm happy to say.
KO: Just like you have—and many people have—it's a point that you have to reconcile with, given the base of knowledge it gives you. Take your woven brush that you just showed me. I mean how many skill sets were used that you learned from classical furniture building?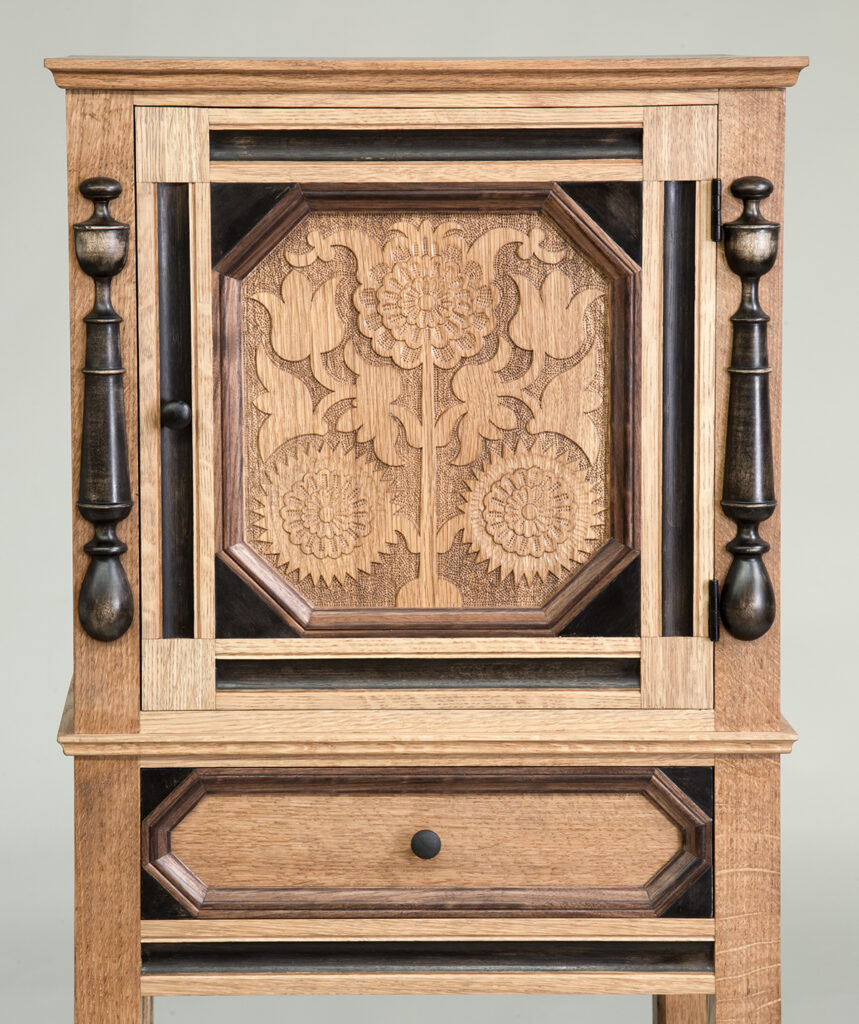 AG: Totally. And it took me a while to wrap my head around that. I really fought the curriculum for the first eight months or so. I wanted to skip steps and make really specific objects that were beautiful, but didn't necessarily contain all of the skills that my instructors wanted me to learn. And eventually it got through my hard head that being at North Bennet isn't about making work at North Bennet. It's about learning how to make work for the rest of your life.
KO: Looking back, what was one of your favorite experiences at NBSS?
AG: A lot of my favorite moments at North Bennet were very private. I spent almost all of my time quietly working at my bench, which is again, exactly what I wanted. But there was a moment during my fourth semester when I was building a case piece. And a lot of the initial construction was the same as the shaker nightstand that we learned how to do our first semester. And I realized that in just like a couple days maybe, I think it was like one or two days, I did all of the work that was part of that initial shaker nightstand by myself. Asked no other questions. Didn't even think about it.
KO: Have you and your partner Chris – [a glassblower] – collaborated in your practice? What would you two dream up?
AG: I think about it all the time. We've made a couple brushes already, actually. He just started handing me objects that had holes in them. I started filling them with bristles. [laughs]
He's now making this furniture out of glass, and so we're definitely starting to talk about ways to merge those two materials. Given that I'm a furniture maker, that one's easy to imagine.
KO: I'm currently sitting at a piece of furniture that was a wedding gift to my parents, and handed down to me. I've been toting it around forever. Do you have a piece of furniture or an object that has been in your family that inspires you?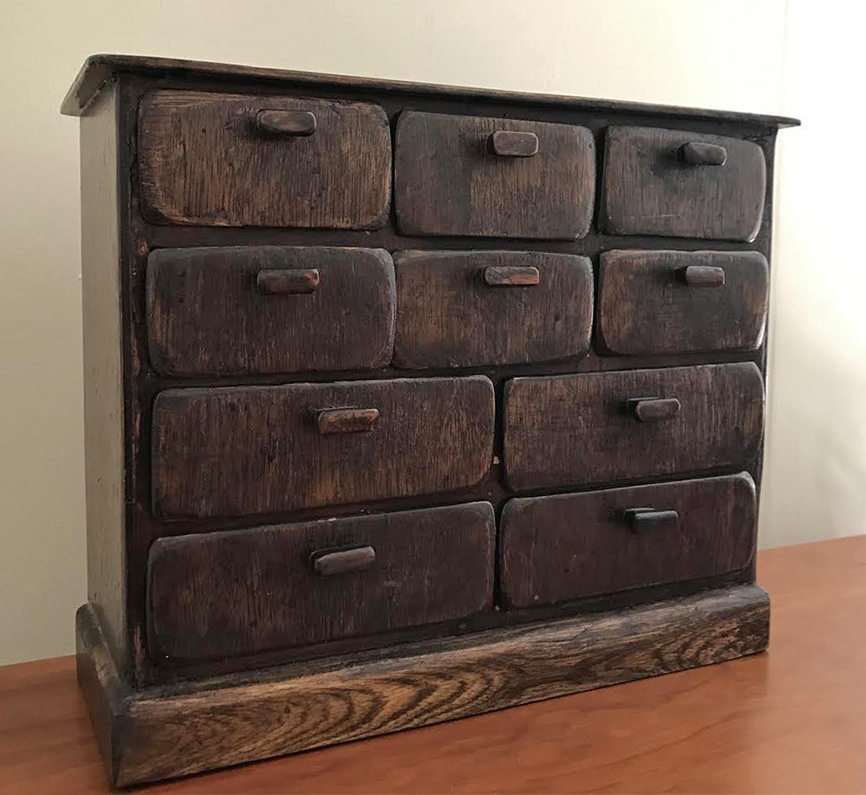 AG: My mom's father, who I never met, was a farmer and he would carve these tiny tabletop size dressers. One of them has 15 drawers in it. He would carve them out of old firewood, but they have little functional drawers. It blew my mind as a kid that they only fit in their openings. You can't switch them around. And so I'd pull them all out and then try to put them all back in. They're not sanded, just all whittled with a knife, so you can feel all the facets. I love those.
KO: What would you share with other makers right now?
AG: I think first that there's nothing wrong with using this time to absorb all the change that's happening right now. That being said, productivity can be very soothing. Any small object that I can make, makes me feel more focused on the future, and more excited about my materials and my ability to still be myself and do the things that I love.
Also, just remember that there's no hierarchy of making. That big is not better than small, functional is not better than sculptural, and serious isn't better than playful. I think that when there's a problematic hierarchy like that, it makes it harder to do the work that is accessible in this particular moment.
KO: That's wonderful Aspen, a great way to end this chat and look forward. Thank you.
Learn more about Aspen's background in an interview with Nancy Hiller for Lost Art Press.
---
"In the Making" is a series of video interviews with members of our community where we get insight to their lives and work. Learn more about the conversations, and view a full list of interviews on the series homepage.