In the Making: Charlotte Wampold
August 18, 2020
"I get goosebumps thinking of how much I'm in the right place at the right time."
Before coming to North Bennet Street School, Charlotte Wampold PC '21 studied Fine Art at Tufts' School of the Museum of Fine Arts, then went to work designing furniture sets for an online retailer. These two experiences became one upon Charlotte's discovery of the Preservation Carpentry program at NBSS.
Charlotte and I spoke about a shared passion for historic structures, the path leading her to NBSS, and the home renovation project she's working on for her neighbor. In true quarantine-friendly fashion, Charlotte sat in her car for the interview.
Below is an excerpt from our conversation, edited for space and clarity.
---
Kristen Odle: I feel like we're in carpool karaoke. It's awesome. Can you tell me why you're in the car right now? You're working on your neighbor's home, right?
Charlotte Wampold: Yeah, I hope the rain's not creating too much of a problem for your audio!
So I had originally set up this project with my neighbors to keep me busy over spring break. He's a general contractor and she's an architect and they work on properties together. They knew I was in the Preservation Carpentry (PC) program and were enthusiastic about it. They told me that if I ever just wanted to pick up a little bit of extra work, I could do some at their home.
Up until all of this quarantining had happened, it had kind of been a back burner project for them. But now they're actually able to put all their energy towards it, and it's been a great experience for me. I get to sort of hop in on different parts of this whole process and poke around their old house.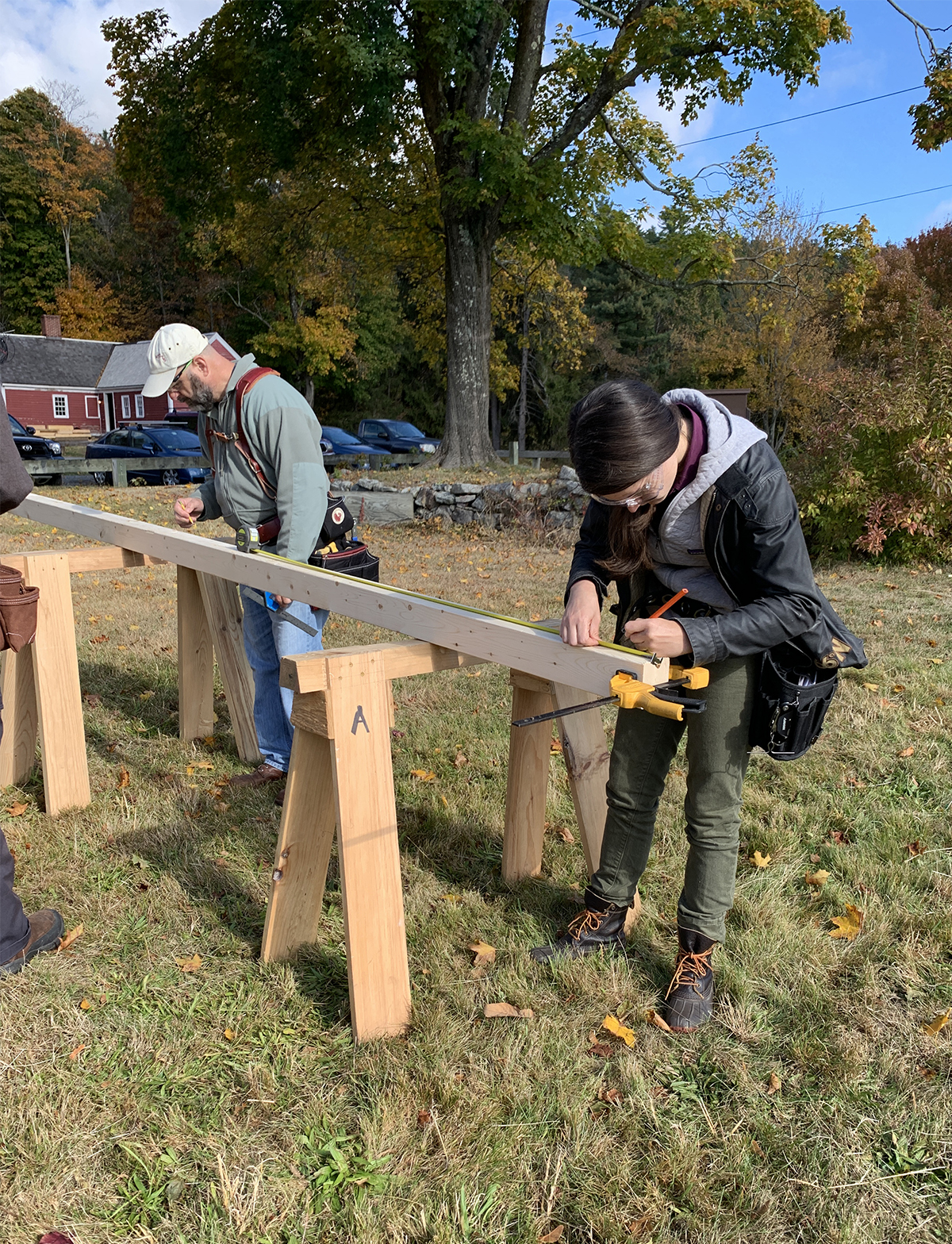 KO: What kind of work are you doing there?
CW: There wasn't really any structural work that we needed to do by the time I got here, so I'm acting as an assistant with a variety of small projects. We put in trim, I built some shelving, we did some door installation, and I did some of the cedar shingling on the house.
KO: Very nice. That's invaluable experience that wouldn't have otherwise happened if not for the situation.
CW: Yeah, it has been cool. I'm fortunate with it being my neighbor. It makes me feel more connected with my community because I've become close with their whole family through this process. Not to mention just feeling incredibly lucky to have an excuse to get out in the house every day. That it happens to be something that's relevant to the career that I'm pursuing is pretty great.
KO: Absolutely. Speaking of, what is it that led you to this career pursuit and NBSS?
CW: Before coming to North Bennet Street School, I was in a combined program with Tufts and the School of the Museum of Fine Art—which now is the same school, but at the time they were separate. After getting a bachelor's degree in fine art, I thought that I was probably going to make a living as a welder, which did not happen for me. But just kind of poking around things that I thought I was qualified for at the time, I ended up stumbling upon a job for Wayfair, the furniture company, building sets for their photo bays, like fake living rooms and bedrooms and bathrooms. All kinds of stuff.
KO: To stage all of their goods?
CW: Right, exactly. I did that for about four years, until they shifted towards 3D digital images rather than physical sets. So I thought I'd better get ahead of it and look for something else… And I didn't want to continue building sets for a few reasons. One was that it was a little demoralizing to put your best effort into something—making a faux brick wall or a tile bathroom—and then after the photos were taken, it's taken down and thrown away.
KO: I get that, makes sense.
CW: Yeah, it just didn't feel like something I was going to want to stay in for a very long time. Because of my background in fine art, I had some work already in exhibition departments of some local arts centers. So I thought maybe I could look into that. I couldn't decide, but it was clear that I was either going to have to join a professional program to jumpstart my career, or I would need to just kind of start at the bottom and work my way back up.
I thought that if I could find a good professional program it might be a good investment. Just kind of looking around, I found the PC program and it was like… I just couldn't believe how perfect of a fit it was.
KO: It's like you combined these two experiences and this is what would naturally come from that. That's amazing.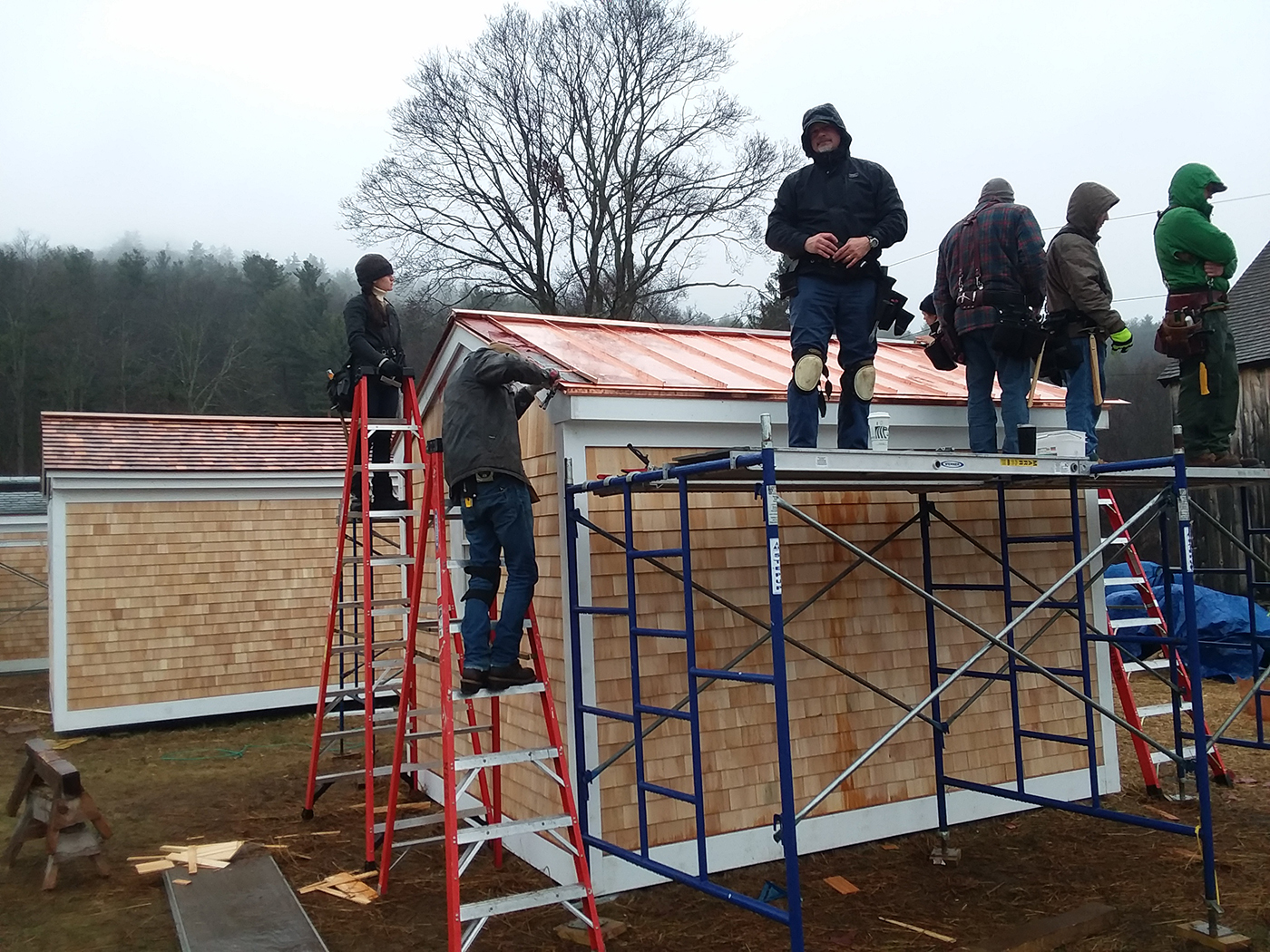 CW: I couldn't believe it. I mean it was kind of like, I didn't know for sure which field I wanted to go into, but you look at the list of careers that people from the PC department have gone into and it's like, "Oh well every single thing I was thinking about kind of falls under the umbrella somehow." I've always been passionate about history. So the idea of being able to sort of work that into what I actually like to do every day was really exciting.
KO: You're going to do amazing things, what with your eight years of experience combined with an NBSS education.
CW: Thank you. Yeah, I hope so! I'm constantly getting chills feeling like I'm in the right place at the right time more than anyone deserves to be. Because it's true. I did two pretty different things for the past eight years, but the skills that I picked up in both of those fields come up in my work all the time.
KO: What are some things you're looking forward to in the fall?
CW: I've really enjoyed getting to just sort of sit and listen to lectures on the history of architecture. But I think in general though, I'm looking forward to getting back to the school and going back to working with the team; seeing all of my friends in the class again and getting to work through things together. That and probably just the access to all the tools. I have a new appreciation for my bench there. I love getting to work on things with my hands.
KO: The facility itself is so amazing. I feel like we're all clamoring to get back into the space.
CW: Oh, I know. I always felt lucky to be there, but you have a whole extra level of appreciation for it once it's gone.
KO: I love that. Well, I'll let you get back to work on the house. Thank you so much for your time.
---
"In the Making" is a series of video interviews with members of our community where we get insight to their lives and work. Learn more about the conversations, and view a full list of interviews on the series homepage.