In the Making: Jackson Fairlie
June 3, 2020
"Take the tools, leave the clothes."
I first met Jackson Fairlie CF '20 in late August 2019. He was the first new student to get the tools required for his program—in his case, Cabinet & Furniture Making. That commitment to learning his craft never stopped from that day on, squeezing every drop he could from the time made available to him at NBSS. He often arrived before the building opened, and was among the last people to leave at the end of the day.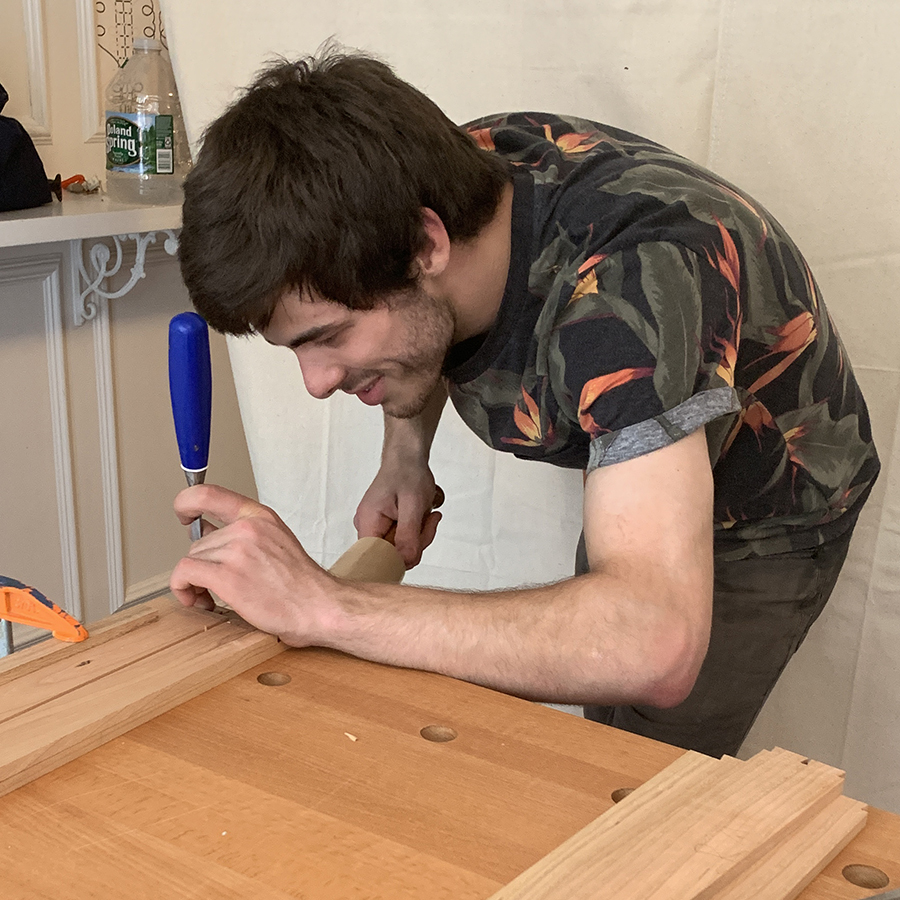 That work ethic is clearly seen in Jackson's work—the tool chest he made at NBSS, as an example, has dozens of perfectly cut dovetails. As with our entire student body though, after months of training in his craft, Jackson had to leave much of his work behind with the closure of our building from the pandemic. For him as an international student, this meant making the quick and difficult decision to fly home to Australia to be with his family.
And as most makers would, he opted to take the most important items – his tools – and leave behind things deemed "unnecessary," which for him included much of his clothing. Space constraints also meant his tool chest remains behind at his emptied bench, awaiting his return from Australia.
I spoke with Jackson remotely in April, to see how things were going for him "down under," with the world turned upside down.
Below is an excerpt from the conversation, edited for space and clarity.
---
Kristen Odle: Hi Jackson, can you share where you are and how you got there?
Jackson Fairlie: I'm at home in Melbourne, Australia. I had to return home when all this started happening.
I probably had a week to decide whether I wanted to stay in Boston or go home. I booked the quickest flight out of Boston, and a couple of days after making my decision, I got access to the building, to my tools, everything that would fit my two suitcases, and left.
KO: This must have been a surreal moment for you.
JF: It was. I thought, "I don't want to do this, but I know I have to. And this is the right decision."
KO: And what was it like getting out of Boston?
JF: It was really weird. There was like no one at the airport. I got to the airport four hours before my flight because I was like, "The airport might be pretty chaotic at this time." It took me about 15 minutes to go from checking in to going through security and customs. No one was there. The whole place was empty.
KO: That's the only time in your life that you'll experience that, I'm sure. Now that you're home, have you been able to do any woodworking?
JF: Very little because I don't have a shop. So yeah, that's been difficult.
KO: Tell me how that's been. You go from being at your bench 7:00 AM till… I mean, you were there all day long.
JF: Yeah, it's a struggle. Like you said, I came from an environment when I was just making and being very productive with my time. And all of a sudden, within a matter of weeks or so, I'm stuck at home. No workbench, no machinery, no projects.
KO: Are you able to do anything else to keep your maker mind busy?
JF: The only thing I can do that's sort of related to woodworking or making is either thinking up future projects and drawing them on SketchUp, because I don't have a drafting board here. I've got my drafting tools, but there's just no drafting board. And yeah, just practicing some joinery, that sort of thing.
KO: It sounds tough. I have this vision of you having to flee Boston and you choosing the most important things to you. Give the clothes away, don't let me forget the chisels.
JF: Yeah, absolutely. And even with the tools, I was like, "All right, what tools do I really need?" That still went through my mind. And then in the end I was like, "Screw it. I'm just putting everything in suitcases, and anything that is too heavy, I'll ship back, because I've worked too hard to just leave everything behind."
KO: Clothes, you can replace. Your favorite tools, no way.
JF: Right!
KO: I saw that our toolbox was left at your bench, would you like that shipped to you? I feel like that should be with you in Australia!
JF: Yeah. I actually made a toolbox before I came to North Bennet Street School that has drawers and is that sort of style. It's not that well-built, but I've been storing all my tools in there at the moment.
KO: You studied woodworking in Australia, correct?
JF: Yes, I studied with Alastair Boell of Melbourne Guild of Fine Woodworking. He was a graduate of the program in 2005.
KO: And did you make that first toolbox under his instruction?
JF: Yeah. I saw his toolbox and I was like, "Ah, I want to make one of those!" And so I looked at his and took some measurements, and I made one just how I wanted. It's funny looking back on it after the two years at North Bennet.
KO: I'm sure you see it completely different now. What has the experience of leaving NBSS and now being all the way across the world meant to you?
JF: One thing I've realized in this short period of time, is that I've got to sort of grow up and start making furniture and turn it into a business now.
I had planned to do all this stuff before coming back [to Australia] so that I could just … my business could propel itself, and I could hit the ground running. But all of a sudden, you get thrown into this chaotic state, and you're like, "Ok, what am I going to do? Got to make things work."
---
"In the Making" is a series of video interviews with members of our community where we get insight to their lives and work. Learn more about the conversations, and view a full list of interviews on the series homepage.