In the Making: Jay Diengott and Claude Cantave
September 25, 2020
"One of the things I was taught was, 'To save a life, it's as if you've saved the world.' So it was really important to me when presented with this opportunity—that I knew I was capable of—that I could help save lives."
– Jay Diengott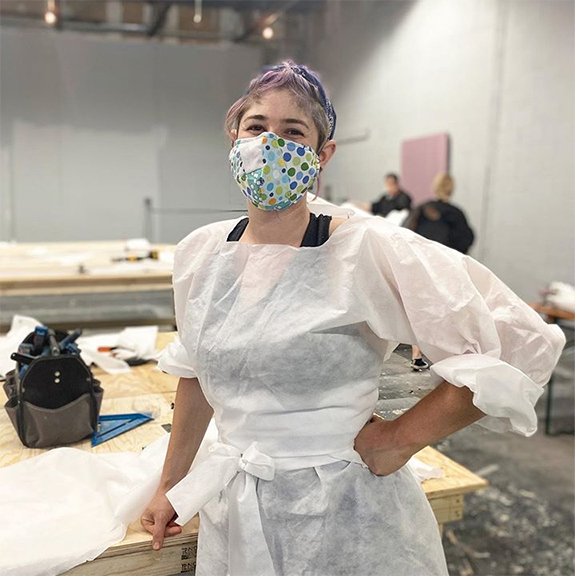 How does one chef's experience in catering translate to her developing personal protective equipment (PPE) for front line workers? How does a carpenter leverage his skills to support Covid-19 relief within a maker community?
On Thursday, September 24, 2020 we held a live conversation with Jay "PQ" Diengott, Claude Cantave, facilitated by Kristen Odle, NBSS Retail & Exhibit Manager.
Jay Diengott is a pastry chef who pivoted from her trained profession to create Gowntown, a startup making protective isolation gowns for medical professionals and others. We discussed how she and her partner adapted to the challenge of Covid-19, the innovations and efficiencies of their production line, and how hearing the call of the moment is a natural part of their work in the skilled trades.
Also participating in this virtual event was Claude Cantave, who studied Carpentry at NBSS and is an "awesomenaut" at Artisan's Asylum. There he took on the challenge of fabricating thousands of face shields alongside a team of committed volunteers. Jay and Claude shared what they've learned through their experiences, from tapping into their communities to modifying their skill sets towards production.
---
"In the Making" is a new public programs series where we connect with a range of new voices, fields, and perspectives. Learn more about the series, and view a full list of participants, on the series homepage.