In the Making: Yi Bin Liang
July 13, 2020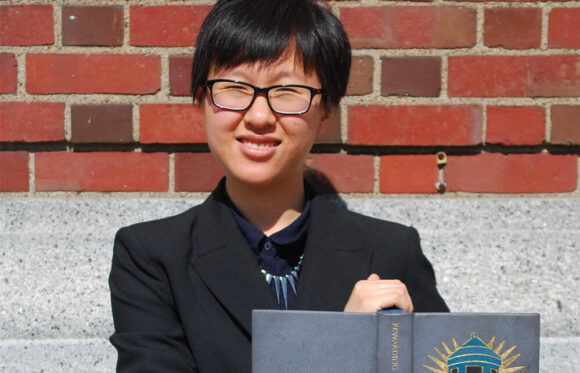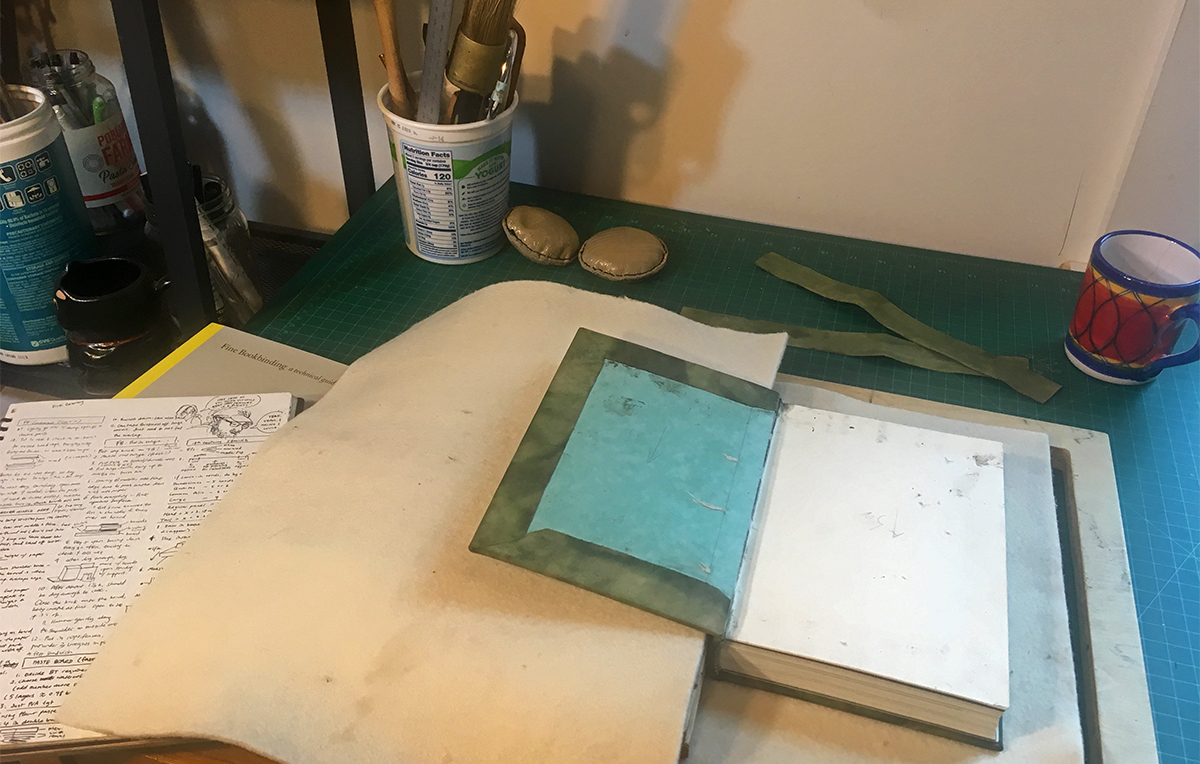 "Learning a craft is very objective. You can do it right or you can do wrong, there's not really a middle point."
After studying Illustration at Rhode Island School of Design (RISD), Yi Bin Liang BB '19 joined the NBSS Bookbinding program. Her artistic background is apparent in distinctively graphic and painterly bindings, pen & ink illustrations, and even the equipment she uses to ply her trade.
While Yi Bin graduated from NBSS in 2019, she continued to be on-site at the School via renting a bench within the program. This not only allowed her to be among like minded friends and colleagues, but also offered her access to the incredible equipment available to students. When the building closed in March, she, like all students, was forced to improvise and innovate at home.
I caught up with Yi Bin at her home studio for a laughter-filled conversation about her technique, plans for the fall, and where craft and artistry meet.
Below is an excerpt from our conversation, edited for space and clarity.
---
Kristen Odle: So great to catch up with you Yi Bin. You had one of the most used, active-looking bench spaces at the school. I'm wondering how you're managing at home? Did you have to take all of your work and equipment with you when the building closed?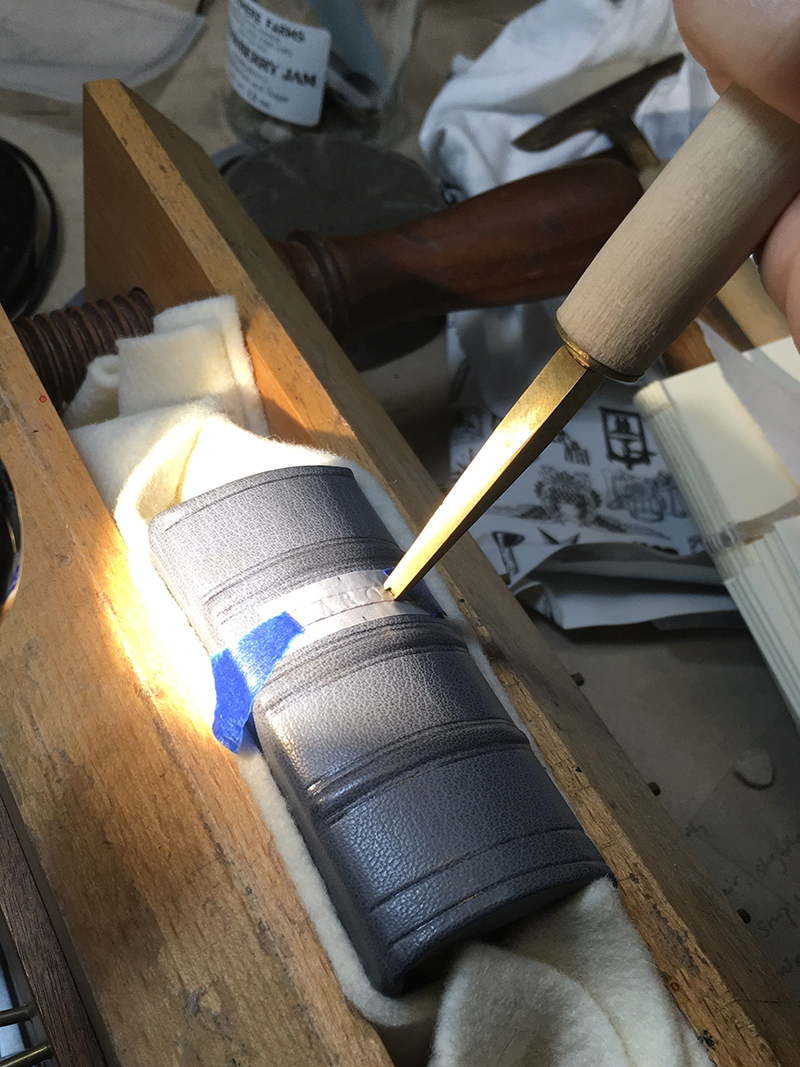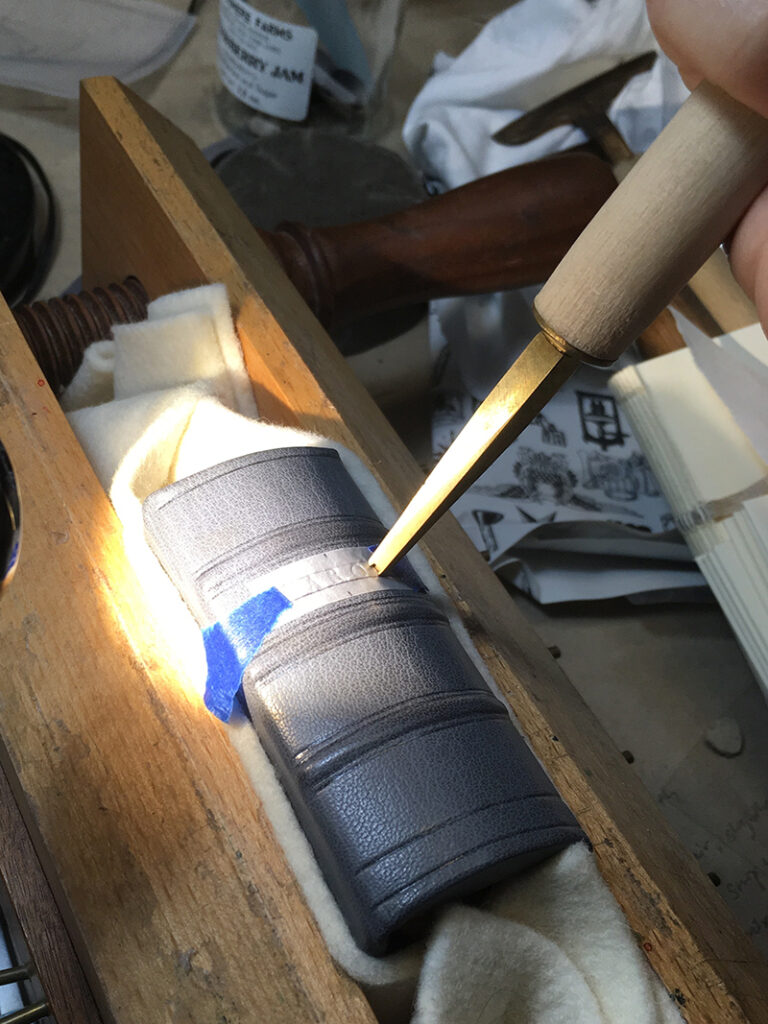 Yi Bin Liang: No, I couldn't physically take the equipment I was using. Currently, my fine bindings require a lot of sanding, which doesn't need a lot of equipment, so I've been sanding a lot.
KO: Oh my gosh. Sanding inside? Isn't that a struggle?
YBL: Yes. I have the window open and I have a mask. It's a replacement for not being able to go to the gym! [laughs]
We make leather covers, so everything under that needs to be completely smooth. We line our cover boards with cardstock and paper, and sand them until they feel like nothing, so when the leather is on, it's completely smooth.
KO: Right. Not many people realize – unless you make something completely smooth, the most granular material will telegraph through.
YBL: Yes, absolutely. That's true with most materials: leather, paper, wood stain, and finish.
KO: Do you ever vacuum the book off?
YBL: Yes! I have a small handheld vacuum here, but it's not as good as the one we have in the bindery, of course. It's short and cute, like R2D2.
KO: That's funny. Are you able to be productive at home?
YBL: Yes, fortunately. I also just heard from my part time job that they're keeping me on payroll. We're trying to switch to online demonstrations, so I'm coming up with some ideas for doing bookbinding classes on Zoom.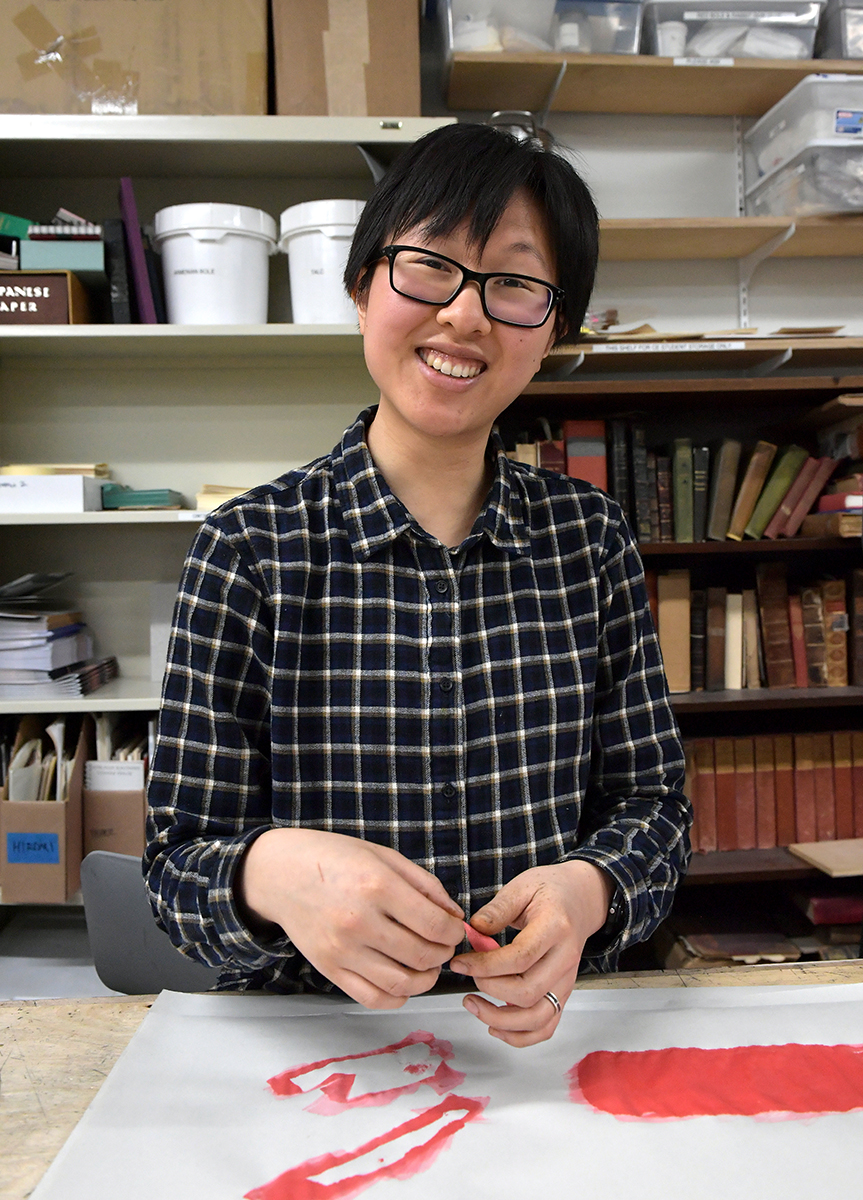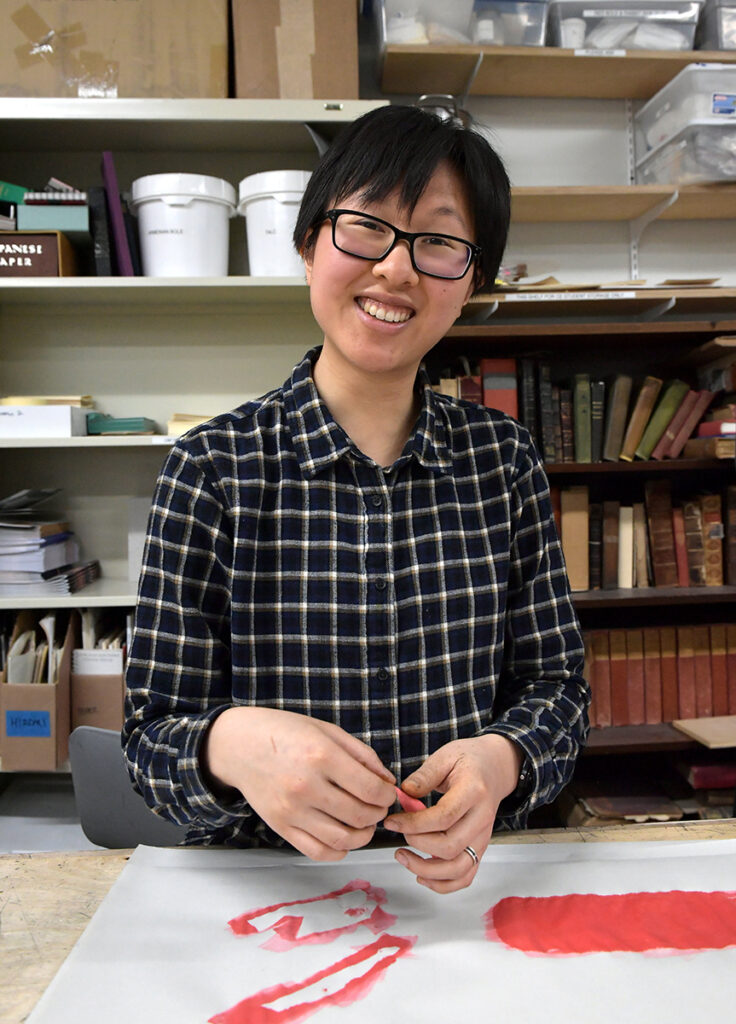 KO: Where is your part-time work?
YBL: I work at Hatch, my local makerspace that's run by the town library here in Watertown.
KO: So you're trying to pull together some sort of structured classes for online learning?
YBL: Yes. Pamphlet bindings probably. I might do case bindings if I find I can fit it into the 40-minute timeframe that free Zoom lets you use. [Laughs].
KO: I'm seeing illustrations hanging behind you. Are they your work?
YBL: I studied Illustration at RISD (Rhode Island School of Design), but most of the art on my walls is done by friends.
KO: How would you differentiate studying art at RISD to learning a new craft at NBSS?
YBL: Learning a craft is very objective. You can do it right or you can do wrong, there's not really a middle point. There's less anxiety about whether or not you're seeing your work as it really is because there are really clear objectives and ways to distinguish between a correct way of doing something or not.
KO: Is that to say that in art school, or RISD in particular, there's so much potential for gray area and self critique?
YBL: Well, more like not everyone sees painting and art the same way. It can be interpreted in different ways. But you can't really interpret in different ways whether or not this piece of wood is smooth. You can touch it and know. It's smooth or it's not.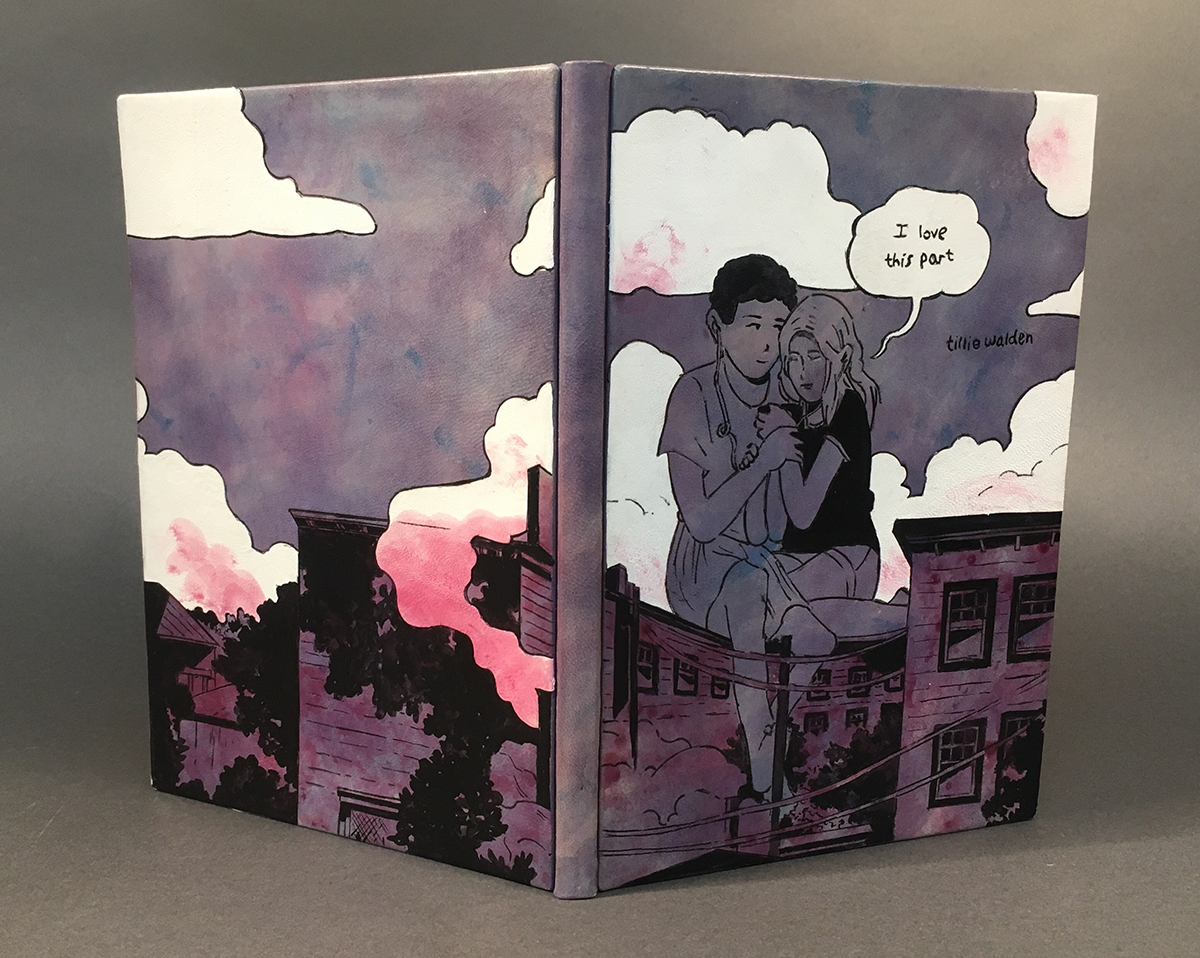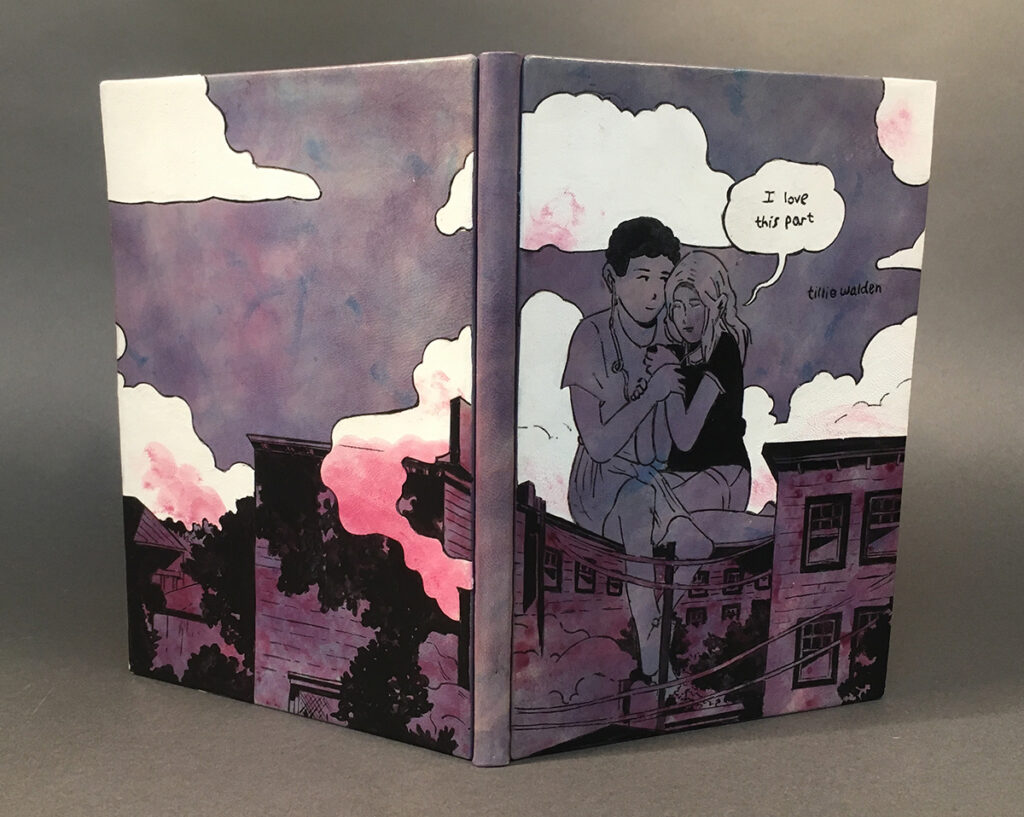 KO: I love that. You can clearly see your illustration work in your bindings… Such as the one for I Love This Part, a graphic novel by Tillie Walden. Every time I see this, I'm reminded of how much I love bright white leather – it's so contrasting and beautiful. Can you tell me just a little bit about this binding?
YBL: I took the original illustrations from inside the book. It's actually the original cover. The credit for the illustration goes to the writer. Nothing was changed, just simplified. And the white leather you like so much is actually alum tawed, which is different from the usual dyed goatskin that we use. It can be trickier to work with but I really like the effect it gives, because you don't see much white leather on bindings.
KO: I guess that's why I love it so much. It's unique in that way. How is it different to work with?
YBL: For one thing it's really smooth and doesn't have the grain that you can see on the other pieces of leather that I've used. It also goes kind of translucent when you wet it out or put the paste on it. It just doesn't go back into its shape as easily after you've stretched it out, and paring it is difficult, too. It's just tougher.
KO: What other medium did you use?
YBL: That's a mixture of leather dyes and acrylic paint. I've been trying to get more painterly effects on leather, because the usual dyeing method aims for smoothness and regularity, and that's not always something I want when I'm dying something specifically.
KO: You don't want smoothness and regularity?
YBL: Exactly. If I wanted that, I would just buy the goatskin that is already that color.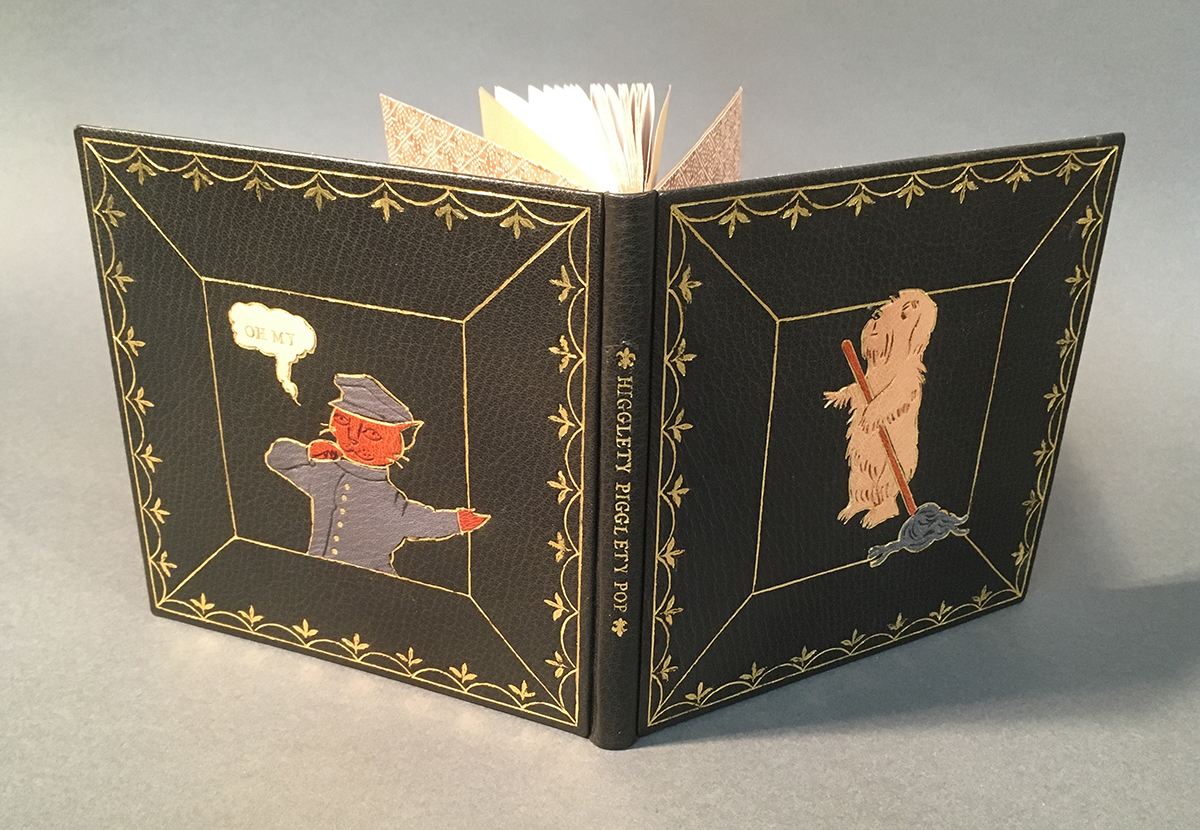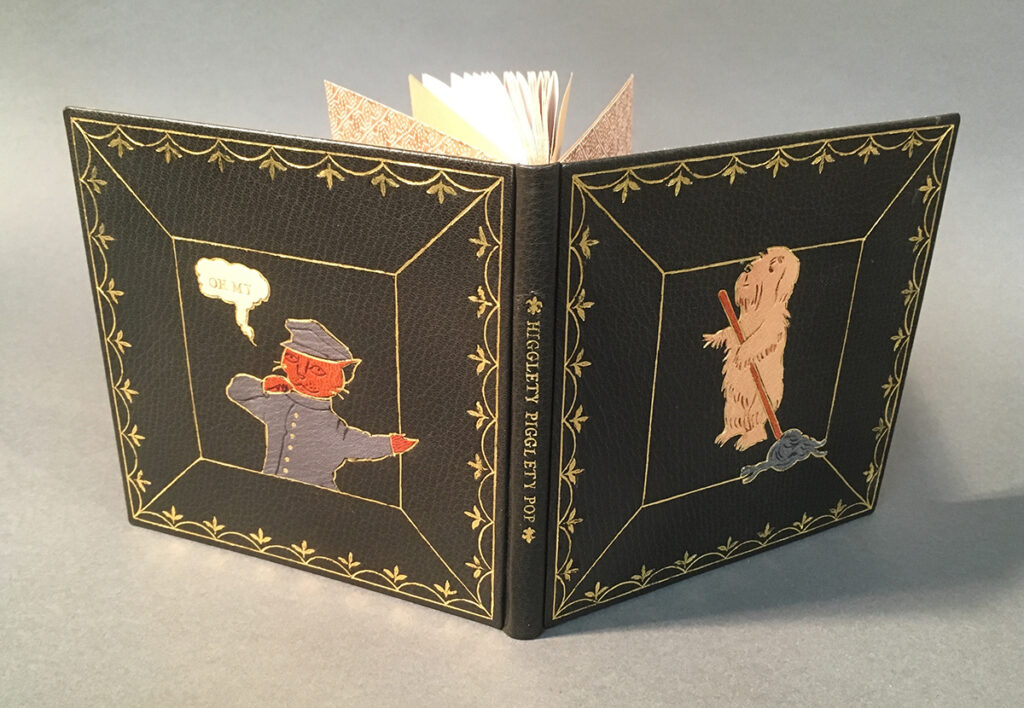 KO: Right. I'm going to jump to the sweet little book Higglety Pigglety Pop by Maurice Sendak.
YBL: So again, those illustrations are from inside the book. Maurice Sendak, you might know from Where the Wild Things Are. I experimented here trying to get more textural with the tooling. Usually when you see tooling on fine binding it's very geometric, very clean, and I wanted to be able to depict things like animal fur in a less sharp way.
KO: How did you accomplish that?
YBL: I used a very small hand tool and aimed for inconsistency with the heat and timing. The varied brown bits in the fur is blind tooling where I used the natural shade of the leather to get the color. Typically we aim for consistent color throughout, I sought variation.
KO: You deliberately went for inconsistency?
YBL: Yes and it's harder than it sounds.
KO: That's interesting. It speaks to that stress point between learned perfection and intentional mistakes such as intentionally imperfect blind tooling. Even in a musical sense, you & I were both classically trained on instruments for many years. That has made it nearly impossible to be improvisational.
YBL: I've never been able to play jazz on the piano. I started playing piano at four years old and so I've been classically trained for nearly 22 years. I can't do any improvisation.
KO: Exactly. Do you have a piano in your home?
YBL: I have my mother-in-law's upright piano. I try to get on it at least once a week, but it's not always possible.
KO: How are you doing with structuring your days?
YBL: I have mostly been focusing on lunch at 12:00 and dinner at 6:00, and organizing everything else around that. [Laughs]
KO: [Laughs] Are you an early riser in general?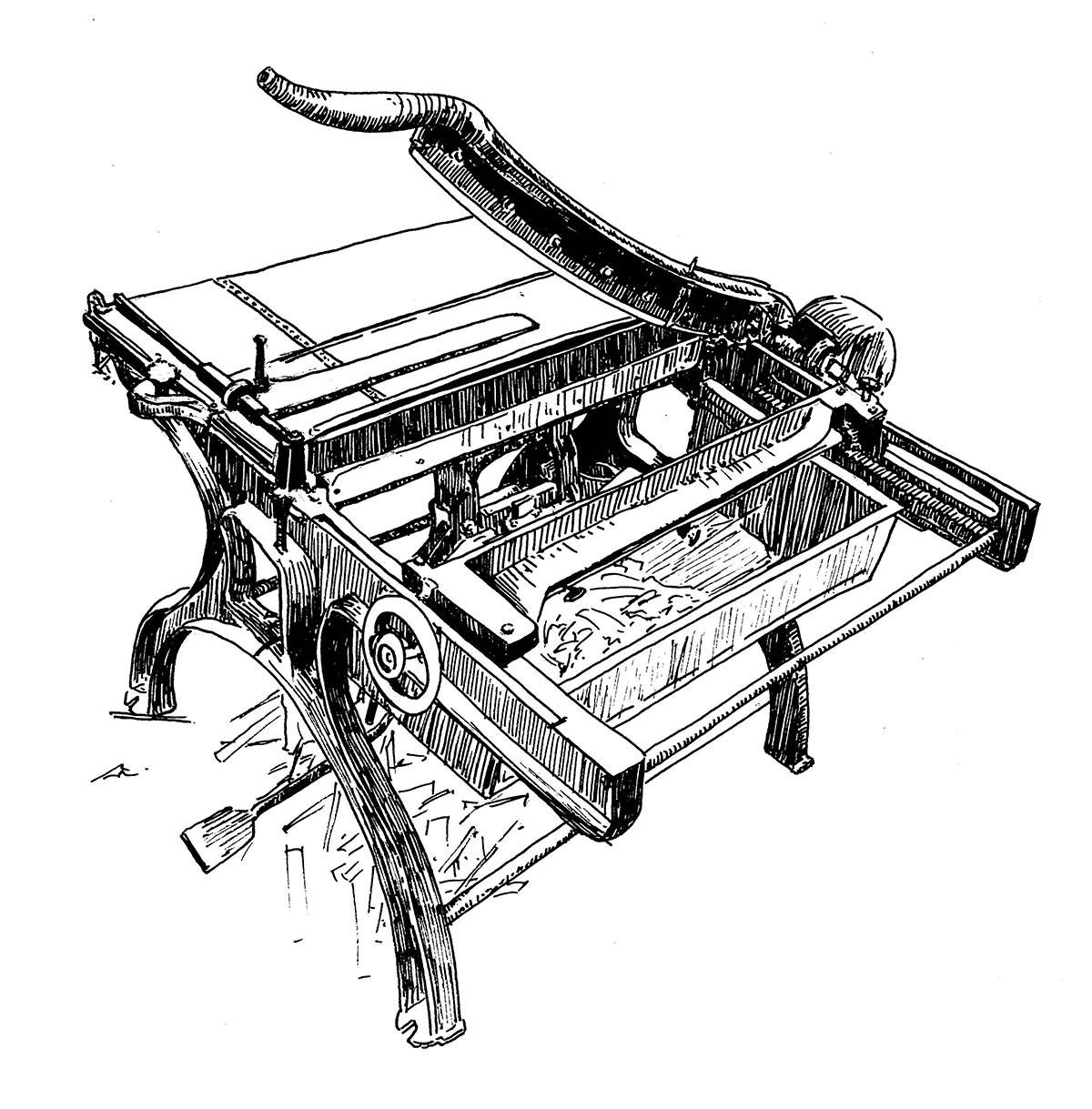 YBL: I got used to it because of North Bennet. I've been coming into the studio around the same time that class would start. My studio is right outside my bedroom, just up the stairs. I'm lucky that I have all this space. The table I'm using isn't as sturdy as the one that I'm used to at North Bennet. But I did pick it up for free off the sidewalk, so I'm not complaining. It's mostly that it shakes and wobbles when I'm sanding.
KO: Any plans for the fall?
YBL: Not yet because I don't know when we're getting out of this. I would like to get back into the NBSS studio as soon as possible, because I can't live without a board shear!
KO: [Laughs] What are you doing to replace that?
YBL: Nothing but my hand and this kind of paper cutter, but it's just not accurate enough for book binding. I would use it for making flyleaves and stuff like that, but I really need accuracy on these last few steps I'm working on.
KO: How are you feeling about this time spent at home?
YBL: It's good. I can play my music as loud as I want. But I'd like to get back to the studio because there's definitely a different level of productivity when you go to a space that's specifically for working. I'm trying to recreate it here at home, but it's not the same… But It's okay, we'll get through it.
See more of Yi Bin's Pen & Ink drawings in our online store.
---
"In the Making" is a series of video interviews with members of our community where we get insight to their lives and work. Learn more about the conversations, and view a full list of interviews on the series homepage.