Jewelry Arts for High School Students
September 7, 2015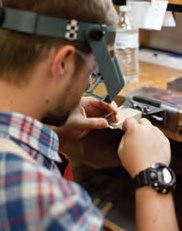 In September, NBSS welcomed its first group of high school students to participate in a new after school jewelry program. The program trains high school students in the fundamentals of designing and creating quality jewelry. Nine students from Snowden International High School—a Boston Public School—are the first to participate in the one-day-a-week program.
The 18-week curriculum focuses on simple design ideas, project planning, creating pieces from instructions and learning to use basic jewelry tools. Students complete a series of hands-on projects, each requiring new skills as they develop proficiency in working with the full range of jewelers' hand-tools, machine tools, soldering torches, metals, and gemstones.
Through the program, students increase their attention to detail, develop pride in craftsmanship, and demonstrate a better understanding of the concepts behind the jewelry arts. Students also learn that critical thinking and fine motor skills can be developed by using basic hand tools. The program is designed for students of all learning styles.
Programs such as the High School Jewelry Arts program confirm and expand NBSS's commitment to the needs of Boston residents and its public schools, as well as to America's craft community. The program is made possible by The William R. Fenoglio Foundation and the Felicia Fund.