Joe Diomede CF '18
August 14, 2018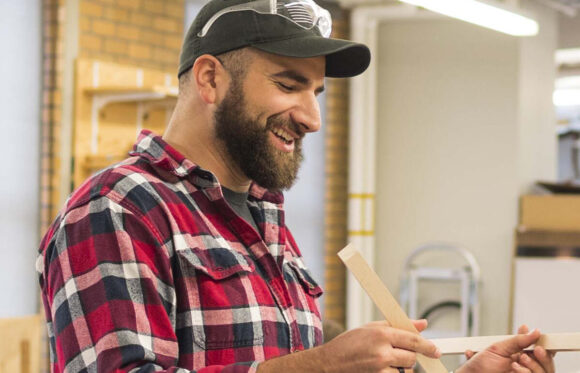 As a veteran, what led you to become a student at NBSS?
I knew that I wanted to work with my hands, and to do something that required attention to detail and precision; two qualities that I prided myself on learning from my time in the Marines. I developed an appreciation for extraordinarily well-made products that would outlive their owners and stand the test of time: "These are the last (fill in the blank) I'll ever need buy because my grandkids will fight over who gets it when I'm dead."
All of that combined with the memories I shared with my family around the dinner table made me think about making my own dinner table, chairs, bed frame, etc. When I began looking into furniture making, the only school that I had any interest in going to was the oldest trade school in America, North Bennet Street School.
What was the best part of your education?
Having an absolutely incredible cadre of instructors, as well as being surrounded by like-minded people—and also the history of the school and the level of excellence that is expected from students. We're all working together to make each other better, which in turn makes us better ourselves.
What are you plans now that you have graduated?
I'm planning on starting my own business and opening a large shop. The goal is to rent out bench space, as well as make furniture for clients.
What advice do you have for veterans who may be interested in learning at NBSS?
I'd recommend going through the Vocational Rehabilitation Program that the VA offers. It will get you all of your tools, supplies, materials, as well as covering 100% of your tuition and giving you the basic housing allowance for Boston.