Judged by the Best
January 7, 2019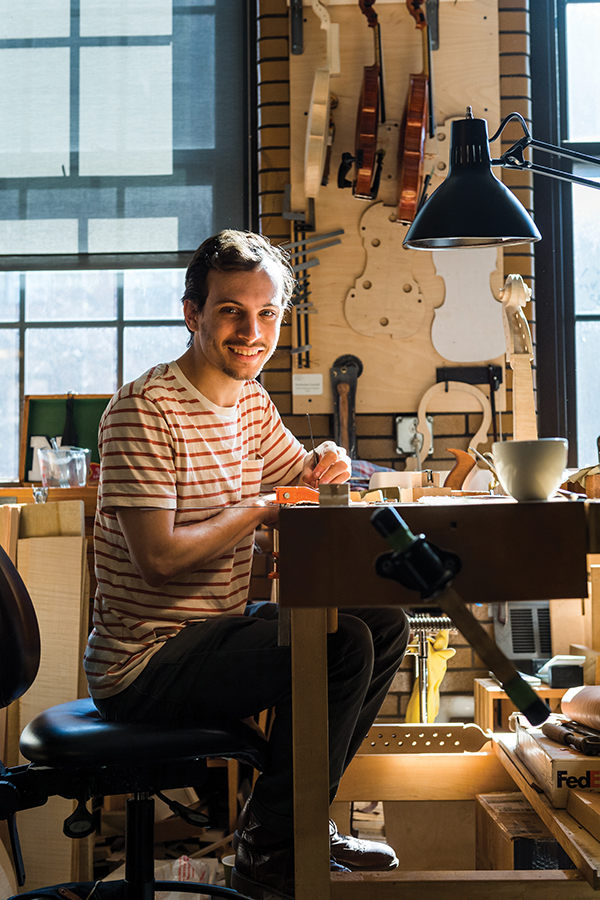 The 2018 graduates of Violin Making & Repair (VM) were in fine form for their End of Program Exam, where their work was favorably evaluated by an esteemed panel of examiners.
Taking place in July at NBSS, the evaluation's primary focus was the physical quality and tone of graduating students' violins. The grading system also evaluated their written work, notebooks, and technical drawings. After completing its evaluations, the panel discussed its findings, and subsequently met with each student individually.
Members of the VM Program Advisory Board include Chris Reuning of Reuning & Son Violins, a maker and internationally renowned expert in violin identification; Ben Ruth, recipient of the Hors Concours from the Violin Society of America (VSA); and award-winning makers and VM guest lecturers Kevin Kelly VM '92, David Polstein VM '89, and Andrew Ryan. Joining the panel for the third time was special guest Samuel Zygmuntowicz, who is "among the most acclaimed makers in the world today," according to Roman Barnas, VM Department Head and instructor.
"The panel can assess sound potential even without hearing the instrument. What they want to see is how well each violin is made. They review the entire instrument looking for accuracy in execution of every aspect, judging the overall impression, and the style of the violin. For example, the outline review includes checking for precise dimensions and proper curve relations, looking for the corners to be consistent with the model, and all angles correct. Additional examination includes fine details such as the mitering of the purfling or decorative wood inlay near the instrument's border," explains Roman. "The violins are graded on how closely they emulate Italian masters such as Stradivarius, primarily his instruments made between 1715 and 1720, which are the gold standard of the classic Cremonese school of violin making."
Sam—whose clients have included Joshua Bell, Cho-Liang Lin, and the late Isaac Stern, and who employs VSA Silver Medalist Justin Hess VM '11 as foreman of his Brooklyn shop—liked what he saw. "The quality of the students' work is consistently first-rate. They were all clearly well-schooled, but their individual personalities still came through. I was very impressed," he says. "Kevin, David, Chris, Ben, and Andrew are generous with their time, and their support adds depth to the program."
Chris, widely recognized as a violin expert, also has high praise for both teacher and students. "Roman is extremely skilled at his craft, and has the care and ability of a great teacher too. There is a great sense of camaraderie among the students. They're competitive, but they also urge each other on to become better craftspeople." he shares. "The best way to judge a school is on the quality of its graduates. NBSS is one of the best violin making schools in the world, and its students and alumni are at the very top level."
"The best way to judge a school is on the quality of its graduates. NBSS is one of the best violin making schools in the world, and its students and alumni are at the very top level."
Sam feels the End of Program Exam is a valuable tool for feedback. "If you work professionally, you will work for an audience. Showing their work to a panel of professionals is bracing for some students, but it gives them the opportunity to see what it's like to be part of a serious profession."
Sam also praises the VM program's relationship with the School's larger community. "Every program has its own culture, and many tend to be insular. There's a danger in that kind of micro-climate, because students don't get real-world experience. At NBSS, the overall environment is very different," points out Sam. "It's of great value that the Violin Making & Repair program is situated among other first-rate programs like Cabinet & Furniture Making and Preservation Carpentry. It's part of a continuum of craft, and not too precious."

This article is from our 2018 Annual Report. See all the stories here, or download a pdf of the entire report.