Julie Henry: In Memoriam
September 23, 2020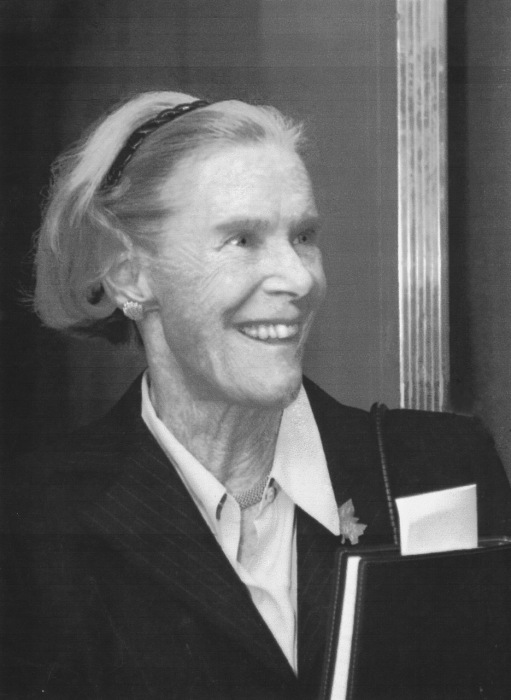 North Bennet Street School sends our sincere condolences to the family and friends of Julie Henry upon learning of her passing. In addition to numerous roles at a wide range of organizations, Julie served on the NBSS Board for 28 years, including the last five years as its President. Her contributions were many, a result of her lifelong passion for community service, her wisdom and vision, and her willingness to both learn and to lead.
When Julie was elected president in 1980, the Board had been searching for a way to continue the School's long-standing social services, while at the same time preparing for national accreditation as a trade school. After successful accreditation in 1982, Julie led the negotiations to transfer neighborhood services to the nearby North End Union. A "Memorandum of Understanding" was signed by both organizations in early 1985, just in time for the School to celebrate its first 100 years.
At the Centennial Celebration dinner later that year, Executive Director Tim Williams lauded Julie's contributions with these words: "Without her leadership, her clear sense of the unique history of our school and her beliefs of what will be best of the future, we would not be starting North Bennet's second century at the fine point we are today."
President Sarah Turner reflected on her legacy: "Julie has been in my mind since I arrived at NBSS, as another woman leader of the School. She navigated community, history, vision, and institutional identity, all during a moment of substantial change and growth for the organization.
She honored the importance of the School's history, while at the same time, held an ambitious vision for what it could be in the future. We feel the influence of her efforts in who we are today. We are grateful for her leadership and are deeply thankful for all she provided, to so many."
Below, President Emeritus Miguel Gómez-Ibáñez CF '99 shares his own memories of Julie, and her enduring legacy at the School.
Julie Henry was a legend at North Bennet Street School. In my reading about the School, I knew of her 28-year service on the Board of Directors. It was at a time when Board membership was a family affair and family commitments to North Bennet Street Industrial School (as it was previously called) were multi generational.
In the 2010s, as we negotiated the controversial transition from 39 North Bennet Street to our new home, the vision and support of the Board of Directors, and the Board Chair in particular, was critical to our success. I was keenly aware that Julie had been on the Board and for five years Board Chair during the School's last major and equally traumatic transition—leading a 100 year-old institution with chronic budget deficits, one struggling with the conflicting needs of its social service programs and its trade school. During her tenure, the social service programs were successfully transferred to other providers and the decision was made that the institution's future was to be as a trade school.
Julie and I tried to meet many times over the course of the years. Her appointment secretary was her remarkable and devoted husband, Bayard. Invariably he would write at the last moment to cancel our meetings, citing her precarious health which he described as "none too good."
When we completed the move to North Street, I redoubled my efforts to bring Julie to see the new facilities. Finally, in May of 2018, she felt able to accept an invitation to tour the school. She joined a previously scheduled group of prospective supporters who gathered in Shaw Conference Room to begin their tour. I walked into the room ready to greet everyone and launch into my usual remarks, and there she was. How was I going to presume to describe the history and ethos of the School to someone who had created it?
I can't remember what I said, but I know it was a heartfelt thank you to yet another powerful woman who had led the institution and created the legacy we live in today. As hard as it was for her, she gamely took the tour and we said our goodbyes. That afternoon, I got an email from Bayard that said "Julie was overwhelmed by the breadth of the School, the high level of activity, and the entire visit. She is sound asleep, in a very happy state of exhaustion."
Thank you Julie—and Bayard—for a lifelong dedication to North Bennet Street School.
---
To learn about Julie's life and many contributions, please take the time to read her obituary here. She is also mentioned and pictured in Rewarding Work: A History of Boston's North Bennet Street School (pages 262, 275, 285, 287, 288).
Image above: Board President Julie Henry (center) cutting NBSS centennial birthday cake in 1985, with Boston Mayor Ray Flynn and Representative Sal DiMasi.