Lance Patterson Receives Mentor Award
July 25, 2016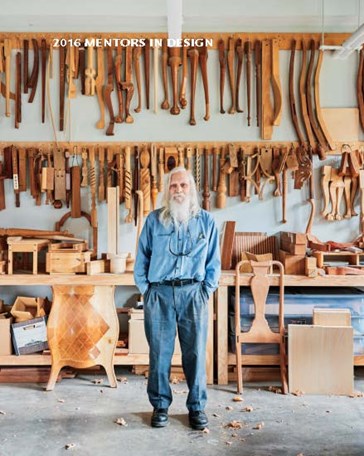 Congratulations to Lance Patterson CF '79, winner of Design New England's 2016 Distinguished Mentor Award! Lance has taught over 600 students over 35 years in his role at NBSS, many of them going on to successful careers in the fine furniture and woodworking industries.
The Mentors in Design (MIDDIES) program was created in 2011 by Design New England to promote, cultivate, and recognize mentors in architecture, interior design, building, landscape design, and related fields. Along with Lance, the other 2016 honorees include builders and architects.
Here's the article on Lance from the July/August 2016 edition of Design New England Magazine:
Part of a Continuum
Lance Patterson grew up in Westwood, Massachusetts, then briefly attended Brown University in Providence, but was more interested in working with his hands. "I need a tangible thing," he says. He ordered a harpsichord kit from an ad in Popular Mechanics, then a dulcimer, and taught himself basic woodworking. He then set his sights on a beat up grand piano and wanted to learn how to tune it, so he applied for a program in piano technology at Boston's North Bennet Street School. He didn't get in but was accepted for his second choice: Cabinet and Furniture Making. Forty years later, he is still there, 35 years of them teaching.
"When students become teachers," he says, "it keeps the continuum going."
Over the years, Patterson has taught 600 or more students. "It's been fun for me every day," he says. "I teach them that the pleasure is in the process" and that fine furniture making can be satisfying employment. Many go on to careers in custom woodworking, independently or in cooperatives, such as Fort Point Cabinetmakers, where Patterson is a founding member. Some students become teachers, others work at museums, but no matter where they land, Patterson is proud of them all, pleased to be passing on a legacy of craftsmanship to the next generation.
By Joe-Ann Hart
View the magazine feature here (PDF).
Photo courtesy of Design New England / Tony Luong