Two of a Kind
July 8, 2022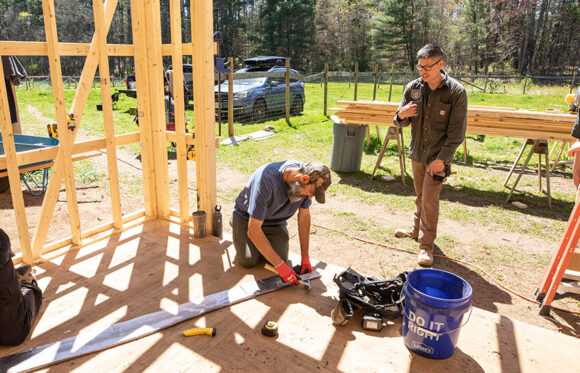 How two graduates are forging new careers with dual diplomas in Carpentry and Locksmithing & Security Technology
When Viet Phan LK '21, CA '22 and Plamen Jetchev LK '21, CA '22 were students in the Locksmithing & Security Technology (LK) program, they mastered how to service and repair all kinds of residential and commercial locks. In the NBSS installation room, they regularly practiced changing lock sections on doors. The more they practiced, the more they became curious about how to construct a wooden door itself—and the building around it.
After graduating from the LK program in 2021, both stayed on at NBSS in the nine-month Carpentry (CA) program. Viet and Plamen look back on their journeys to NBSS and share what they've learned from the School—and what's next.
Becoming a Tradesperson
Two years after graduating from high school, Viet enlisted in the U.S. Marine Corps. Following the service, he worked security for 13 years at Harvard University while bartending on the side. "I felt like I was stagnant," he recalls. "I saw a job posting for a locksmith at Harvard and what they were offering." He started looking for locksmithing programs and found NBSS.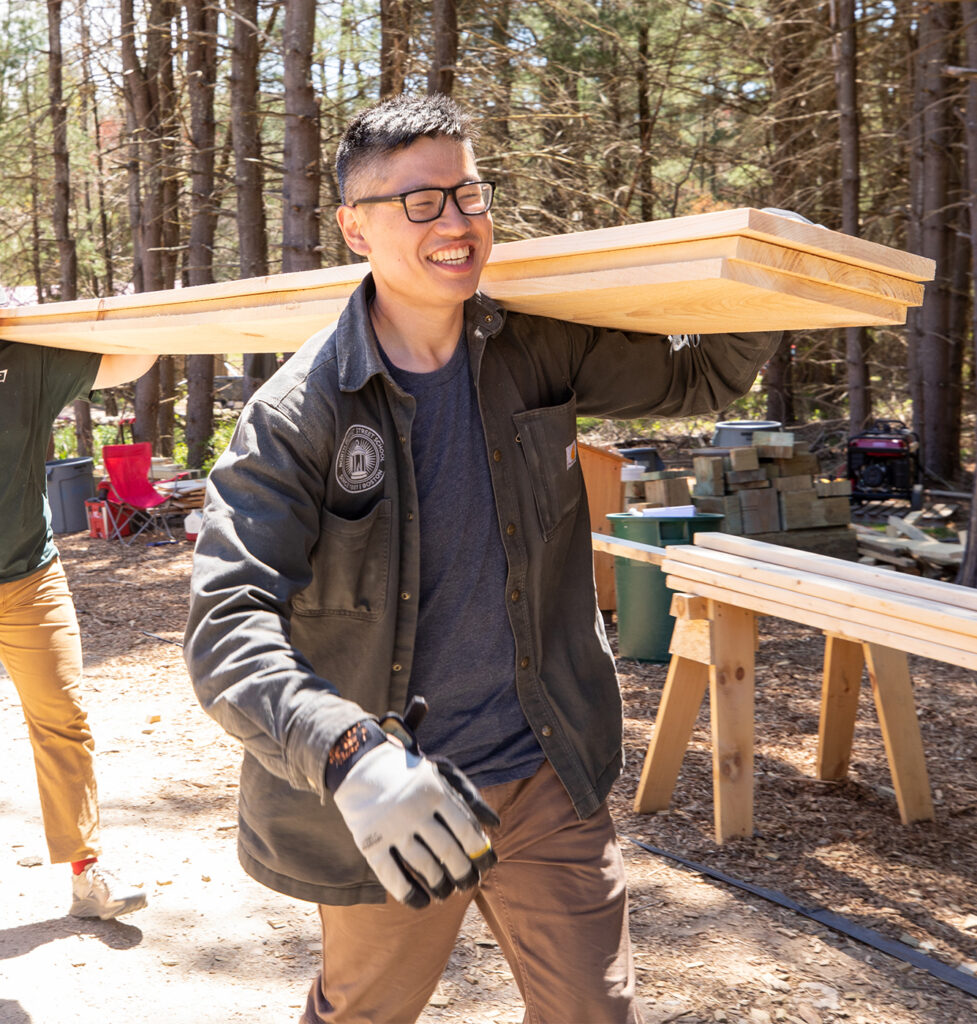 "I always thought that I didn't have what it takes to be a tradesperson," Viet shares. "I was going in really green." But the LK program quickly began improving his confidence with hand tools and his mechanical aptitude—all key skills for figuring out how a lock works. Viet explains, "Locksmithing is all about trying to reverse-engineer a lock so you can fix it." In recognition of his technical skill and leadership potential, Viet received the merit-based Gladys Brooks Foundation Scholarship from the School. 
After the second semester, Viet also started doing carpentry work with a residential and commercial construction company, Smith & Awudo Construction Inc. That's when he realized how helpful it would be to combine locksmithing skills with carpentry. "I wanted to not only be able to fix and install locks, but also fix doors if a customer needed me to." Viet graduated and launched into the CA program. 
"The Carpentry program boosted my skill level and confidence," he says. "Now that I'm at the end, I'm extremely confident. You can put me in a house, give me the plans, and I'll get it done." He's continued working at Smith & Awudo, where he uses his locksmithing skills all the time. "They never realized how useful having a locksmith would be," Viet says. "Whenever a locksmithing situation comes up, they call me. For some locks, we're taking the handles off of a door. It's not as easy as it seems, and a lot of carpenters might have trouble figuring it out. It takes time to do it right."
"I use the word 'confidence' a lot, but I'm serious… the School gave me that. I feel like I have control of my life. I can move anywhere I want in the world and be able to sustain myself."
Changing Direction
Plamen first became interested in the trades as a young boy growing up in Bulgaria. His grandfather, a cement factory worker, was a self-taught carpenter. "He could build something out of just raw wood," Plamen says. "I've always wanted to be able to do that."
But at six years old, Plamen began piano lessons and quickly found himself on a specialized schooling track—typical under the then-Communist rule. His focus was music, and he studied oboe and upright bass at the Bulgarian National Conservatory. In 1997, he earned a scholarship to Berklee College of Music and came to the United States. Ultimately, the lifestyle of a musician was not for him. He became a massage therapist but faced another career change when he was laid off due to the Covid-19 pandemic.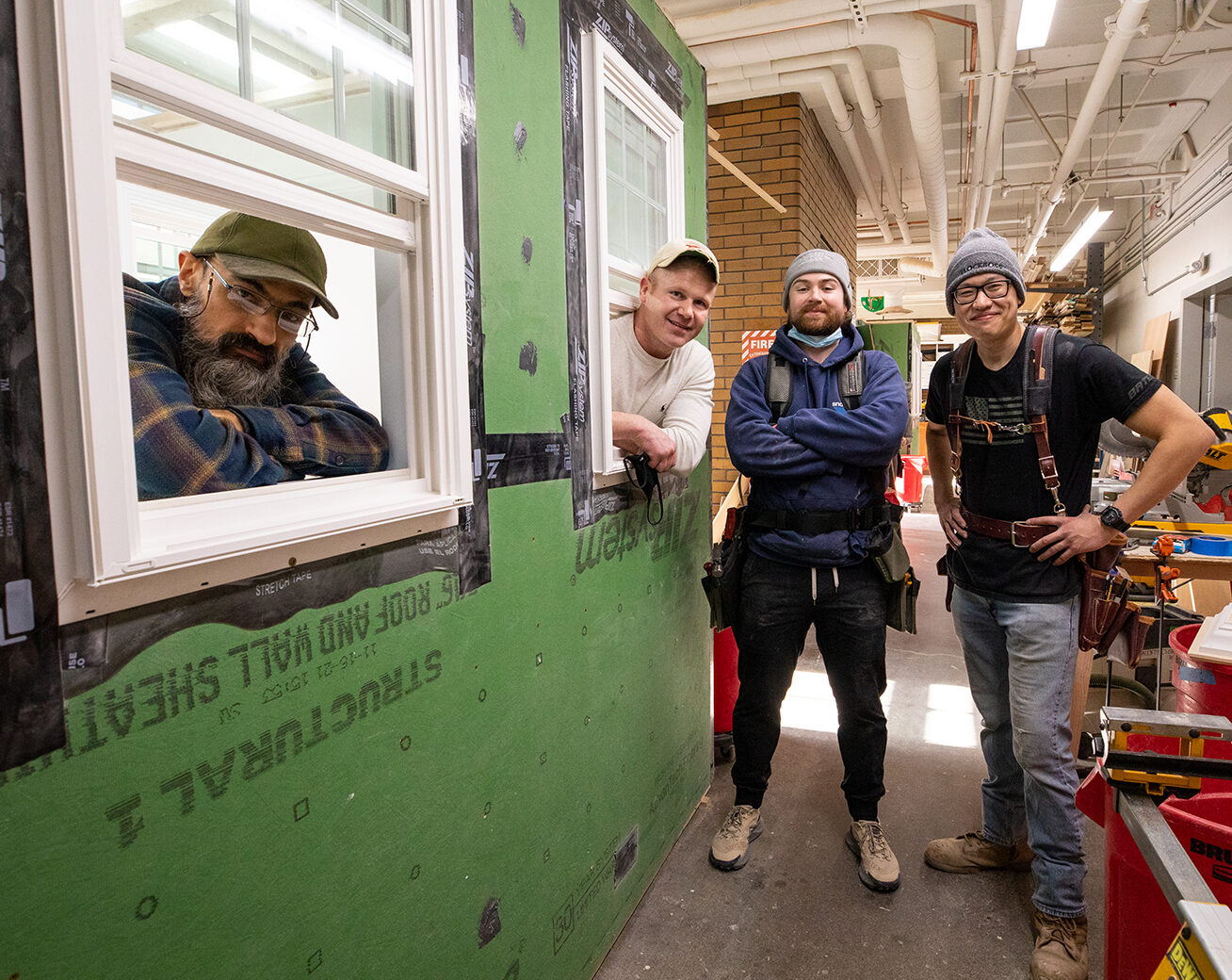 "I decided to use the time to learn something," he says. NBSS had long been on his radar, and he knew locksmiths were in demand. "I like mechanics and puzzles, and I like history." While in the LK program, Plamen worked part time at a locksmithing shop. His LK classmate Viet enrolled in the CA program, and Plamen decided to do the same. "Locksmithing and carpentry can really complement each other," he says.
In the CA program, Plamen loved learning about New England's wooden structures, which he found so different from the 300-year-old stone and brick-and-mortar buildings common in Bulgaria. Peter Smith PC '04, Carpentry Department Head and Instructor, often explained the history of local styles, along with building and insulation techniques. "He has so much knowledge and insight," Plamen says. 
Ultimately, Plamen sees similarities between his new career in the trades and his former one in music: "There are laws, and you have to put things together in a certain order so it sounds good or looks good." He relishes the small wins every day, like making a beautiful cut. For the CA program's final build, Plamen and his classmates constructed horse sheds on-site in Upton, Massachusetts. He felt happy seeing the project come together. "All those little moments grow into the grand finale."
"The School served as a U-turn for me. It shaped and changed my life."
What's Next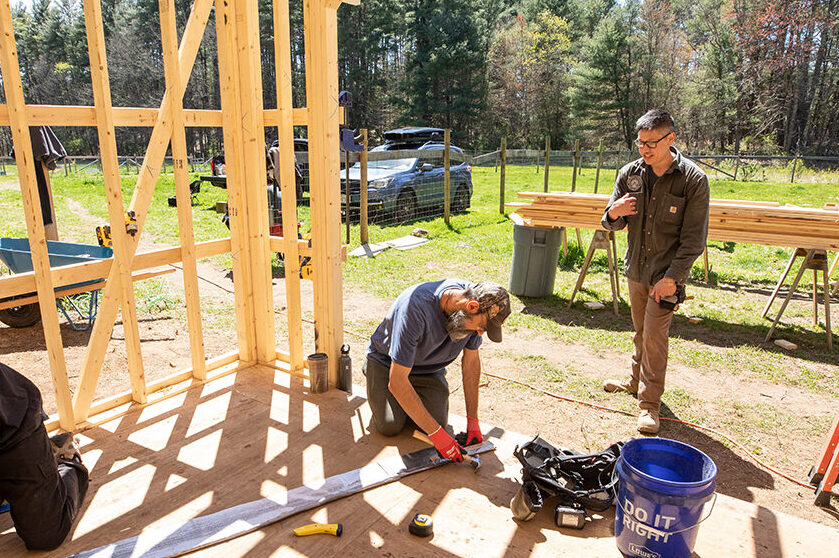 In June, Viet and Plamen graduated from NBSS, for the second time. "The School served as a U-turn for me," Plamen says. "It shaped and changed my life." He's currently exploring his employment options and knows the importance of picking the right building crew and atmosphere after seeing what's possible at NBSS. "The fact that I could take part over two years in two different disciplines… I feel lucky."
Viet says his new skills have earned him a significant pay increase at Smith & Awudo, where he'll stay on as a carpenter and go-to locksmith. "I'm ready to get out there and show them what I've got—show myself what I've got, too," says Viet, whose dream is to one day own his own small construction company. "I use the word 'confidence' a lot, but I'm serious… the School gave me that. I feel like I can go out there and have control of my own life. I can move anywhere I want in the world and find work and be able to sustain myself." 
This story is part of the 2022 issue of Benchmarks magazine. View more Benchmarks stories here, or download a pdf of the entire issue.