Making Cabriole Legs with Steve Brown
August 16, 2018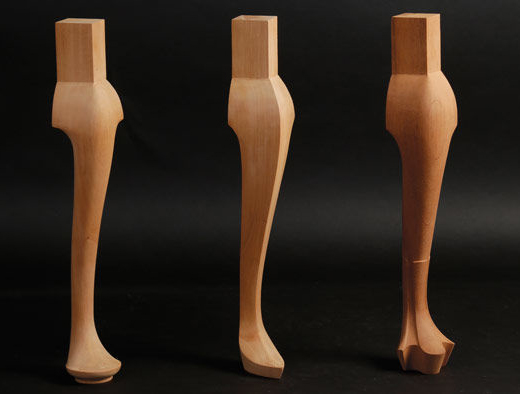 The classic cabriole leg is a solid design choice for period furniture makers, but even with just that leg style, choosing from a variety of foot styles to go with it can be daunting.
Steve Brown CF '90, Instructor in the Cabinet & Furniture Making program, helps clarify the process with step-by-step instructions for laying out and carving three common feet for the cabriole leg: the pad, slipper, and trifid foot. He recently published a great how-to article in Fine Woodworking.
Steve writes, "In the furniture making program at North Bennet Street School, students usually find inspiration for their projects in books from our extensive library. They'll find many examples of period pieces, but they'll also find more contemporary work. What they won't find is any lack of possibilities. Sometimes limiting their options is the hard part. If a furniture maker is inspired by the cabriole leg, for example, they still have to decide what kind of foot to put on it. There are a lot of options.
To clarify a few of them, I will focus here on three common feet for the cabriole leg: a turned pad foot, a slipper foot, and a trifid foot. All three share some basic steps in layout and execution. For each I've provided a side-profile pattern of the whole leg and a plan-view pattern of the foot, which you can trace onto the bottom of the blank. These two patterns, which embody the sophistication of 18th-century furniture design, are used to create three-dimensional sculptural feet in a way that is surprisingly simple."
Read the article on Fine Woodworking with a subscription, or download a PDF of the full article here.
This article is from the Oct 2018 issue of Fine Woodworking magazine, © 2018 by the Taunton Press.