Toy Making for the Holidays
December 5, 2018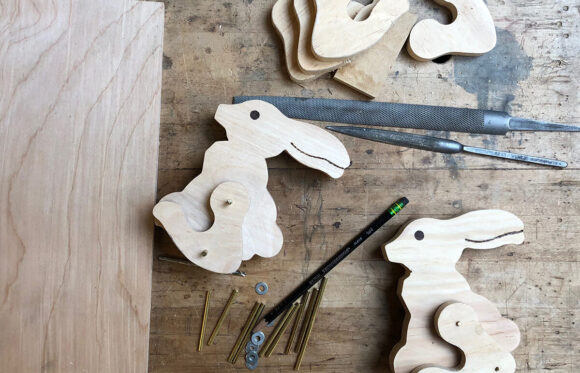 Founded in 1881 by Pauline Agassiz Shaw, an American philanthropist and social reformer, North Bennet Street School's original objective was to provide immigrants vocational training in pursuit of gainful employment in their new homeland. Men, women, and children were taught a wide variety of manual skills including pottery, printing, and sewing, as well as the carpentry, cabinet making, and jewelry making classes that continue today.

Toy-making was a special occupation of the NBSS kindergarten program (one of Boston's first) in its earliest decades. The training offered young, mostly poor children not only brand new toys and a set of usable skills, but also confidence, patience, independence, and a sense of service to community. Reports of the time refer to growing the "mental, spiritual, and manual abilities" of "little folks" at the School.
With donated wood and support from Thos. Moser Handmade American Furniture, North Bennet Street School presented a limited edition of 10 "Little Folks" Rockers lovingly handmade by NBSS artisans (details below). These charming collectors' items both reflect the School's legacy and continue its important work in service to our community.
Thos. Moser hosted an Opening Reception for the Toys for Tots program at their Back Bay Showroom, showcasing the toys as part of the evening. The full value of each sale benefitted the Toys for Tots program, bringing joy and new toys to less fortunate children at Christmas.
---
Toys for Tots Holiday Gathering
Thursday, December 5, 2019 from 5:00 to 7:00 pm
Thos. Moser | Boston Showroom 19 Arlington Street, Boston MA 02116
No RSVP required, but we encourage guests to bring a new, unwrapped toy as a donation. Thank you.
"Little Folks" Bunny Rockers
Handmade, signed collectors' items. Limited edition of 10 unique "legacy" objects in wood, crafted by North Bennet Street School artisans, in collaboration with Thos. Moser Handmade American Furniture.
Wood species such as oak, walnut, cherry, and/or ash. Some brass accents. Natural finish.
Starting at $40 each. All proceeds donated to the Toys for Tots program.
2018 NBSS Artisans
Karen Cascone CF '18
Tim Harrington CF '17
Jonathan Ota CF '20*
Lance Patterson CF '79, Instructor
Rachel Prentki CF '18
Jeremy Tritchler CF '18
Jeff Woods CF '20*
*Veteran of the U.S. Armed Forces
Please note: Little Folks Rockers are collector's items only and not approved for use as children's toys