Our North End Neighborhood, by the Numbers
December 15, 2021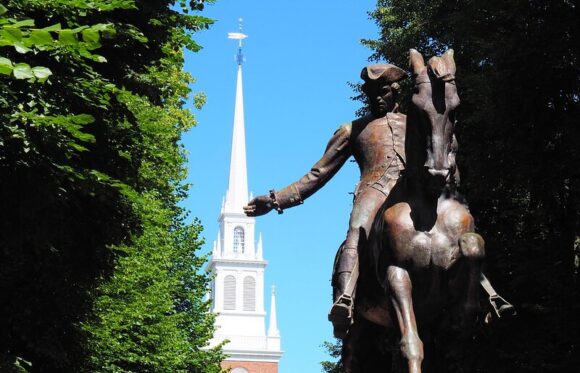 Being a student at North Bennet Street School (NBSS) means getting to enjoy everything Boston's historic North End has to offer. This scenic waterfront neighborhood, less than half a square mile in size, features architectural charm, rich cultural heritage, and famed dining. We've been proud to call it home since our founding in 1881.
Get to know our vibrant North End neighborhood, by the numbers.
Taste delicious food at nearly 100 eateries.
The North End is renowned for food, especially its authentic Italian fare. Not sure where to begin? Check out some of our NBSS community's top recommendations, from pizza and sandwich shops to restaurants, cafes, and bakeries. As an NBSS student, you'll find your own favorite local haunts in no time.
And while cuisine is a year-round draw to the North End, summer here is all about the feasts. The cobblestone streets overflow with food, celebration, and religious processions honoring the Catholic traditions of Italian immigrants who shaped the North End into the "Little Italy" of Boston.
Hear a tale of two revolutionary lanterns.
One evening in 1775, two lanterns shone from the bell tower of the Old North Church. The signal, "one if by land, two if by sea," warned that British troops were advancing across the Charles River. The next day, the Revolutionary War began. Today, history buffs from around the globe flock to the famous church. We even hold our NBSS graduation ceremony at this historic site each year.
For more fascinating history, visit the Paul Revere House, one of the stops on Boston's Freedom Trail. And be sure to check out the Black Heritage Trail in nearby Beacon Hill and the Boston Women's Heritage Trail through the North End.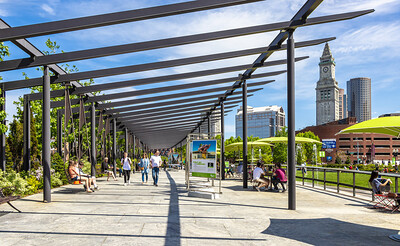 Roam a 17-acre oasis in the heart of the city.
Starting from our North End neighborhood, explore the 17-acre Rose Fitzgerald Kennedy Greenway and discover a blooming wildflower meadow and pollinator gardens. This linear park follows sustainable, organic practices and even has its own beehives.
Weaving through four neighborhoods from the North End to Chinatown, the 1.5-mile-long Greenway also features vibrant contemporary art exhibits and distinctive fountains, including a misty harbor fog sculpture and a waterfall flowing next to a bamboo path. Food trucks with diverse cuisine options keep you fueled while exploring this urban escape.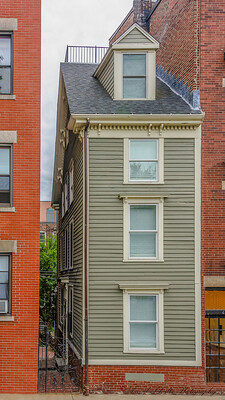 Connect with local artisan heritage atop Boston's third-highest hill.
A short hike up Copp's Hill rewards you with beautiful views of the water. You'll also find the historic Copp's Hill Burying Ground, dating back to 1659. Here, many North End craftspeople and merchants were laid to rest. It's a peaceful spot to reflect on our neighborhood's deep ties to local artisans.
On your way back down the hill, be on the lookout for one of the North End's quirkier architectural gems, the "Skinny House," built shortly after the Civil War. At only 10 feet wide, you'll certainly know it when you see it!
Build a meaningful life and livelihood through study at NBSS, America's first trade school.
Since 1881, NBSS has been dedicated to training students in skilled trades. Our founder, Pauline Agassiz Shaw, established the School with a trailblazing vision for educating people of all ages and backgrounds in the manual arts. A social reformer, she believed in a whole-person approach to teaching—a philosophy we still hold close.
Today, NBSS is world-renowned for our intensive, hands-on training in traditional trades and fine craftsmanship. Curious to learn more? Take a virtual tour of our 64,000-square-foot facility and explore our nine Full-Time, professional programs. For admissions information and how to connect with us, click here. And check out our dozens of Continuing Education courses for amateurs and professionals.