Offerman Presides: Graduation 2015
September 7, 2015
CELEBRATING THE NINETY-ONE MEMBERS OF THE CLASS OF 2015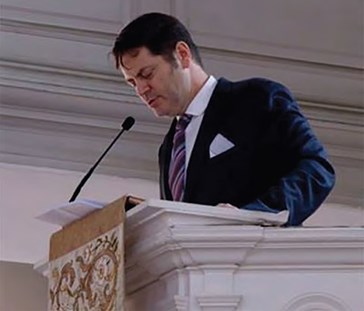 The weather was perfect on Friday, May 29 as graduating students, their friends and family gathered at the school for the open house before walking to Old North Church for the graduation ceremony. As students, family and friends gathered, the press showed up…and then Nick Offerman arrived.
For the few who might not know, Nick Offerman is an actor, writer, humorist and woodworker best known for playing Ron Swanson on the TV show "Parks and Recreation." Offerman established Offerman Woodshop, a small collective of woodworkers in East Los Angeles, that focuses on hand-crafted woodwork and sustainable wood. In a delightful twist of fate, he was planning to be traveling in the area promoting his new book Gumption when NBSS president Miguel Gómez-Ibáñez CF '99 invited him to be the graduation speaker.
With Boston Globe press in tow, Offerman toured the school. He talked to students and marveled at their work before everyone processed to Old North Church for the ceremony. As guest speaker for the event, Offerman delivered a talk that included praise, encouragement and, not surprisingly, humor.
The event also included remarks by Miguel Gómez-Ibáñez CF '99, NBSS President; Charles Kline, Chair of the Board of Directors; the presentation of the Distinguished Alumni Award to Kevin Kelly VM '92 by Colleen Matthews JM '12; and the awarding of diplomas and remarks by Claire Fruitman CF '96, Provost. Piano Technology student John Totter PT '15 played the organ.
Note: Offerman will be back in Boston this fall, starring in the Huntington Theater's production of "A Confederacy of Dunces," November 11–December 13.
THE CLASS OF 2015
The real stars of the day were the 91 students who graduated from 9 full-time programs. Finishing the requirements for graduation takes hard work, commitment and dedication and the members of the class of 2015 did just that. As they leave and begin careers focused on the skills they learned, they will continue to build on the fundamental skills learned as they become successful artisans, employees and small business owners. See a list of the Class of 2015.