Old Sturbridge Village Honors President Emeritus Miguel Gómez-Ibáñez CF '99
July 2, 2019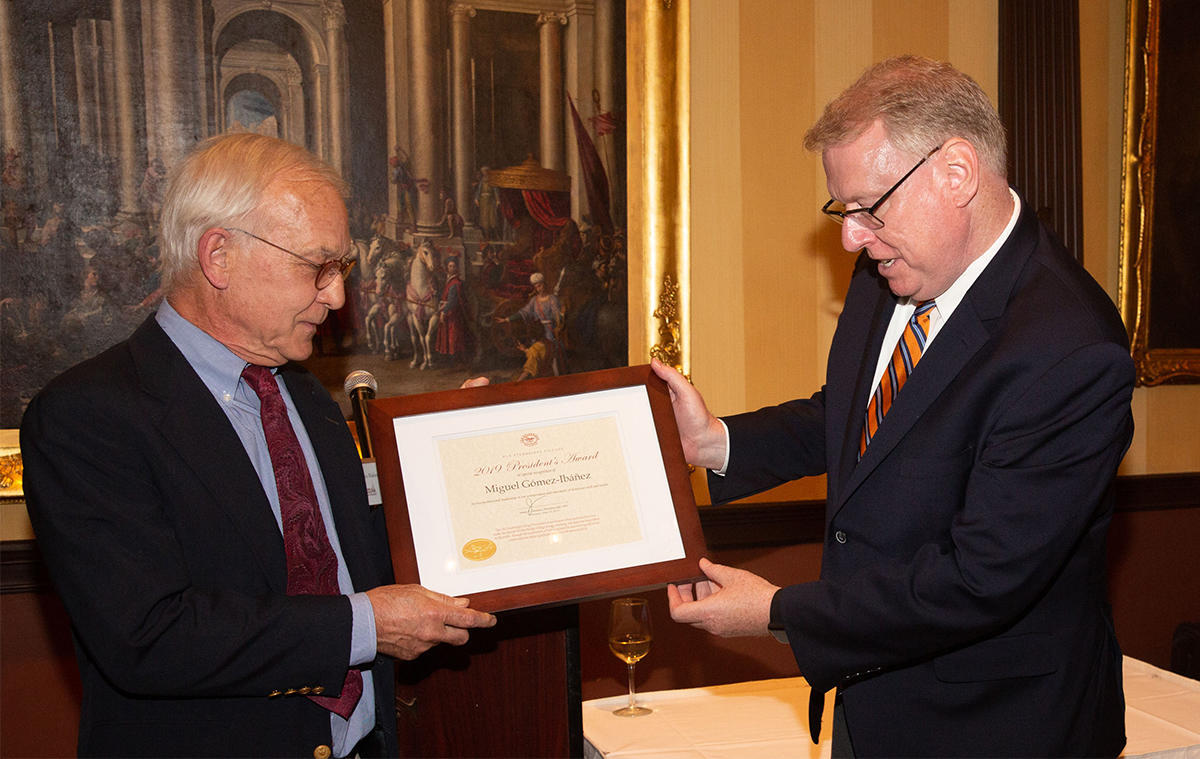 Old Sturbridge Village honored NBSS President Emeritus Miguel Gómez-Ibáñez CF '99 with their 2019 President's Award. The award honors individuals whose work brings meaning, relevance, and inspiration to the public through the exploration of New England life and history, and whose scholarship has had a significant impact on the museum field.
Jim Donahue, Old Sturbridge's President and CEO presented the award at a special reception on June 20, 2019 at the Union Club of Boston. About 75 guests attended, including NBSS Board members and Advisors, colleagues, faculty, and friends. Moving remarks were also given by Brock Jobe, Old Sturbridge Village Trustee and Professor Emeritus at Winterthur Museum, Garden & Library. Old Sturbridge Village is New England's largest outdoor living history museum and invites visitors to experience 19th-century first-hand.
Miguel was the first graduate of the School to serve as President. He combined a first career practicing architecture with his NBSS training as a cabinet maker to become a nationally recognized designer and maker of studio furniture. Since leaving the School, Miguel has enjoyed returning to his own workshop to make furniture.
Miguel's work has been featured in numerous journals including House and Garden, Good Housekeeping, American Craft, and Fine Woodworking, and has been exhibited in galleries and museums across the country. He has contributed articles and essays on furniture and design to a number of books and magazines, including Fine Woodworking, Woodworker's Journal, and Furniture Studio. He is a past president of The Furniture Society and currently serves on the Board of Trustees of Haystack Mountain School of Crafts and the American Craft Council.
Throughout his career, Miguel has been a champion of education and fine craft. During his tenure as President, North Bennet Street School established partnerships with numerous cultural and educational institutions in the Boston area and expanded the school's full time and continuing education programs. Under his leadership, North Bennet Street School completed a $28 million development project, moving the school from its home of 132 years on North Bennet Street to a new facility on North Street in Boston's North End in 2013, and for the first time in a decade, all nine professional training programs were brought under one roof. In 2018 the school completed a $20 million capital campaign to establish an endowment to support student scholarships. This endowment ensures the preservation of hands-on trade skills and artistry for future generations.
View more photos of the evening by photographer Bill Brett here.