Opening Doors and Finding Opportunities
December 1, 2022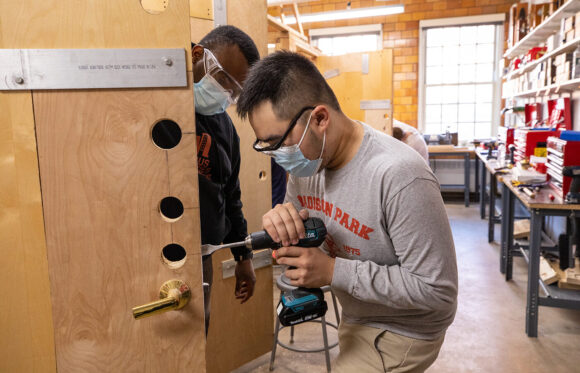 Sonny Ngo LK '21 is no stranger to the trades. He grew up sometimes helping his uncles who worked in the tile and roofing industry, and observing his father worked as a mechanic for many years. He also attended Madison Park Vocational High School, the only vocational-technical high school in Boston Public Schools. 
In 2019, Sonny participated in a summer carpentry program his junior year, a partnership through Madison Park Technical Vocational High School and North Bennet Street School. The program brought him to the NBSS campus and catapulted him into a path that he didn't imagine for himself, eventually leading him to become a full-time student. The multi-week partnership program, piloted in 2016, culminates in students working together to build a foundation in beginner carpentry and leaving with a basic set of tools—items Sonny still cherishes to this day.
After he completed the summer program, he continued exploring other trades and found a new budding interest: locksmithing. He became fascinated by the field his senior year, while doing a project for school, where they were exploring the history of inventions. He wondered about the history of doorknobs and locks, and through his research, he found that the oldest lock came from ancient Egypt, and was estimated to be 4,000 years old—and that just blew him away. 
The Locksmithing & Security Technology program at North Bennet was a natural choice. With guidance from high school advisers and NBSS staff, Sonny applied to NBSS and received an NBSS Workforce Development Scholarship, which fully covered his tuition and tool costs. Sonny, whose family immigrated from Vietnam after the war, became the first in his immediate family to receive post-secondary education. Established in 2012, the full scholarship gives low-income students from the Boston and Greater Boston area an opportunity to attend all programs at NBSS, through funding from community partners. Two-thirds of the recipients are young people of color between the ages of 18 and 30.
For Sonny, he was both excited and nervous to go to the nine-month program. Not surprisingly, he quickly thrived and was someone who could be counted on for his enthusiasm and talents. Locksmithing Department Head and Instructor Eddy Dacius LK '13 recalls that Sonny's presence was felt daily in class. "He was the only guy in class who said hello to everyone, every morning. And you could feel it when he was missing. He's very fun, energetic, and dynamic. He has a very curious mind," Eddy says.  
One day, a student from another program came to the Locksmithing department seeking help. He had a key lockbox, but lost the code. Could the students open it without ruining the lock? Sonny volunteered right away and within days had figured it out. He improvised a tool out of a Red Bull can and successfully picked the lock, without damaging it. 
Eddy also hired Sonny while he was student to work at his facilities management company, for a specific project. For Eddy, who came to the school through a scholarship as well, he saw a lot of himself in Sonny's story. 
"We have a scarcity of locksmiths. The pandemic has affected a lot of older generations, who retired sooner or left the trade. It's very important that the scholarships give more opportunities to people who really want to be locksmiths. It's a great career," says Eddy.  
Soon after he graduated, Sonny landed a job with a locksmithing company, like many of his predecessors from the Workforce scholarship program. Since the Initiative's beginning, 80% of graduates have graduated on time and found employment afterwards. 
Through it all, Sonny, who is now 20, says that locksmithing isn't all about making keys and locks. For him, it entails a greater sense of purpose: to help people feel safe and protected, and make them feel reassured. 
Now that he is working in locksmithing, Sonny has been fortunate to work at a company with another North Bennet Locksmithing alumnus, Sequon Johnson LK '17. 
"I almost know a little bit of everything, but I'm still building up my confidence of cutting doors. We both teach each other," Sonny says. 
And at home, he's been able to financially support his grandmother, mother, and brother, and is able to fix things around the house, something he takes pride in. Not to mention, he can also offer his uncles in the trades his services in the future. 
"Locksmithing opened many doors for me, for sure," Sonny says.