Path to Becoming a Piano Technician
January 7, 2015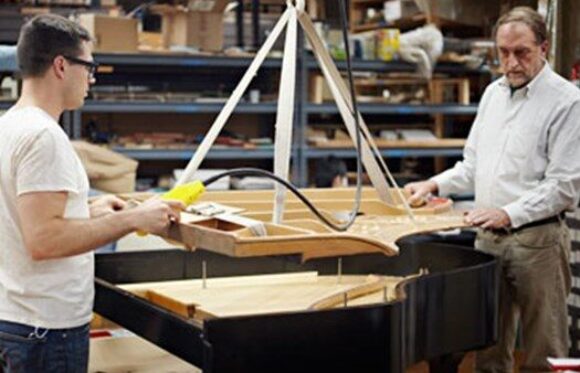 David Betts is a man of few words but it is not hard to find him. More than likely he is in the North Bennet Street School piano technology department and it has been that way since 1974.
Ask David what he likes most about his job and he'll talk about problem solving and finding new and better ways to repair and rebuild pianos. He has built a number of tools and jigs to aid in the rebuilding work including a monster hydraulic clamping system to attach bridges to sound boards.
David first came to North Bennet Street School as a student. He had gone to college with the intention of becoming an industrial arts teacher. Like many men of his generation, he spent three years in the army after college, stationed in Istanbul, Kansas City and Germany. He enrolled in the NBSS Basic Piano Technology program shortly after he was discharged in January 1971.
He completed the then 22-week program, moved to New Hampshire and established a tuning and rebuilding business. When visiting NBSS the following year, Bill Garlick asked if he would like to teach a couple of days a week. By 1974 he was working full time and helping build the Advanced Piano Technology program that focused on rebuilding.
It takes a while to get to know David but those who do are rewarded with his dry humor and knowledge of the piano technician's craft. Debbie Cyr, who works with David says, "David is amazing… his wheels are always turning, he thinks outside the box to come up with solutions to problems, his experience is extensive, and his generosity with his knowledge is without limit. He is an incredible resource for NBSS and for the greater piano technology community."
Here, David answers commonly asked questions about piano technicians.
What do piano technicians do?
Piano technicians are highly skilled professionals who tune, repair, regulate and voice pianos using specialized tools.
Where do they work?
Most piano technicians are self-employed, some work for schools or organizations that have music education and/or performance programs.
How do you become a piano technician?
Most piano technicians begin training by enrolling in a piano technology program. North Bennet Street School's piano technology program was established in 1947.
Do you need to be a musician to be a good piano technician?
A background in music, or being able to play the piano, is not required to become a piano technician, but can be an advantage. Piano technicians should have good hearing, an interest in musical instruments and have an affinity for technical problem solving. The best technicians have good manual dexterity as well as strong customer service and communication skills.
Are piano technicians licensed or certified?
Piano technicians are not required to be licensed. The Piano Technicians Guild (PTG) offers the industry's only regulated credentials, available to its members. Qualified piano technicians who pass three technical exams can obtain the PTG's Registered Piano Technician (RPT) credentials. Although RPT certification is not required, it is typically an important selling point for self-employed piano technicians.
What is the outlook for Piano Technicians?
Currently there is a strong demand for good piano technicians, especially those who have trained in a professional program like the one at North Bennet Street School. The average age of piano technicians is 60+ years old and more are retiring and dying than coming into the field.