Planning for Growth
September 7, 2015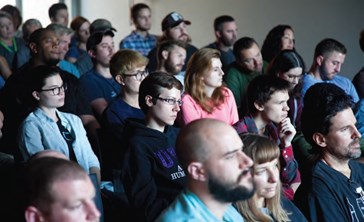 In 2009, the NBSS Board of Directors approved a five-year business plan. The plan, developed with the engagement of Board, faculty and staff members, focused on building operational infrastructure, building and maintaining enrollment, increasing scholarship support and, critically, finding and moving to a new facility.
The move to 150 North Street in September 2013, almost exactly five years after the plan was approved, marked successful accomplishment toward all of the goals outlined in the plan. Once the dust settled from the move, NBSS president Miguel Gómez-Ibáñez initiated, with members of the current Board of Directors, a new strategic planning process. A committee of Board, staff and faculty members was formed and met regularly over the past year with KublerWirka, a consulting firm engaged to support the process. At the Board meeting in June, a new five year strategic action plan was approved.
The plan focuses on building organizational capacity and financial stability as the school expands mission-focused programs to maximize the potential of the new facility. Implementation of the plan began with the development of a new Executive Vice President (EVP) role and the hiring of Rebecca W. King to fill that role. As EVP, Rebecca provides key organization and business management leadership making it easier for the President to focus on external relationships and fundraising and NBSS Provost Claire Fruitman to focus on academic and faculty development and management.
Other goals include expanding the Continuing Education program, building scholarship capacity and rebuilding the school's endowment, which was significantly depleted during the renovation of the new building.
If you are interested in learning more about the strategic action plan and/or would like to support the success of the plan through a tax-deductible donation, contact Director of Development Christine Murphy at 617-227-0155 x170/cmurphy@nbss.edu. Donations can also be made online at nbss.edu/donate.