Careful, Yet Expansive
October 2, 2020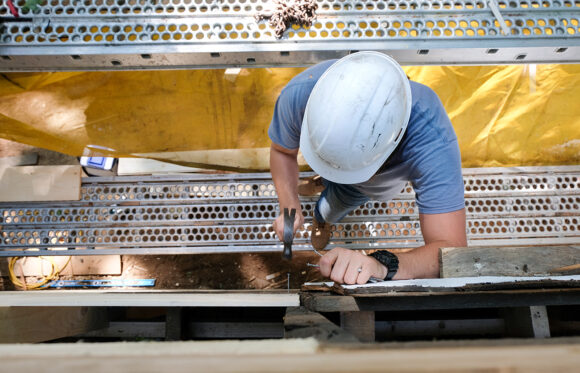 Dear NBSS Community,
It goes without saying, this is an unusual fall. So many of the markers that signal the shift of seasons are different: distanced get-togethers, school shopping in masks, absent audiences, and at NBSS, a host of necessary interventions that keep our community healthy, safe, and productive. And yet the seasonal shift continues; leaves cycle through brilliant shades, cooler nights fold into foggy mornings, days shorten and we drift toward creature comforts, be they foods or fireplaces or the everpresent outdoors.
There are reassuring markers at NBSS too. Though much is different on the surface—defined pathways through the building, distance in program spaces, some remote instruction—our students and faculty are engaged as ever, in the field and at our facility. Students are developing new skills, and also working their way toward their program completion, picking up from spring. Preservation carpenters have restored a small historic post office that suffered storm damage, violin makers are fitting instrument ribs to plaster molds, and locksmiths are surveying our site, learning from the locks and mechanisms of our building's exterior doors. Despite the precautions and the quiet, slow work of reopening, there is buoyancy and energy at NBSS. Our usual hum of fall activity is here, as always, yet appreciated more this year.
This is the framework for the year ahead, I believe; two simultaneous inclinations to be balanced. One tendency is to be protective and careful, reserved, and cautious with our work and resources. This is the mood of re-opening, as we are mindful of new protocols and the importance of health in our community.
Happily, we are also in an expansive, experimental, and outward-focused mindset, one that follows the generative opportunities that come with change. This is evident in new online initiatives, from our inspired Public Programs series, In the Making, to our Continuing Education courses, which ventured bravely into the virtual world this summer. Work such as this is creative, optimistic, and takes ingenuity. It's a mode that feels fast and free, a counterbalance to the reserved approach we take with new working ways.
Together, these seemingly contrary modes—careful, yet expansive—improve our work, foster growth, and help us create connections.
Together, these seemingly contrary modes—careful, yet expansive—improve our work, foster growth, and help us create connections. This leads naturally to our priorities for the year ahead: 1) to remain productive in person and model new protocols for our industries; 2) to develop online content that expands our profile, offerings, and reach in the world; and 3) through all of our work, evolve the School to become a more diverse and inclusive place, as we work against bias and commit to creating a stronger sense of belonging for more people, partners, and community members.
As called for by the times, we are changing and adapting, flexible in our approach, and innovative in our disciplines. This is our history; adapting to challenges is how NBSS has always operated as an institution. And while we shift, one focus remains a priority: to consider people first, our students, faculty and staff, our alumni and partners, and new people we'll collaborate with now and in the future.
Our mission to train using hand skills and evolving technology is as strong as ever. Thank you for helping to create our solid ground as we make our way forward.
Sincerely,
Sarah Turner
President